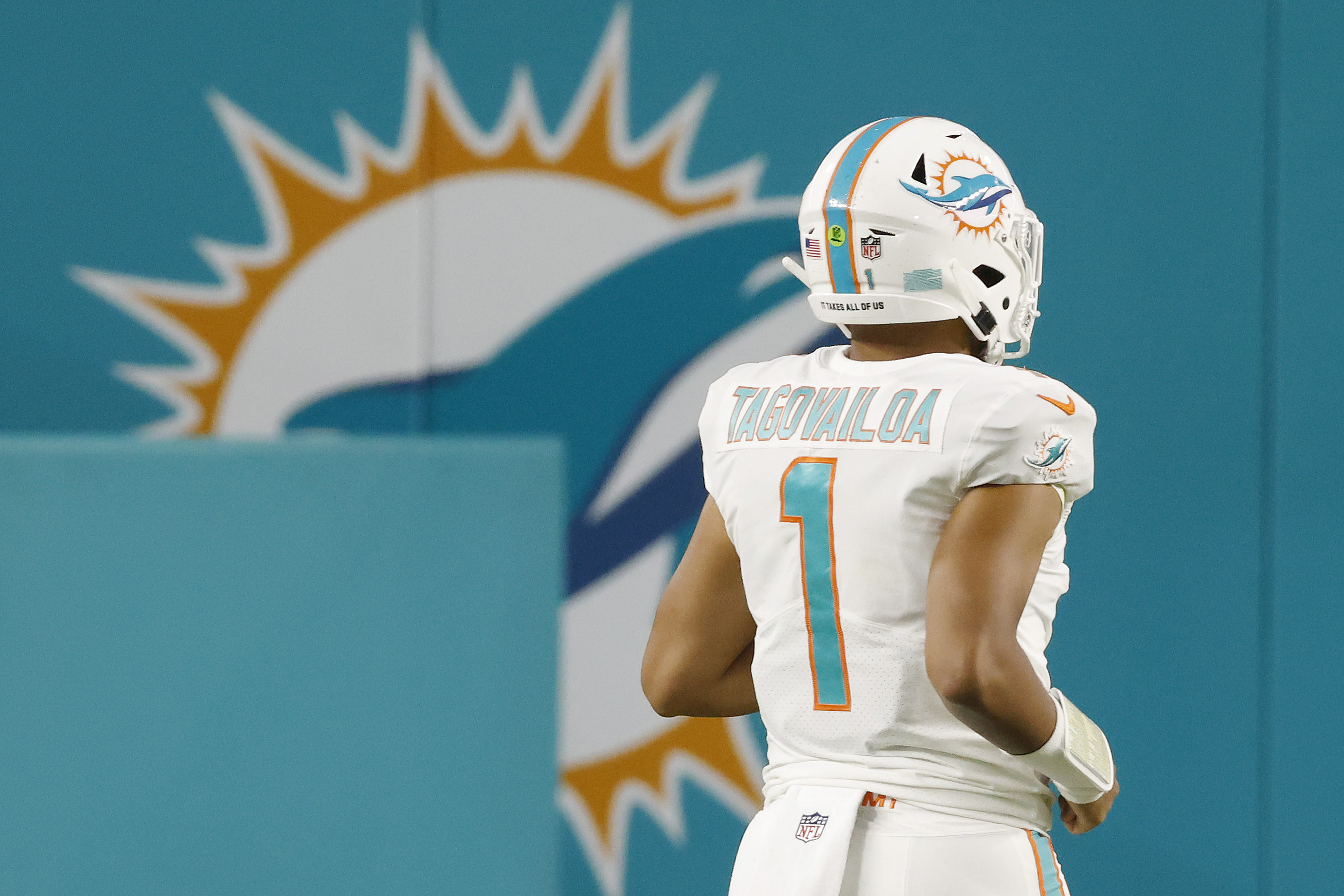 Tua Tagovailoa Gets Some Advice from an MVP on Making His First Start
Miami Dolphins rookie quarterback Tua Tagovailoa gets some advice from Lamar Jackson on making his first NFL start.
Depending on which side of the fence you're on, it may or may not be the right time. Rookie quarterback Tua Tagovailoa will be making his first NFL start for the Miami Dolphins on Sunday. Tagovailoa is replacing veteran Ryan Fitzpatrick, who has guided the Dolphins to two straight wins and has the team in the thick of the AFC East race. The spotlight will be on Tagovailoa on Sunday, and he's getting some advice from NFL stars, including last year's MVP Lamar Jackson.
Tua Tagovailoa is the future of the Miami Dolphins
Tua Tagovailoa played his college football at Alabama, where he put up some serious numbers. He threw 43 touchdown passes as a sophomore and threw for nearly 4,000 yards. As a junior, Tagovailoa added 33 more touchdown passes and completed 71% of his passes despite playing in just nine games. Tagovailoa suffered a season-ending hip injury that raised some concerns about his decision to enter the NFL.
Tagovailoa elected to skip his senior year and enter the 2020 NFL draft. The Miami Dolphins apparently weren't too concerned with his injury as they selected him with the fifth pick in the draft. The Dolphins are craving a star quarterback they haven't had since Dan Marino back in the 1980s.
After sitting the first six games of the season behind veteran quarterback Ryan Fitzpatrick, Tagovailoa was informed last week he would become the team's starter in Week 8 against the Los Angeles Rams. The Dolphins had their bye week last week, so Tagovailoa has had two weeks to prepare for his first start.
Is starting Tagovailoa the right decision?
In Week 5, the Miami Dolphins went to San Francisco and put a hurting on the 49ers. Behind quarterback Ryan Fitzpatrick, the Dolphins put up 43 points in a 43-17 victory. Fitzpatrick stayed in the whole game as fans and media members wondered why prized rookie Tua Tagovailoa wasn't in late to gain some NFL experience in mop-up duty.
"I don't know what we really get out of that, in my opinion," Miami Dolphins coach Brian Flores said, according to NBC Sports. "If he gets a couple of snaps in a game, I'm not sure. We're running the ball the whole time. If we want to give it to him and let him hand the ball off, I guess maybe that will make some people happy, but I just don't see any real point in that. That's just my opinion."
Flores also stated at the time that Fitzpatrick gave the Dolphins a better chance to win and Tagovailoa wasn't yet ready to take over. A week later, Fitzpatrick and the Dolphins blanked the New York Jets 24-0. After that game, Flores surprisingly decided to make the switch.
Lamar Jackson offers advice to Tagovailoa
With a bye week in Week 7, Tua Tagovailoa will have two weeks to get ready to make his first start in the NFL. The Dolphins will be hosting the Los Angeles Rams on Sunday and the rookie quarterback is getting the starting nod. Tagovailoa has received tons of support and advice heading into the game.
One person who gave Tagovailoa some advice is Baltimore Ravens quarterback Lamar Jackson. Jackson is the reigning MVP and is in his third year in the NFL. Jackson pretty much told Tagovailoa to be himself.
"It's important to have the same type of routine and rituals as he had in college when preparing for big games," Jackson said, according to The Miami Herald. "With this being his first start, this is obviously a big game. But he just needs to go be himself and be one with his guys. The rest will let itself happen."