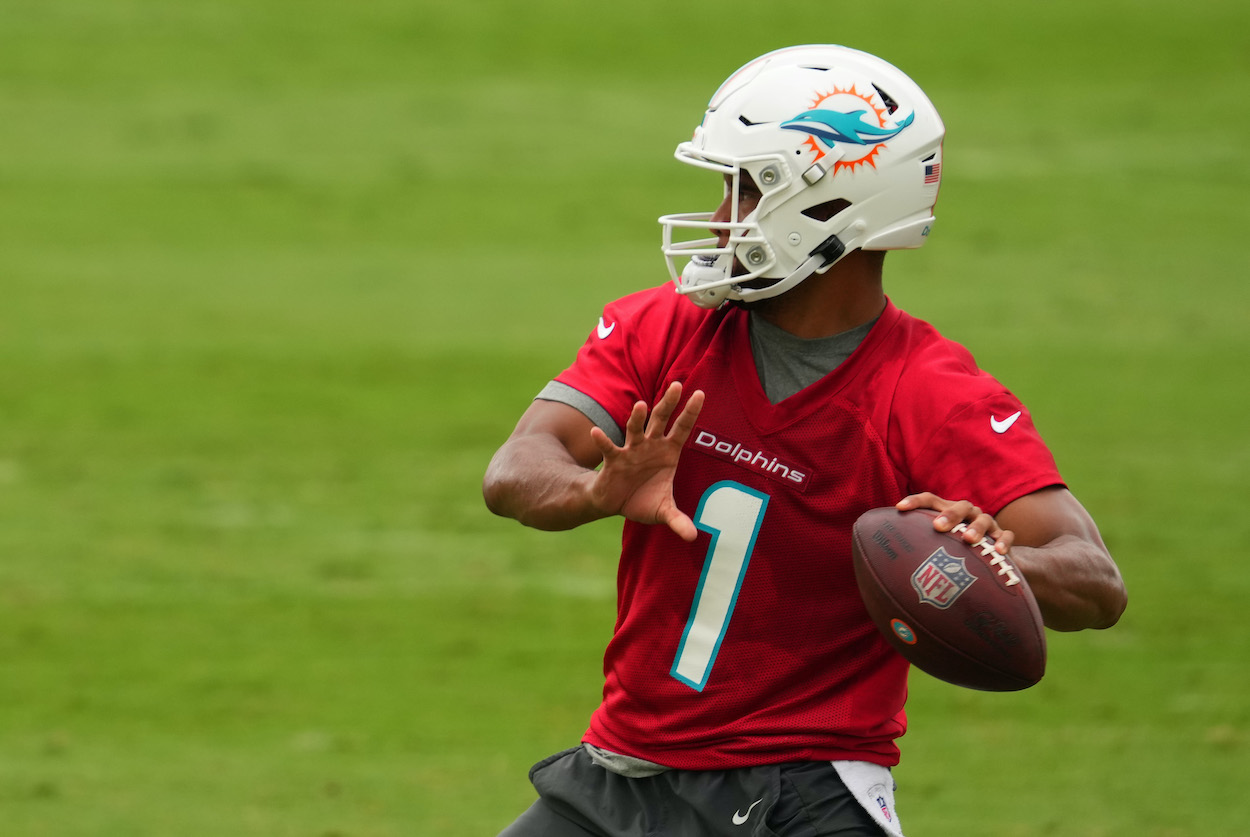 Tua Tagovailoa 'Wanted to See if We Could Fit Throws in,' and Promptly Threw 5 Interceptions at Miami Dolphins Minicamp
Quarterback Tua Tagovailoa of the Miami Dolphins threw five interceptions during a practice at a mandatory minicamp. The QB painted the session as positive but, with second place in the AFC East being up for grabs in 2021, Dolphins fans should want to see more from the second-year player.
The Miami Dolphins put all its eggs in the Tua Tagovailoa basket for the 2021 NFL season. After drafting the Alabama Crimson Tide QB No. 5 overall in the 2020 NFL draft, the team got more availability than expected from a player coming back from a major injury.
Under center, though, Tagovailoa produced less than expected from a top draft pick. The quarterback looked good at times but struggled at others. The Dolphins coaching staff repeatedly benched him in favor of journeyman Ryan Fitzpatrick during the season.
Now, the "Fitzmagic" is gone. Tagovailoa is in sole control of Miami's success or failure in 2021 and, if minicamp is any indication, this could be a problem.
Tua Tagovailoa struggled in 2020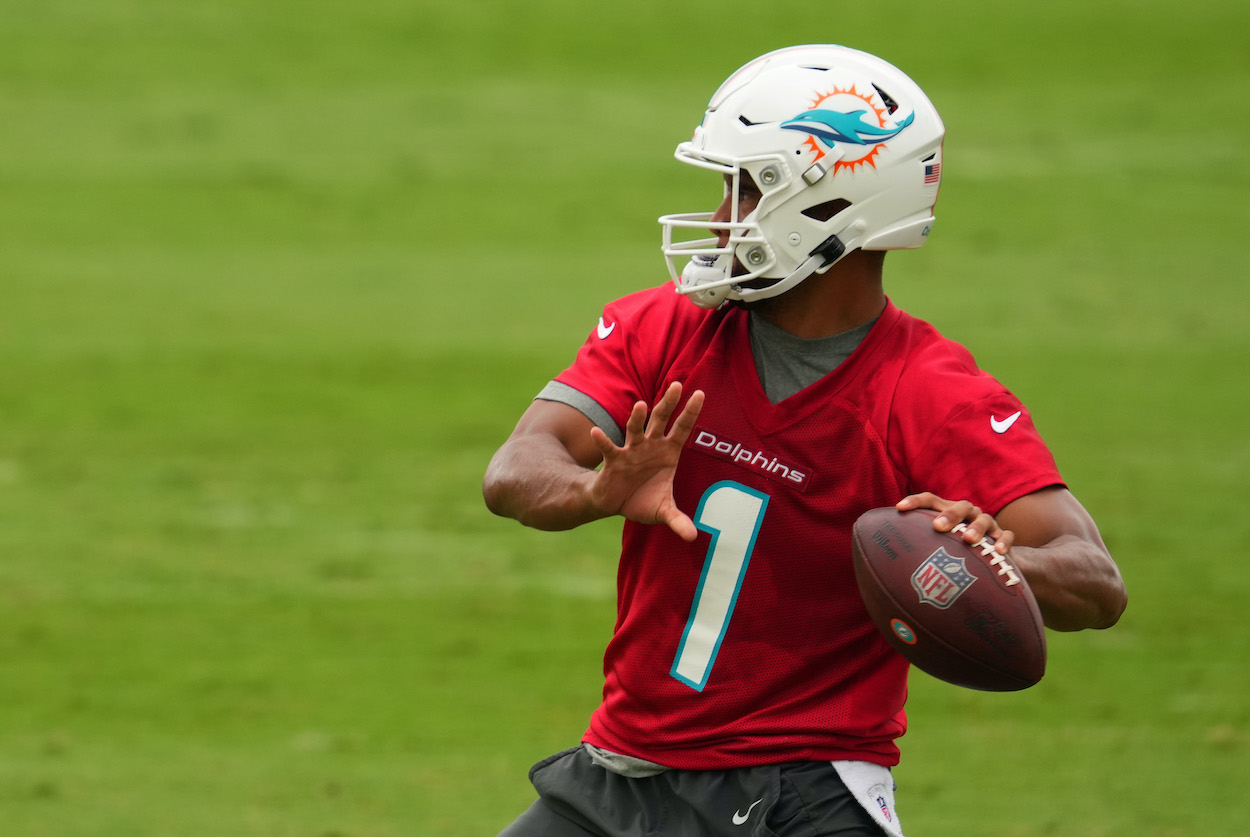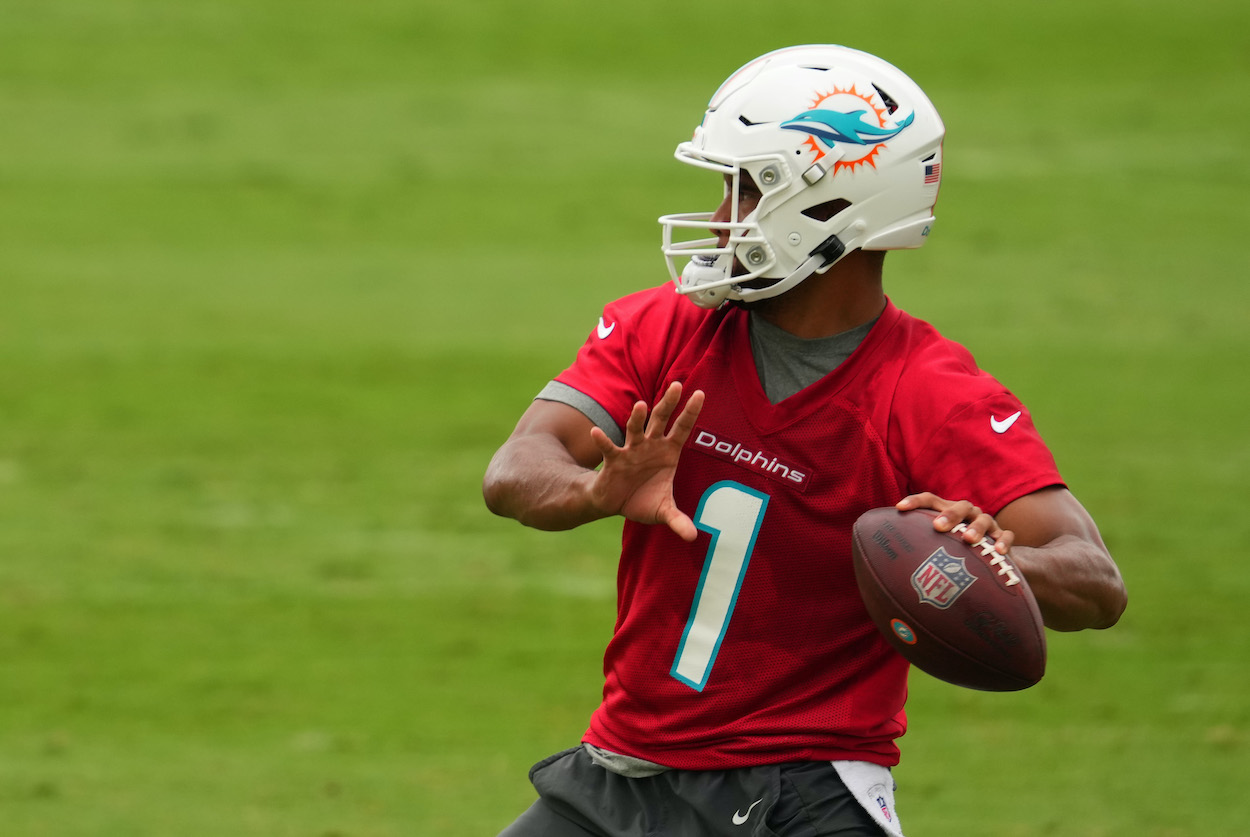 Tagovailoa was 6-3 in his nine starts in 2020. The record is a bit deceiving, though, as Fitzpatrick came on in relief in several of those games. His lackluster stats tell a more truthful story about the Hawaiian's 2020 struggles.
In 10 appearances, Tagovailoa threw for 1,814 yards, 11 touchdowns, and five picks. He ranked near the bottom of qualified NFL QBs in several major categories in 2020. He was 29th in completion percentage (64.1%), 30th in yards per attempt (6.3), and 26th in overall Quarterback Rating (87.1)
He also famously said he "didn't actually know the playbook necessarily really, really good" in his rookie season.
Even with all this, his overall talent and draft status sled the Dolphins to install Tagovailoa as the unquestioned starter for 2021. They did, however, hedge their bets a bit by signing high-end backup Jacoby Brissett to a one-year deal.
Tagovailoa threw five interceptions in one practice at Miami Dolphins minicamp
Dolphins fans, and the organization itself, would like to see Tagovailoa perform well leading into the regular season in order to feel confident in the second-year pro. His performance at a minicamp practice this week was the exact opposite of that.
On Tuesday, June 15, there was a torrential rainstorm during Dolphins' mandatory minicamp. Amidst these poor conditions, Tagovailoa threw five interceptions in one session.
While this sounds bad to outside observers, Tagovailoa painted it as a positive, according to The Athletic. "We're going to have to play in the rain. We're going to have to play in conditions where the ball is going to be wet, where it's gonna be cold, it's gonna be hot," Tagovailoa explained. "Overall, was an all right day."
He also said that the quarterback group's mentality for the practice was to take chances:
We wanted to be aggressive today within the pass game. We wanted to see if we could fit throws in. We wanted to see what throws we could make under these conditions. We were just trying to throw the ball vertical down the field.
The QB summed up by vocalizing what all Dolphins coaches and fans are surely saying after that performance. "Obviously, you want to be smart," he said. "But if there's a time to make mistakes, now's a time to make mistakes."
The AFC East battle for second place is wide open in 2021
The Buffalo Bills are the heavy favorite to win the AFC East in 2021. The defending division champs are returning most of the team from 2021 and have Josh Allen, by far the most experienced and accomplished QB in the division.
The Dolphins, New England Patriots, and New York Jets are all in very similar situations to each other. They all have signal-callers drafted high in the last two years and either legendary (Patriots) or incredibly promising (Dolphins and Jets) head coaches.
According to PFF, the Bills has a 58.6% chance to win the division in 2021. The other three teams' chances are all closely grouped at 14.5% (Patriots), 14.4% (Jets), and 12.5% (Dolphins). The team's overall playoff chances are similarly close at 33.8% (Jets), 32.7% (Patriots), and 31.1% (Dolphins).
We all know what can happen on any given Sunday in the NFL, and new division winners each year are prevalent – outside of the AFC East the previous two decades.
The battle for a Wildcard bid from the division, or take the title if Buffalo stumbles, will be fierce. It will likely come down to which young QB plays best for their team. Tua Tagovailoa is just as good a bet to be that young breakout passer as Mac Jones or Zach Wilson is. That is, as long as he gets those five INT performances out of his system now.
All stats courtesy of Pro Football Reference