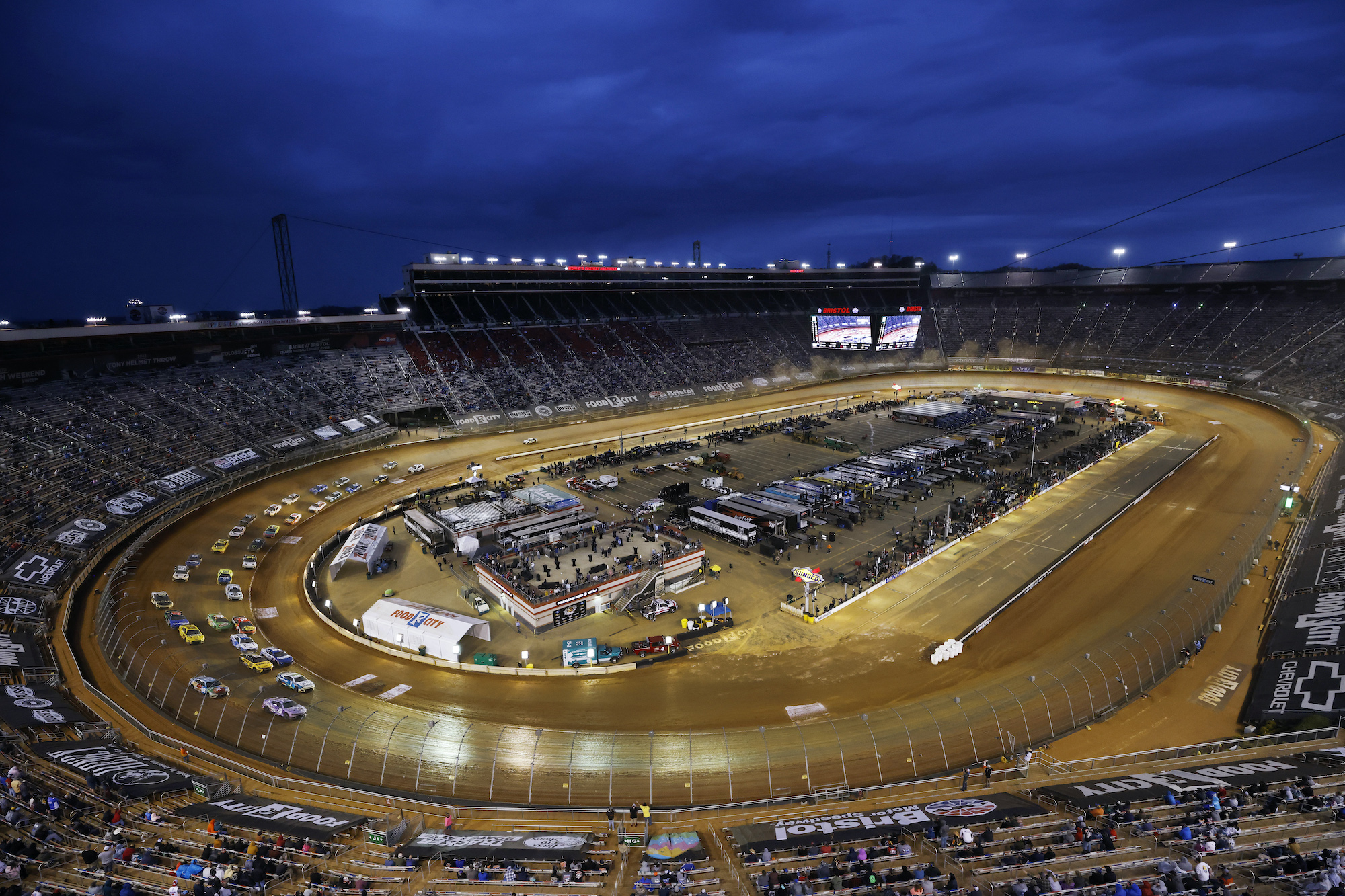 TV Ratings Are in for Bristol Dirt Race and It's Going to Get Dirty Again in 2023
Fans and drivers are divided on the Bristol dirt race and whether it's good for NASCAR. Fox released the TV ratings and provided a clear answer.
A debate began in 2020 when NASCAR announced the first Bristol dirt race for 2021. Unfortunately, floods of biblical proportion delayed the inaugural event until Monday, but it produced an entertaining race when it finally did happen. 
This year, the rains weren't biblical, but the day was. Held on Easter Sunday night, a couple of rain delays and some confusion on the scoring rules were a couple of hiccups in an otherwise successful race that came down to a final-lap incident and a surprise winner. How successful? The television ratings were the best in years and Speedway Motorsports announced the Bristol spring race will return to the dirt again in 2023.   
Second Bristol dirt race produces thrilling finish
The second edition of the Bristol dirt race started ominously when muddy track conditions resulted in large amounts of red clay caking on the front grills of multiple cars and causing overheating issues. A couple of red-flag rain delays also stalled the racing action. 
And there was plenty of action throughout the race that included multiple lead changes. The most exciting one occurred just yards from the finish line after Chase Briscoe wrecked himself and leader Tyler Reddick in Turn 4, allowing Kyle Busch to sneak by for the unexpected win.
The ending was unquestionably one of the most exciting finishes of the 2022 Cup Series season in the Next Gen car. 
Bristol dirt produces impressive ratings for Cup and Truck Series
Despite that surprising finish, there were still two camps after the race on whether or not Bristol dirt is a good thing. Like many drivers, Kevin Harvick has never been a fan of putting the red clay on top of what many consider the most entertaining track and admitted as much after his early exit.
"If I had my choice, we wouldn't be doing this anyway," the 2014 Cup Series champion told the media in a fiery exchange. When the driver questioned the reason for racing on the surface, one reporter suggested the point was to go back to the sport's grassroots. "I guess the TV ratings will tell that. If the TV ratings are high, it will be great." 
Harvick got that answer on Tuesday when Fox released its numbers and the race had 4.007 million viewers, the most-watched NASCAR event of any kind at Bristol Motor Speedway since the spring 2016 race. 
And that's not all. Saturday's Truck Series race pulled in 1.167 million viewers on FS1 and was the most-watched Truck race at that venue of all time, dating back to 1995, and the seventh most-watched race in series history.
Dirt returning in 2023
Unsurprisingly, Speedway Motorsports Inc., which owns the track, announced on Tuesday that despite a vocal group of fans and drivers speaking against dirt on the short track, it would be returning in 2023. 
"I'm so thankful for our owners, Bruton and Marcus Smith, for allowing our Bristol Motor Speedway team to put on an amazing Easter celebration and NASCAR race weekend that exceeded our expectations with strong ticket sales and primetime viewership on FOX," Jerry Caldwell, president, and general manager of Bristol Motor Speedway said in a statement.
"Bristol Motor Speedway will prepare for a spring night race on dirt in 2023, giving the fans two great NASCAR shows on different surfaces. The dates for our NASCAR events will not be available until later this year."
And the debate continues.
Like Sportscasting on Facebook. Follow us on Twitter @sportscasting19.