Tyler Huntley in Line To Make $42K per Touchdown Pass By Playing in the Pro Bowl
Tyler Huntley is in the Pro Bowl. I repeat, Tyler Huntley is in the Pro Bowl.
The Baltimore Ravens backup quarterback, who replaced an injured Lamar Jackson this year, is taking part in the NFL's All-Star events after starting four regular-season games and going 2-2. He's there as a replacement player after several quarterbacks, including Patrick Mahomes, Josh Allen, Justin Herbert, Tua Tagovailoa, and Joe Burrow, won't be there for various reasons. Huntley is in line to cash in on the opportunity.
Tyler Huntley enjoying his moment at the Pro Bowl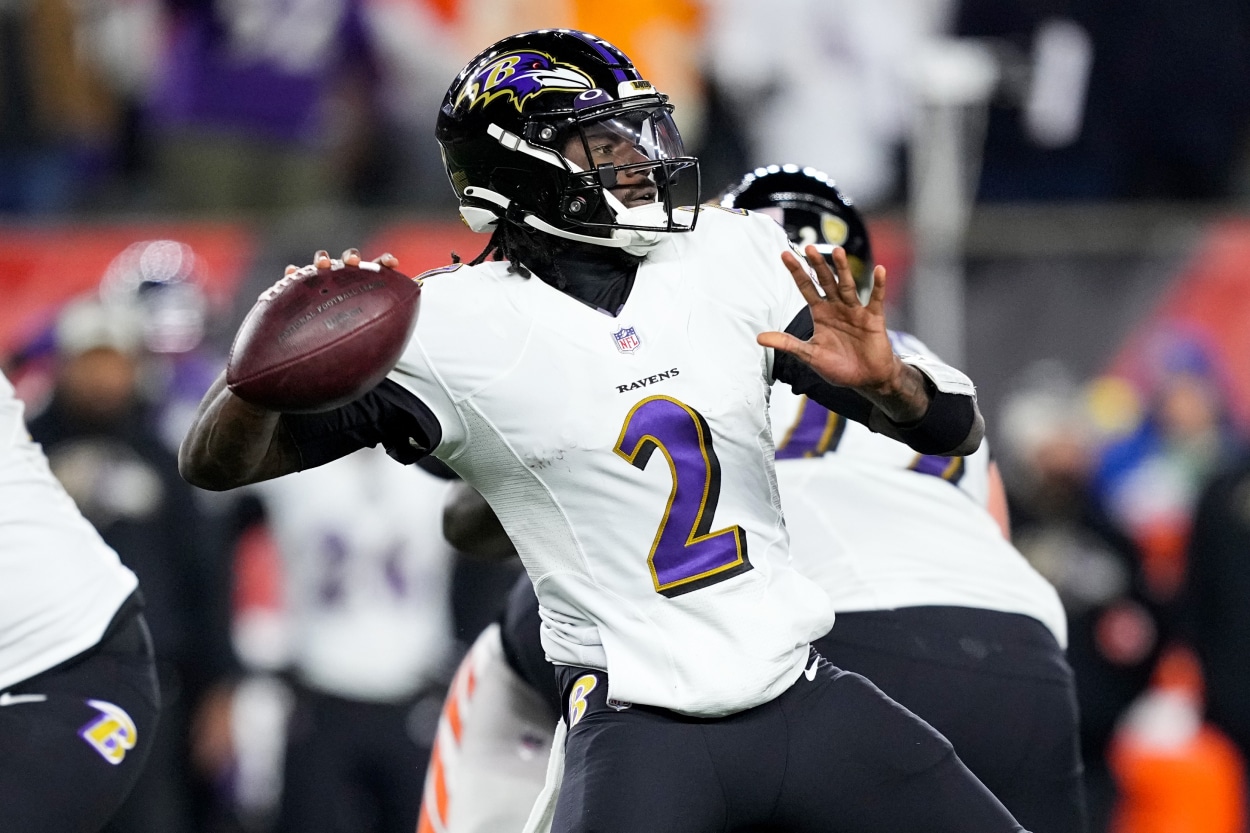 The Huntley addition is baffling and shows just how much of a joke the event has become. No knock on Huntley, but he's not a Pro Bowler. He played his role as a backup quarterback to perfection, keeping Baltimore's season alive and getting them to the playoffs.
He played in six regular-season games, starting four. Huntley threw two touchdown passes this year and had three interceptions. He threw for 658 yards. Those are hardly Pro Bowl numbers, but Huntley isn't about to decline the invite.
"I just look at my opportunities and where my life is headed," he said Thursday after participating in the skills competition, per ESPN. "I just appreciate everything that is going on, and I got to meet some of the legends. It's just crazy how everything worked out."
The Pro Bowl has become a series of events called the "Pro Bowl Games." On Thursday, players took part in dodgeball, passing skills, water-balloon tossing, and various other bizarre events. Sunday, there will be more skills, along with three flag football games. Points will be awarded to the winners, and the conference with the most points will be crowned the winner.
Huntley could make $42K for each touchdown pass he threw this year
Each member of the winning conference will go home with an extra $84,000. That's $42,000 for each touchdown pass Huntley threw in the regular season. The losing team walks away with $42,000 awarded per player.
The $84,000 each winning player makes is two grand more than each player on the losing Super Bowl team will take home.
According to The Sporting News, Pro Bowl payouts have come a long way. From 1971-1977, each member of the winning Pro Bowl team took home $2,000, with the loser grabbing $1,500 each.
Huntley has taken some heat for getting there with less-than-stellar numbers. He's OK with it and is just enjoying the moment.
"It kind of feels like I'm in a movie right now," Huntley said. "I'm still just taking it all in."