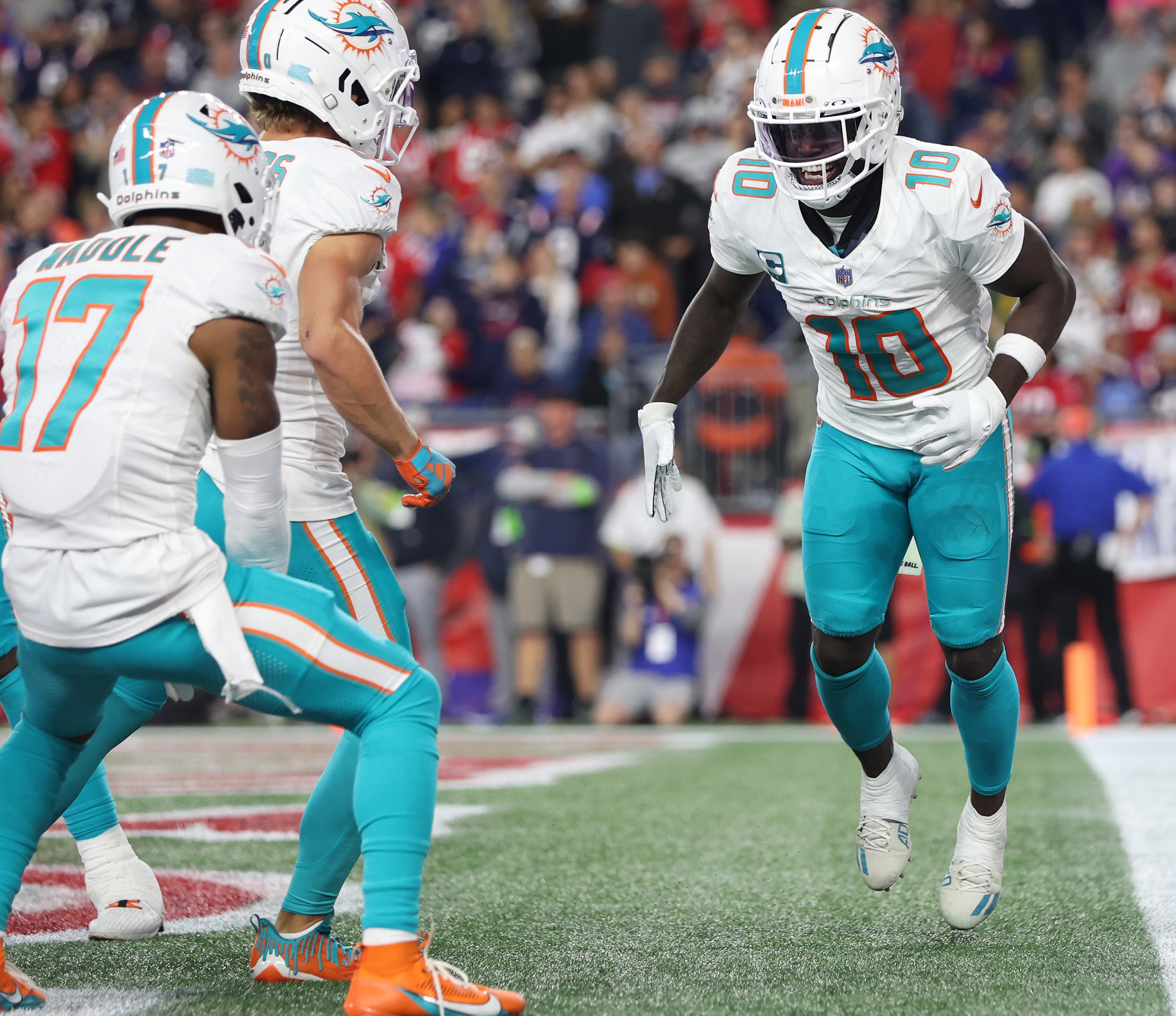 Tyreek Hill Already Thinking Christmas After War of Words With Dallas Cowboys Standout Micah Parsons
Heading into Week 3, Miami Dolphins star wide receiver Tyreek Hill is already talking Week 16.
We just hit Week 3 of the NFL season, yet Miami Dolphins standout wide receiver Tyreek Hill already has Week 16 on his mind.
Always a talker, Hill found himself talking smack with Dallas Cowboys All-Pro linebacker Micah Parsons after Hill, nicknamed Cheetah for his speed, referred to himself as a lion after a Week 1 victory over the Los Angeles Chargers. After Parsons told him to cut back on that lion talk, Hill took exception and said he'll have a nice present for him when the teams meet on Dec. 24 in Miami.
Tyreek Hill and Micah Parsons are off to red-hot starts
After two weeks, Tyreek Hill and Micah Parsons have to be in the mix when the all-too-early MVP conversations begin.
Hill finished with 11 catches for 215 yards and a pair of touchdowns in Miami's 36-34 win over the Chargers in the season opener. After the game, he told reporters exactly how he felt about his performance.
"I just feel like nobody can guard me," he said per NFL.com. "Maybe I'm not a cheetah. I'm a lion, baby."
Parsons, an alum of the Penn State Nittany Lions, is also having a strong season. He's the heart and soul of a defense that shut out the New York Giants 40-0 in Week 1 and then held the New York Jets to 10 points last week. Parsons told Hill he should lay off the lion talk.
"Just stick to the cheetah, brother," Parsons said. "You don't want nothing to do with this lion work. I saw the comments. Please stay away from the lion. At least you did say you were a baby lion. To me, you be a cub, brother."
Hill fired back, saying he'll have a Christmas present for Parsons
Hill is a talker, and it's not surprising he fired back at Parsons over the lion comment. The Dolphins wideout made a comment — some will argue it was a threat — saying he'll have a present for him when the teams meet late in the season.
"I got one more thing I have to say," Hill said on his podcast. "Micah Parsons, I saw on Twitter that you said something to me. You said that I am a baby lion.
"Let me tell you something about that. Let me tell you something real quick. Micah Parsons, when we play you December 25th, on Christmas Day (actually Dec. 24), I have a present for you, my boy.
"I know you seen my clip when I was blocking the D-end. I'm big like that. I'm off the edge like that, so you better watch your back because I'm gonna blindside you. Imma show you that game who the real lion is. Like I said, I'm a cheetah and a lion. I'm the real hybrid on the field, baby."
We're only in Week 3, but Week 16 can't get here soon enough.