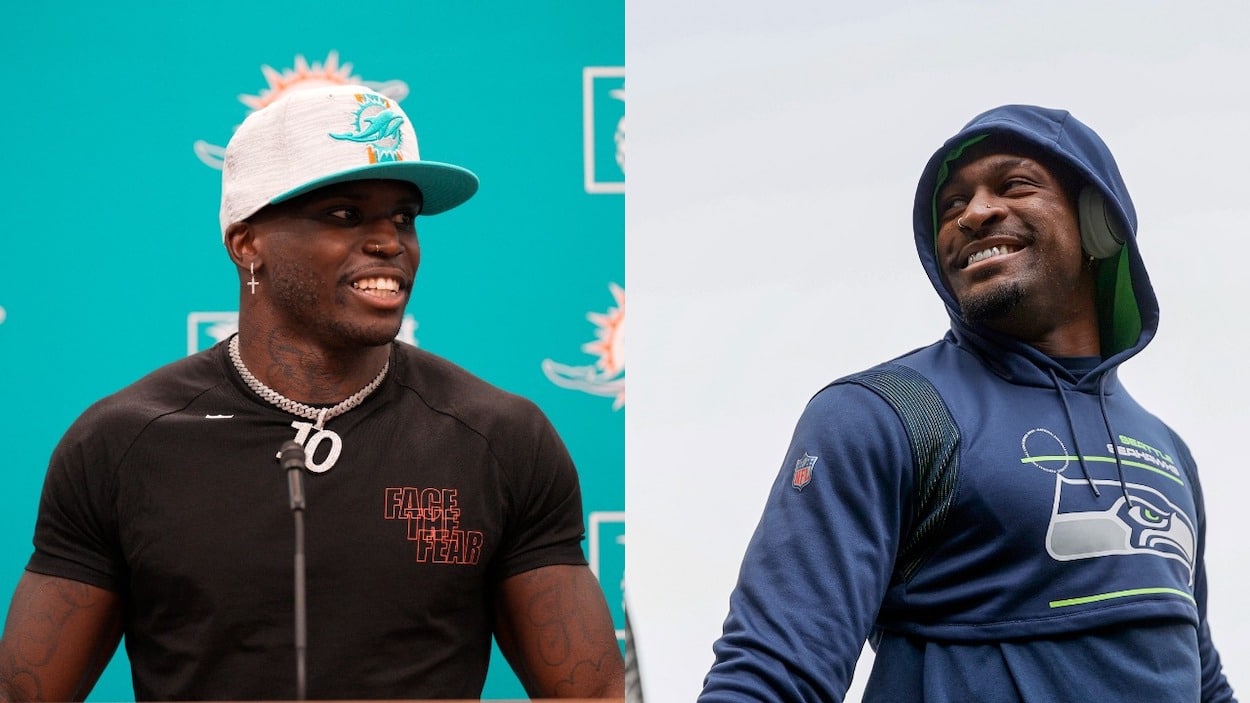 Tyreek Hill Calls DK Metcalf 'Scared' and Challenges Him to a $50K Race After Seahawks WR Called Him Out
Seattle Seahawks WR DK Metcalf and Miami Dolphins WR Tyreek Hill are going back and forth on social media about racing to prove, once and for all, who's faster.
There are a lot of fast players in the NFL. However, even among this group of fleet feet, there are some who are the fastest of the fast. In today's NFL, two wide receivers are at the top of this speedy list, and they are Seattle Seahawks wideout DK Metcalf and Miami Dolphins pass-catcher Tyreek Hill.  
Who's faster, though?
We may just find out soon, and a deserving cause may get $50,000 in the process.
DK Metcalf says he's faster than Tyreek Hill 
Seattle Seahawks WR DK Metcalf joined former NFL tight end Shannon Sharpe on his Club Shay Shay podcast for a wide-ranging interview about his life and career.
The conversation eventually turned to Metcalf's participation in the 2021 USA Track and Field Golden Games and Distance Open in Walnut, California. The event featured trial races for the Olympics in Tokyo.
Metcalf ran in the 100-meter dash, taking on 16 of the world's fastest sprinters. The former Ole Miss pass-catcher posted a 10.37-second time, good for 15th in his heat. While that may not have been good enough for the Olympics, it was still incredibly fast, especially for someone 6-foot-4, 235-pounds, and who only trained for a few weeks leading up to the competition.
While discussing Metcalf's track and field endeavors, Sharpe asked if the Seahawks wideout believes he is as fast as Miami Dolphins WR Tyreek "Cheetah" Hill. He responded in the affirmative, telling the Hall of Fame TE:
I got a different type of speed. I got a DK speed. Just like cheetah — cheetah speed? I got DK speed. That's just me.

Dk Metcalf on his speed vs. Tyreek Hill's
After Metcalf made his claims that he's faster than Hill, Sharpe laid down a challenge.
"[Tyreek], you heard this man," Sharpe said into the camera. "'Reek, when this is released, you will have 48 hours to respond to this man. This man says he can outrun you."
Hill heard this call out and responded.
Tyreek Hill fired back at Metcalf on social media with a challenge
Tyreek Hill heard DK Metcalf's call out and Shannon Sharpe's challenge loud and clear. He responded on Twitter the same day the clip of Metcalf's claims appeared on social media.
Hill offered to put up $50,000 of his own money and donate it to the charity of Metcalf's choice if the Seahawks wideout beat the Dolphins pass-catcher in a race. "Cheetah" didn't stop there, though.
He also shared that he'd privately challenged Metcalf to a race and claimed the big man was "scared" to run against him. Hill even claimed to have "receipts" that all this was true.
However, Metcalf tweeted his own receipts 20 minutes later. He posted a screenshot of a DM conversation between the two showing that Hill called him out when he was recovering from an injury and wearing a walking boot.
All this back and forth is fun, but it doesn't seem like a $50K footrace for charity is any closer to actually happening, which is too bad for NFL fans who'd love to see it.
The two speedy WRs have had wild offseasons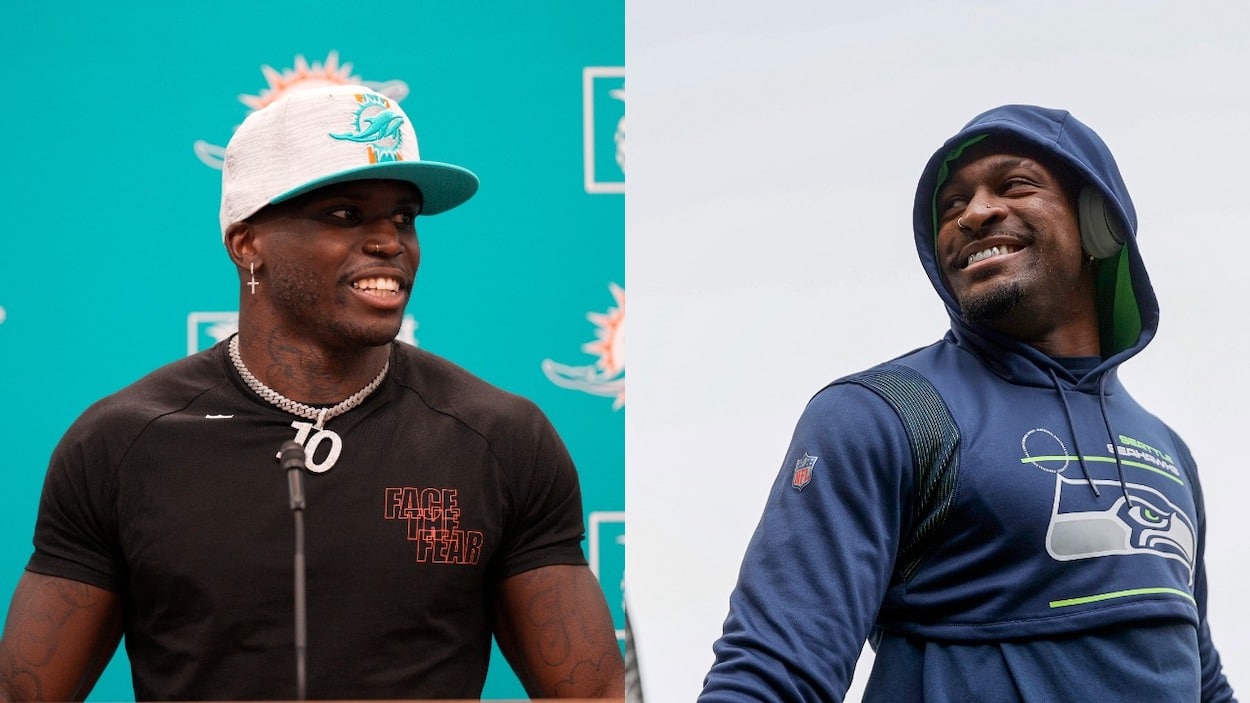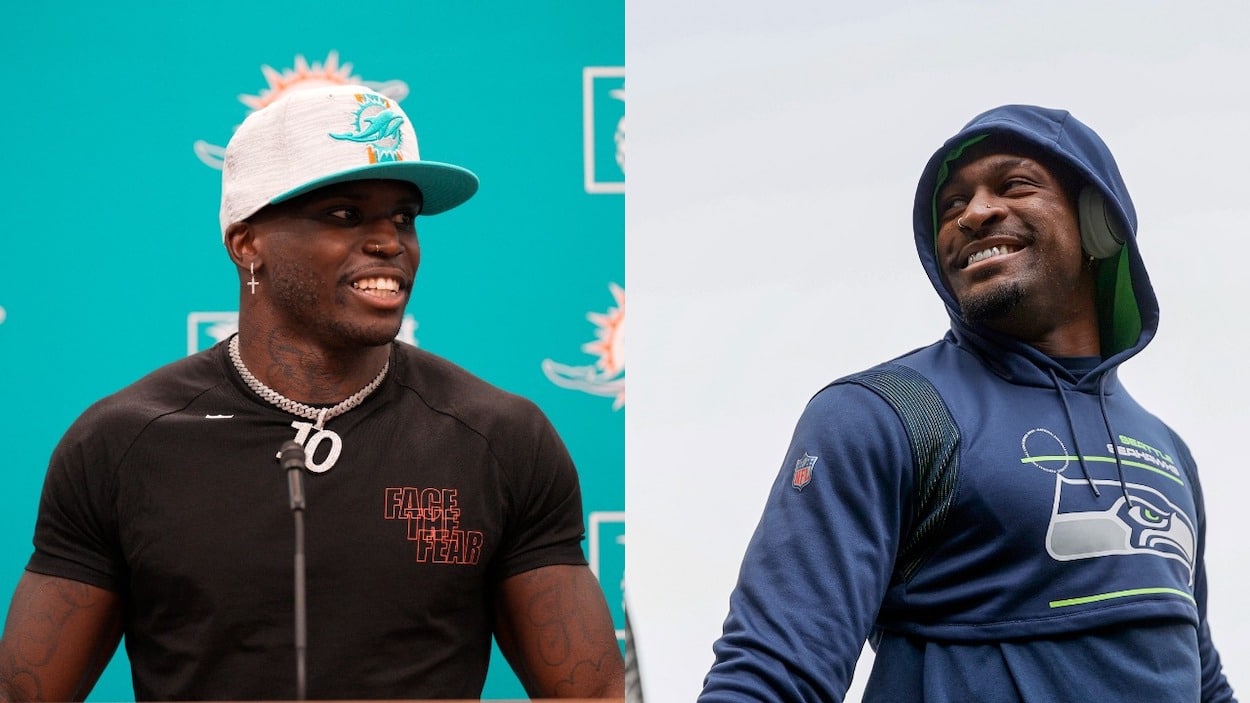 While a DK Metcalf vs. Tyreek Hill 100M-dash might not be on the horizon, plenty is going on this offseason with these two lightning-fast wide receivers.
Hill was part of one of the biggest and most shocking trades of the 2022 offseason when the Kansas City Chiefs traded the six-year veteran to the Miami Dolphins for a 2022 first- and second-, and fourth-round picks, as well as fourth- and sixth-round picks in the 2023 draft.
He now trades in his perennial contender status and All-Pro QB Pat Mahomes for a shaky third-year signal-caller in Tua Tagovailoa and a Dolphins franchise that hasn't made the playoffs since 2016.
As for Metcalf, he lost his Super Bowl-winning QB, Russell Wilson, in a trade with the Denver Broncos. Now, he is the subject of trade rumors, although the Seahawks have — so far — refused to trade the Pro Bowl pass-catcher.
Even if Hill and Metcalf don't end up racing for charity, they will undoubtedly be two of the most interesting and exciting WRs to watch in 2022 and beyond.
Like Sportscasting on Facebook. Follow us on Twitter @sportscasting19 and subscribe to our YouTube channel.