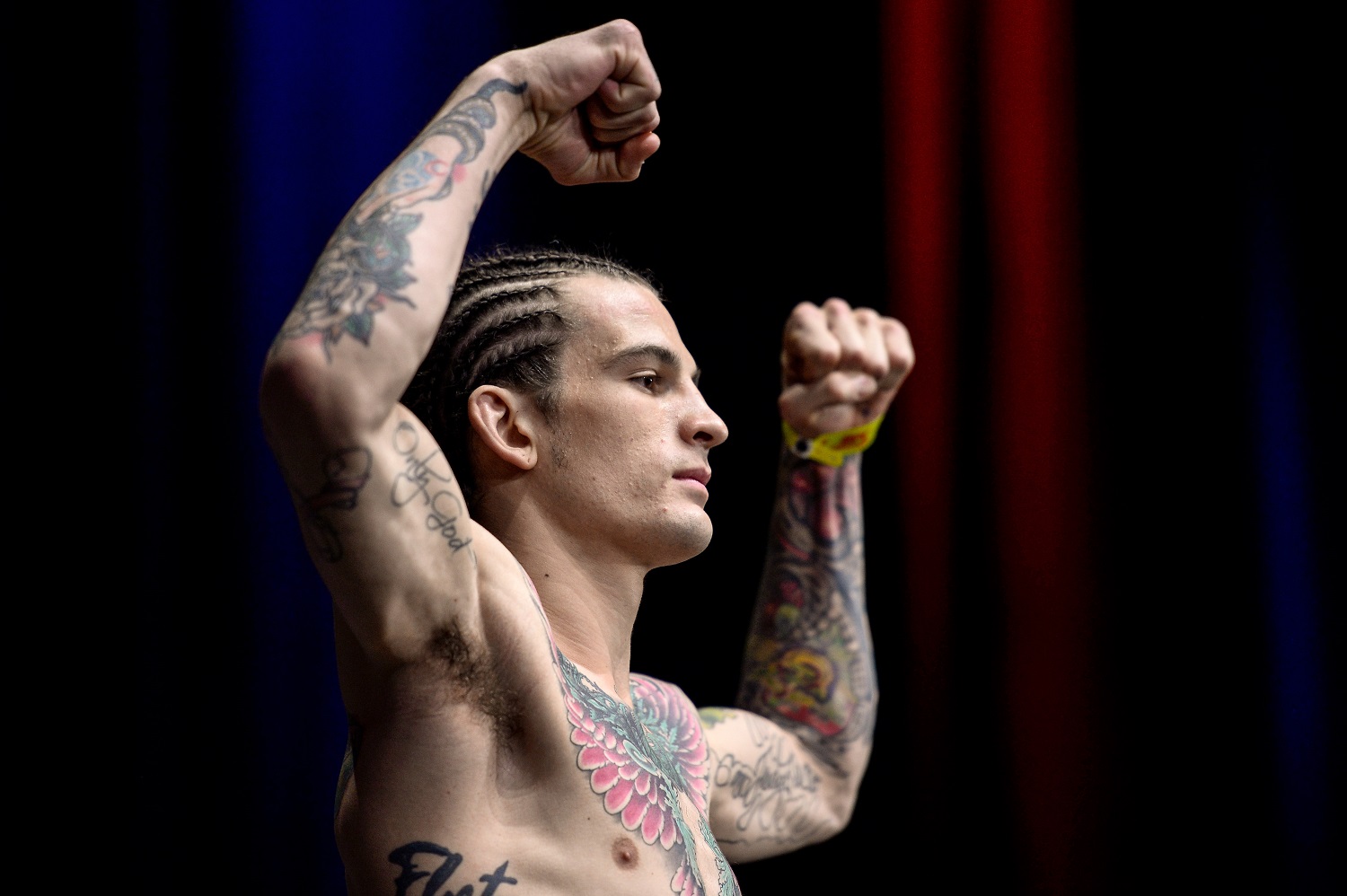 UFC Sensation Sean O'Malley Just Made More Money in 39 Seconds Selling His Own Clothes Than He Did in 2 Years With Reebok
UFC bantamweight sensation Sean O'Malley is set to launch a new clothing line and made a quick little fortune with an early-release jersey.
Sean O' Malley is quickly becoming one of the most popular UFC fighters and he proved that this week without throwing a single punch. Following the paths of those such as Conor McGregor and Ronda Rousey, O'Malley is looking to make big bucks outside the octagon as his stock continues to rise. While he has numerous lucrative endorsement deals already, he's also branching out on his own after finding out the cut of his deal with Reebok, who is a major UFC sponsor, wasn't exactly what he thought it should be. O'Malley is launching his own line of apparel and made more money in less than a minute than he did in two years with Reebok.
Sean O'Malley wowed in his UFC debut
Sean O'Malley made his MMA debut in March 2015 for Intense Championship Fighting and scored a first-round TKO over Josh Reyes. After going 5-0 in the promotion, four of those wins coming via knockout or submission, O'Malley then moved on to Extreme Beatdown, where he had just one fight, resulting in a first-round knockout of Irvin Veloz. His next fight came in Legacy Fighting Alliance and O'Malley scored yet another first-round knockout, taking out David Nuzzo with a spinning hook kick.
At 7-0, Sean O'Malley earned a slot on Dana White's Contender Series and wowed UFC fans with his performance, knocking out Alfred Khashakyan. He was quickly signed to a contract and made his official UFC debut in December 2017 and earned a unanimous decision win over Terrion Ware. Three months later, at UFC 222, he scored another win by decision, this time over Andre Soukhamthath.
It would be another two years before Sean O'Malley stepped into the octagon.
He missed more than two years due to injury and suspensions
In his fight with Andre Soukhamthath, Sean O'Malley badly injured his right foot, which made his win even more impressive as it was found out that he had actually fractured it, which obviously pushed back his next fight. He was set to face Jose Alberto Quinonez in October 2018 but pulled out of the fight as he was facing a possible Anti-Doping Policy violation. O'Malley chose to have hip surgery while awaiting the outcome.
It was found that Sean O'Malley had tested positive for ostarine, a common contaminant found in supplements. He was suspended for six months and was eligible to return in March 2019. However, before his next scheduled fight in July, he again tested positive for the substance, resulting in yet another six-month suspension. O'Malley and his team were never able to identify which supplement was contaminated. It's very similar to what happened with Nate Diaz around the time of UFC 244.
O'Malley finally made his long-awaited return in March of this year at UFC 248. He quickly disposed of Quinonez, knocking him in out in the first round, and earned Performance of the Night honors. At UFC 250, he scored a one-punch knockout against Eddie Wineland.
Sean O'Malley made $20,000 in 39 seconds
Now ranked No. 14 in the bantamweight division, Sean O'Malley is scheduled to face Marlon Vera at UFC 252 in Las Vegas. But a few days before his big fight, August 11 to be exact, O'Malley will be launching his own line of apparel, which he's been working on for quite some time, and will take in the majority of the profits.
Ahead of the launch, he decided to do a little test run and released 100 limited edition jerseys for $200 each. They sold out in 39 seconds. O'Malley told MMAFighting.com that the $20,000 he made in less than a minute was more than he'd made in two years with Reebok, who apparently has sold more than a million dollars worth of merchandise with his likeness in that time. He's obviously more than thrilled with what's happening and knows he just needs to keep winning to keep things rolling.
"We did our first little drop with the jerseys. We had a limited edition jersey, 100 of them for $200. They sold out in 39 seconds. So that was exciting, kind of seeing the numbers we could do. I think over 4,000 people on the website trying to get the jerseys.

"We're dropping some more stuff fight week. Might be doing a collaboration with Cookies for some merch. Everything's going awesome.

"The only thing I need to do is keep winning fights and everything around me goes up from there. Everything's going good and can't complain."

Sean O'Malley
It's good to be Sean O'Malley right now.