Urban Meyer Points out 'the Most Important Thing' for His Jaguars Ahead of Sunday's Home Opener
It wasn't the best of debuts for first-year head coach Urban Meyer and rookie quarterback Trevor Lawrence last weekend. The Jacksonville Jaguars entered as a favorite on the road against the Houston Texans but came away with one ugly loss. Lawrence threw three interceptions and Meyer's Jags struggled mightily in a 37-21 loss.
Meyer knows his team has a lot to clean up ahead of Sunday's home opener against the Denver Broncos. His team needs work on both sides of the ball, but he revealed what he believes is the "most important thing" heading into the game.
Urban Meyer and the Jacksonville Jaguars have a long way to go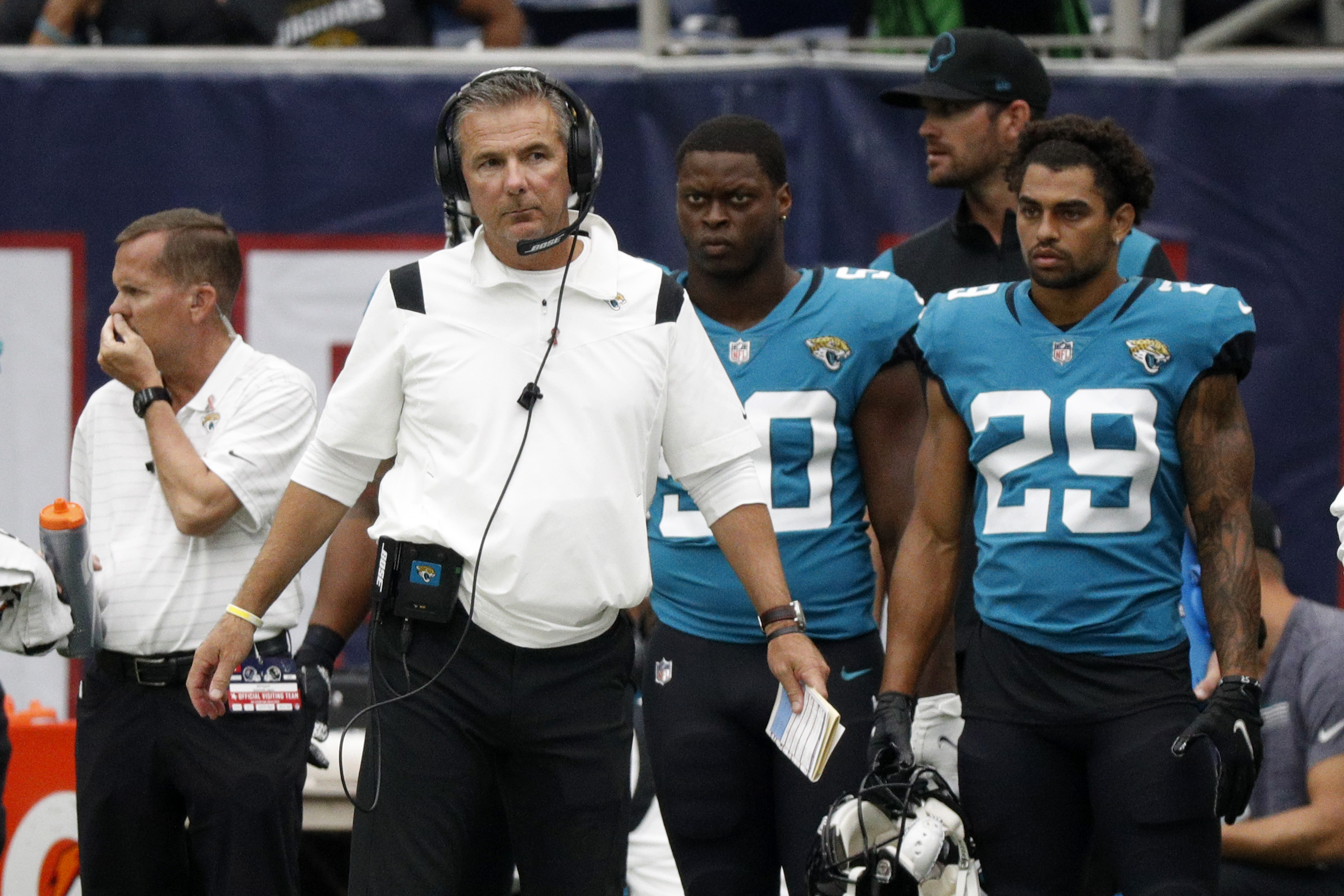 Nobody expected instant success for the Jaguars when Meyer and Lawrence came to town. Many, however, expected a much better showing than what took place last week against the Texans. They were outplayed and outcoached, but even more disturbing was the fact they looked lost.
They were flagged 10 times, many for foolish penalties. The Jags burned two timeouts to avoid delay of game penalties. They looked like a team that was just thrown together.
"It's inexcusable, the things that need to be fixed," Meyer said, according to The Florida Times-Union. "You know, three preseason games, you'd think we'd have that fixed. So that's something that we're going to — I would 'guesstimate' you would not see that again. That's inexcusable."
Lawrence said he assumes the blame for throwing three interceptions.
"Losing is always hard, especially when you feel like you are prepared and had a great week," Lawrence said after the game. "Really think we were ready and obviously didn't play well. It starts with me. I didn't play well for sure. I played really bad tonight."
Urban Meyer reveals what's most important for the Jaguars against the Broncos
The Jaguars host the Broncos in the season opener on Sunday. Denver posted a road win at the New York Giants last week and looks to make it two straight.
Meyer believes there is a lot more to just fixing up careless mistakes and getting Lawrence untracked to bouncing back. He's hoping the team sticks to its plan and stays strong mentally.
"The locker room is the most important thing, and I just see good players, I see good people. It's a build, and we're building," Meyer said to The Florida Times-Union. "(I have) a lot of respect for these guys and I have not wavered on that. So, we all have to do just better, getting ready to go and playing better."
The Jaguars have lost 16 straight games dating back to last year. They defeated the Indianapolis Colts in the 2020 season opener and haven't tasted victory since.
Lawrence and the Jaguars expecting to bounce back in Week 2
The Jaguars need to have a short memory after their embarrassing loss in Week 1. Although they're young with a rookie head coach, they are saying all the right things heading into Sunday's matchup with the Broncos.
"Definitely some stuff we've got to clean up," Lawrence said. "Too many penalties. Like I said, turnovers, it's all me. Three turnovers. You're not going to win many games with three turnovers, especially when margin was minus-three for us, so just not good. So a lot of things we've got to do better. But, like I said, you've got to watch them and correct them and then move on."
Edge rusher Josh Allen said he's already put the Texans game behind him. It's time to look ahead, he said.
"We are all grown men," Allen said. "We're going to move on. That's all we can do. And that's what we've got to do. That's what we are going to do."