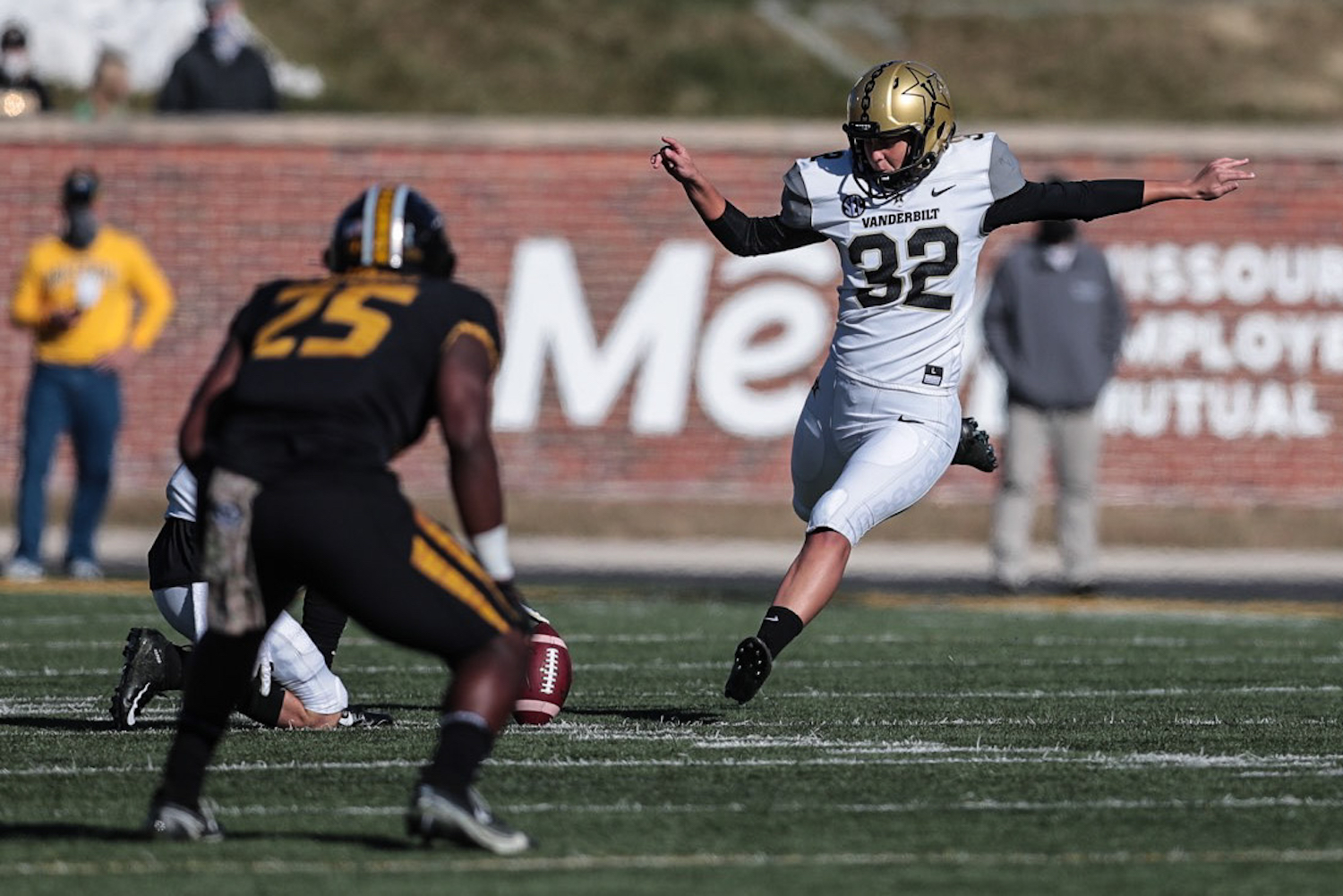 Vanderbilt Kicker Sarah Fuller Revealed How Dramatic the College Sports Landscape Is Changing
Sarah Fuller made history becoming the first woman to play in a Power 5 conference football game. And she also revealed how dramatic the college sports landscape is changing.
A week ago, the only sports fans who knew about Sarah Fuller followed the Vanderbilt women's soccer program. Now, she's a trending topic and has been talked about on everything from ESPN to Good Morning America. Fuller's rapid ascent to a star overnight has revealed a dramatic shift in the college sports landscape and provided a template for athletes in the future. 
Sarah Fuller transitions from soccer player to college football star 
Sarah Fuller's career as a goalkeeper for the Vanderbilt women's soccer team was far from glamorous. She broke her foot right before the start of her freshman season and sat out the entire year. During her sophomore year, the same thing happened. This time it was a back injury that sidelined her the entire season.
After another injury and a pandemic, Fuller finally got the call to start during the fourth game of her senior season. She started every game after, and the team went on to win the Southeastern Conference's women's soccer tournament. 
Despite Sarah Fuller's accolades with the Commodores, she or anyone from Vanderbilt's women's soccer team would rarely make SportsCenter highlights. That all changed last week when the Vanderbilt football team announced that Fuller would be on the roster due to several kickers entering quarantines related to COVID-19. 
On Saturday, November 28, 2020, Fuller kicked off to start the second half, making her the first woman to see action in a Power Five football game.
Sarah Fuller's rise on social media
It was the kick viewed 'round the world. Sarah Fuller's kickoff made every sports highlight package that night. The next day, it was one of the top national news stories. Social media exploded. Most applauding her, while some criticized her and Vanderbilt for a publicity stunt. 
One of her biggest defenders was former USWNT goalkeeper Hope Solo. Other big-name athletes have lauded her efforts, including tennis legend Billie Jean King, former USMNT goalkeeper Tim Howard, and women's soccer legend Mia Hamm. 
Fuller's explosion in celebrity on social media has been astonishing. Since Wednesday afternoon, she has experienced 20,495% growth on Twitter for an increase of more than 49.1K followers. On Instagram, she's seen 14,754% growth with the addition of more than 152K followers.
As a result, her voice has power. How much power?
Sarah Fuller posted two tweets that received more than 153,000 likes. That's 15,000 more than Vanderbilt football's 26 tweets combined, according to Opendorse. On Instagram, her post received more than 358,000 likes. Vanderbilt football's 11 posts garnered a total of just over 166,800 likes.
Provides template for college athletes to capitalize on celebrity in future
The sudden rise of Sarah Fuller and her success on social media dramatically reveals how there's been a shift in college athletics and how it is digested by a large portion of the population. Since the beginning, college athletic departments and their media relations teams controlled the message. Now, the athlete's reach can often exceed that of the team they play for or even the larger sports networks. 
In the future, college athletes can leverage this popularity for profit, which will happen in the next few years with the NCAA's new name, image, or likeness rules. For now, Fuller opted to use her platform for good. 
Before the game, she added the words "Play Like a Girl" to the back of her helmet. She also tweeted the phrase and referenced a nonprofit organization that helped girls play sports and get exposure to STEM opportunities called I Play Like a Girl. She included a link to the organization's page.
I Play Like A Girl's founder, Kimberley Clay, told WKRN, her two-woman operation received more than 300 emails asking about donations and partnership opportunities following the tweet. She was very grateful for Fuller's willingness to promote the organization.
In one week's time, Sarah Fuller has gone from a no-name women's college soccer player to a household name capable of generating hundreds of donations for a local nonprofit. Her rise is just a glimpse into what the future holds in store for college athletes and their ability to profit off of their own celebrity. A dramatic change to the college landscape that many think is long overdue.