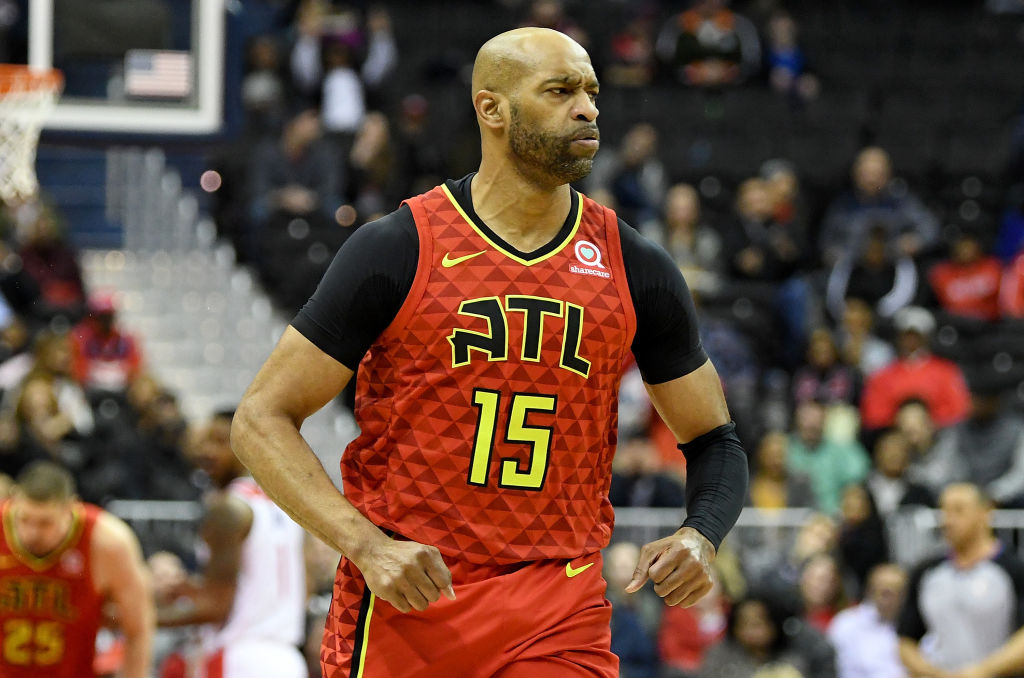 Vince Carter Ended His $50 Million Puma Contract Because Their Shoes Hurt His Feet
Vince Carter capitalized on his NBA superstardom with a $50 million shoe deal from Puma. He ended it because the shoes hurt his feet.
In his heyday, few NBA superstars garnered as much attention as Vince Carter. The greatest dunker in the history of the sport captivated audiences with his ability to fly through the air like a young Michael Jordan. Combined with his creativity, Carter became one of the most popular NBA stars across the world.
Of course, in order to get great elevation, you need great footwear. Unfortunately for Vince Carter, his first foray into the shoe game began with Puma. Yet, he walked away from a $50 million deal for the most practical reason: The shoes hurt his feet.
Vince Carter signed a huge deal with Puma
Born in Daytona Beach, Fla., Vince Carter enjoyed tremendous success as a high-school volleyball player. His vertical hops and explosion obviously translated to the basketball court, too. Following a legendary career at Mainland High, he signed with the University of North Carolina.
Carter spent three years with the Tarheels. As a freshman, he played sparingly and averaged just 7.5 points in 31 games (19 starts). However, the Florida native took his game to another level as a sophomore. Carter scored 13 points per game on a stellar 52.5 percent shooting.
That set up the future NBA star for an excellent junior season in which he shot 41.1 percent from 3-point territory. Carter also averaged career-highs in points (15.6), rebounds (5.1) and field-goal percentage (59.1).
Expected to be a top pick in the 1998 NBA draft, the collegiate standout signed a 10-year, $50 million contract with Puma that would include a signature shoe. That represented a huge get for a company that watched Nike take off with Michael Jordan. Only, the Puma-Carter relationship wouldn't last long.
Carter ended his $50 million Puma contract because the shoes hurt his feet
Securing a massive shoe deal from a major company should have made Vince Carter a happy young man. After all, his $50 million Puma contract dwarfed his rookie deal that totaled less than $6.5 million. However, according to Chris Kirschner of The Athletic, Carter found Puma to literally be a poor fit.
Carter only played a few games in his signature shoe before abruptly terminating his decade-long contract with Puma. There were reports at that time that suggested Carter chose to break his contract with Puma because the company's shoes were hurting his feet, and he was unhappy with how slowly Puma was moving with releasing the Vinsanity shoes.

Incredibly, Carter had to pay Puma almost $13.5 million due to a breach of contract. Ironically, he wore AND1 Tai Chis when he destroyed the 2000 NBA Slam Dunk Contest. Yet, something felt empty. Puma's Vinsanity shoe may not have worked out, but the dynamic dunker needed a new company to work with.
NBA legend spent the majority of his career with Nike
Ultimately, Vince Carter followed right in Michael Jordan's footsteps by taking his talents to Nike. The company released the Shox, which turned out to be a huge hit.
"It was a match made in heaven," Carter said. "I don't recall there being an opportunity to have my own shoe at the time anywhere else. There might have been conversations where they said maybe they'll create one down the line. The Shox were done years before and they held them until the right time and then boom. That's how they took off."
For the next two decades, Vince Carter established a Hall of Fame career wearing Nikes. He earned nine NBA All-Star selections and threw down one of the most memorable dunks of all time at the 2000 Sydney Olympics.
Though he never captured an NBA title, the 1999 NBA Rookie of the Year did just about everything else. Even after his days as a star ended, he still lasted another decade in the league as a key role player.
Vince Carter wrapped up his 22-year NBA career this season with the Atlanta Hawks. He'll most certainly get inducted into the Naismith Memorial Basketball Hall of Fame someday. And ultimately, his decision to sever ties with Puma and take his talents to Nike made him a wealthy and successful NBA superstar.
In the end, it really came down to, "If the shoe fits."