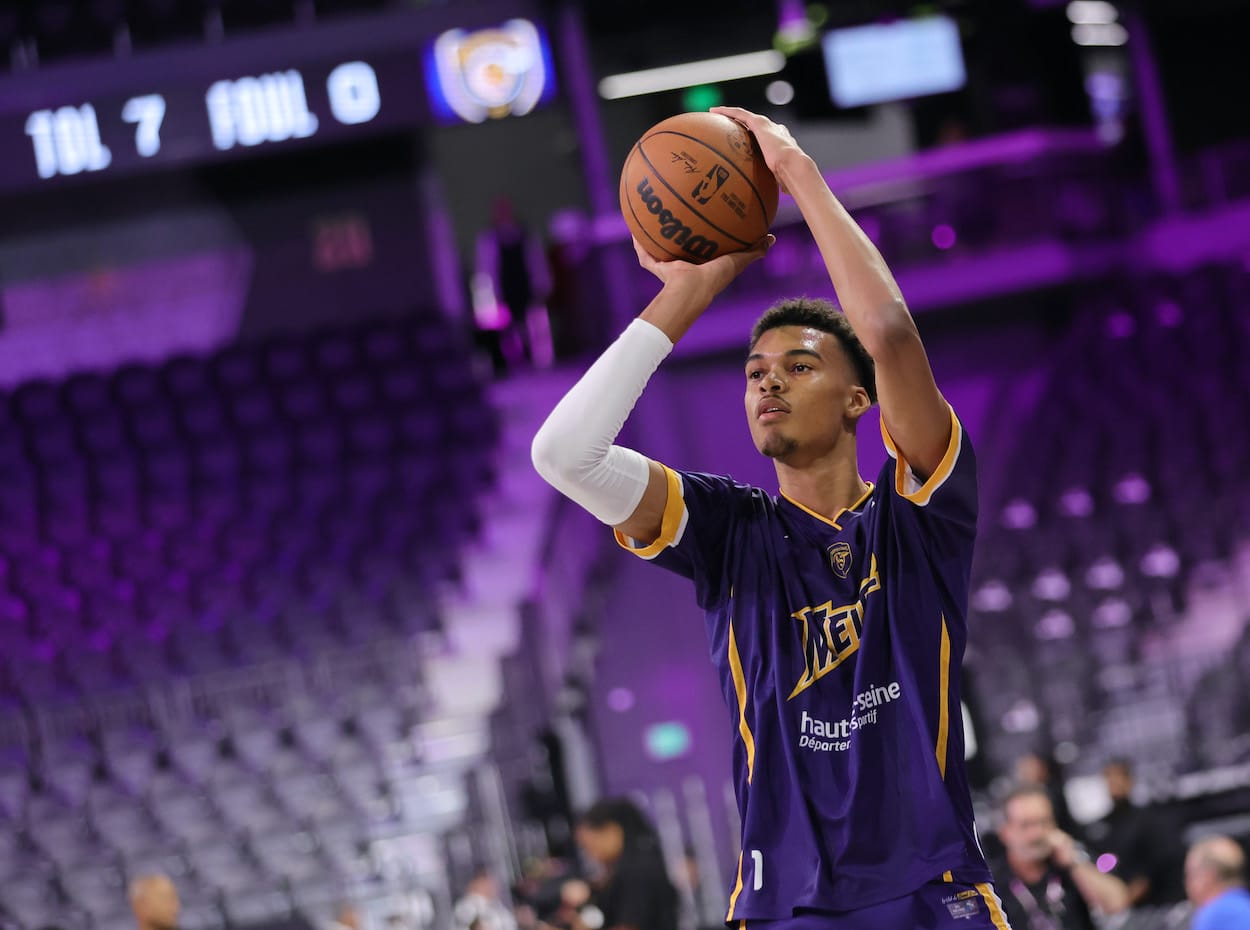 WATCH: 7-Foot-4 Unicorn Victor Wembanyama Lives Up to the NBA Draft Hype With 37-Point, 5-Block Masterpiece
Victor Wembanyama just proved why he's the next No. 1 draft pick.
If you're a die-hard NBA fan, you've most likely heard of the newest unicorn in our midst. Victor Wembanyama, the 7-foot-4 forward (yes, forward) from France, is nearly a lock to go No. 1 in the 2023 NBA Draft. You may have heard tales about his guard-like skillset and ruthless rim-protecting ability, but he's never shown his game off on the national stage.
Until now.
On Tuesday night, Wembanyama suited up for his Metropolitans 92 squad against projected No. 2 pick Scoot Henderson and G League Ignite on national television, and he didn't disappoint. Check out the jaw-dropping highlights from the next great NBA superstar and see what the hype is all about.
Victor Wembanyama shows why he's the NBA's next No. 1 pick
If there was any doubt about Wembanyama going No. 1 in next year's NBA draft, it's gone after Tuesday night. The 7-foot-4 unicorn showed out in his first game action on U.S. soil with 37 points, four rebounds, one steal, and five blocks. But here's the kicker.
Wembanyama, who plays more like a guard than a towering center, made seven of his 11 three-point attempts in the game. He was stepping into threes with the confidence and the smooth release of a JJ Redick. He was sizing up defenders from beyond the arc and taking them off the dribble like a Devin Booker. We've never seen this before from a prospect of his size.
On the other end of the court, he was swatting any foolish G League Ignite player who dared attempt a shot in his paint. Late in the game, Wembanyama knocked down a three, stuffed Henderson on a dunk attempt, and drained another three on the other end for a personal six-point swing.
It seemed impossible for Wembanyama to live up to the massive hype he's created, but the once-in-a-lifetime prospect somehow exceeded expectations in his first true test against future NBA players. This kid is special, and the tanking race for the worst record in the league sure is going to be a fun one to watch this season.
Like Sportscasting on Facebook. Follow us on Twitter @sportscasting19.