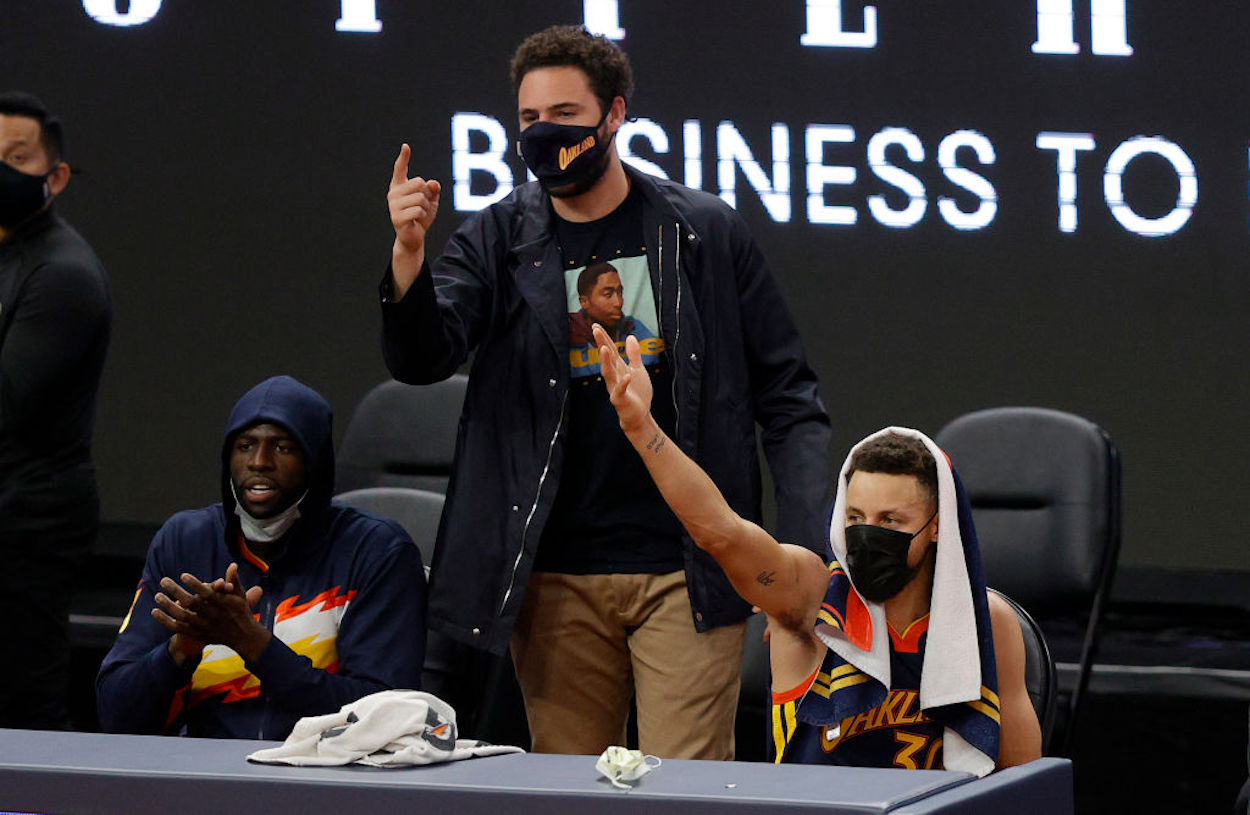 Wayne Ellington Fires Shots Back at Draymond Green and Klay Thompson After Pistons-Warriors Dust-Up
Draymond Green went after Rodney McGruder after a dust-up Saturday night, and Wayne Ellington responded with a shot of his own.
Things got chippy between the Golden State Warriors and the Detroit Pistons after their game Saturday night. Following the final buzzer, Pistons guard Rodney McGruder approached the Warriors' bench and the two sides starting jawing at each other. Afterward, both Klay Thompson and Draymond Green fired some loud shots at McGruder, and Ellington just retaliated the next day with some harsh words for the Warriors All-Stars.
Tempers flare in the Bay Area
After the Pistons-Warriors game Saturday night, both teams got into it on their way to the locker room after Rodney McGruder approached Golden State's Juan Toscano-Anderson. The teams were separated before the altercation became physical, but that didn't stop Klay Thompson from taking a shot at McGruder.
"I don't know, this dude might be out of the league soon," Thompson said on the television broadcast after the dust-up. "He might be mad about that, over here trying to start something like he's a good player or something. Like bro get outta here."
But Thompson took it easy on McGruder compared to what Draymond Green said about him.
Draymond Green calls out Rodney McGruder
Green was asked about the altercation during his postgame press conference, and let's just say he didn't hold back.
"I don't know. I was in the locker room. But apparently, he was taking up for Wayne Ellington," Green told reporters after the game. "When the f— did Rodney McGruder become the tough guy? I don't know, man, everybody in the league tough these days. It's crazy. I've seen a lot of tough guys this year. I don't understand it. And don't nobody do anything. Like if you really wanted to do something, you could have done it. Walking over there talking s— like he a tough guy. Get the hell outta here. F—ing tough guy Rodney. Tough guy. Also, I'm rocking with Juan [Toscano-Anderson]. Juan T was about to bring that Town Bidness s— out on him. Yeah, I'm rocking with Juan T on that one anyway.
"Also I think it was something Juan said in the first or second quarter to Wayne Ellington. You got nothing better to do that you're still thinking of something from the first or second quarter when you weren't in the game. So apparently, Wayne Ellington must have went over to the bench. I guess he went and told McGruder because he hadn't been in the game. Yeah, I don't know. There's too many tough guys in the league these days for me. But I know no one scared of no damn Rodney McGruder, like f—ing kidding me? Insane. But Klay [Thompson] said it best. Klay said it best. Leave it at that."
Well then. Tell us how you really feel, Draymond.
Wayne Ellington fires a shot back at Draymond Green and Klay Thompson
The Pistons weren't just going to let the Warriors bad mouth them publicity without getting a word of their own in. On Sunday, Wayne Ellington stuck up for his teammate while calling out Golden State's two All-Stars.
"First of all, I think it's very unprofessional and definitely not classy for somebody to attack Rodney's professional career the way it was attacked," Ellington told reporters Sunday. "To be honest, the guy over there, Juan, is the one who started the whole thing. Rod [McGruder] is a man of respect, like myself, and I felt like he took offense to whatever the guy was saying to me in the first half.
"For Draymond to sit up there and talk all that kind of crazy stuff behind a microphone, I think that's the fake tough-guy stuff, to be honest with you."
Unfortunately, the Pistons and Warriors won't be meeting again this season, so we'll have to wait until next year to see what the encore has in store.