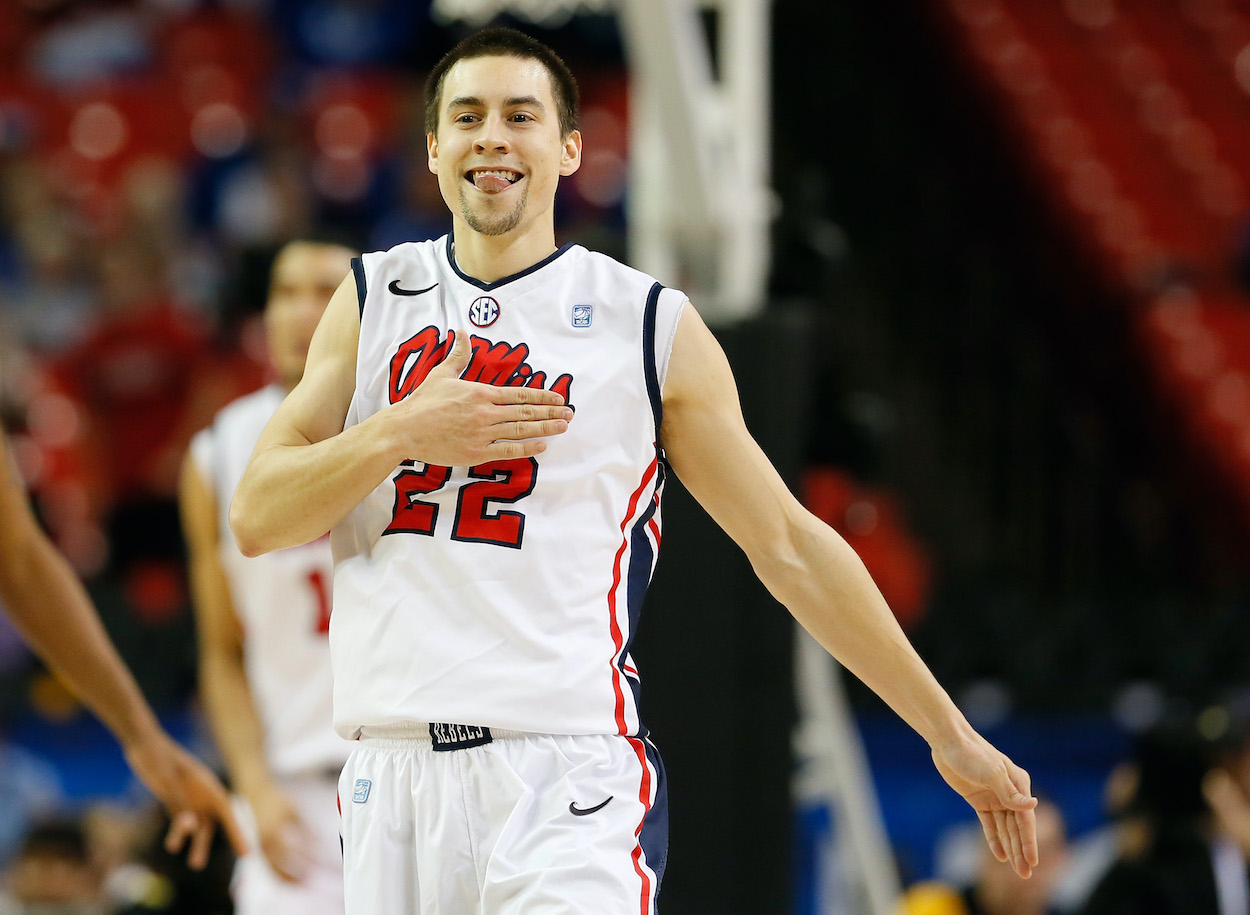 Whatever Happened to Polarizing Ole Miss Star and NCAA Bad Boy Marshall Henderson?
Marshall Henderson took the NCAA by storm with his antics and clutch play at Ole Miss. What happened to him and what is he doing now?
Every college basketball fan who's followed the sport for the last decade remembers the name Marshall Henderson. The former Ole Miss star is one of the most polarizing figures to ever come through the NCAA. Love him or hate him, Henderson sure knew how to evoke extreme emotions out of everyone who watched him work his magic in college.
It's now been seven years since Henderson left Ole Miss to pursue his NBA dreams. How far did he make it in the pros and what is he up to today?
Marshall Henderson was a polarizing star at Ole Miss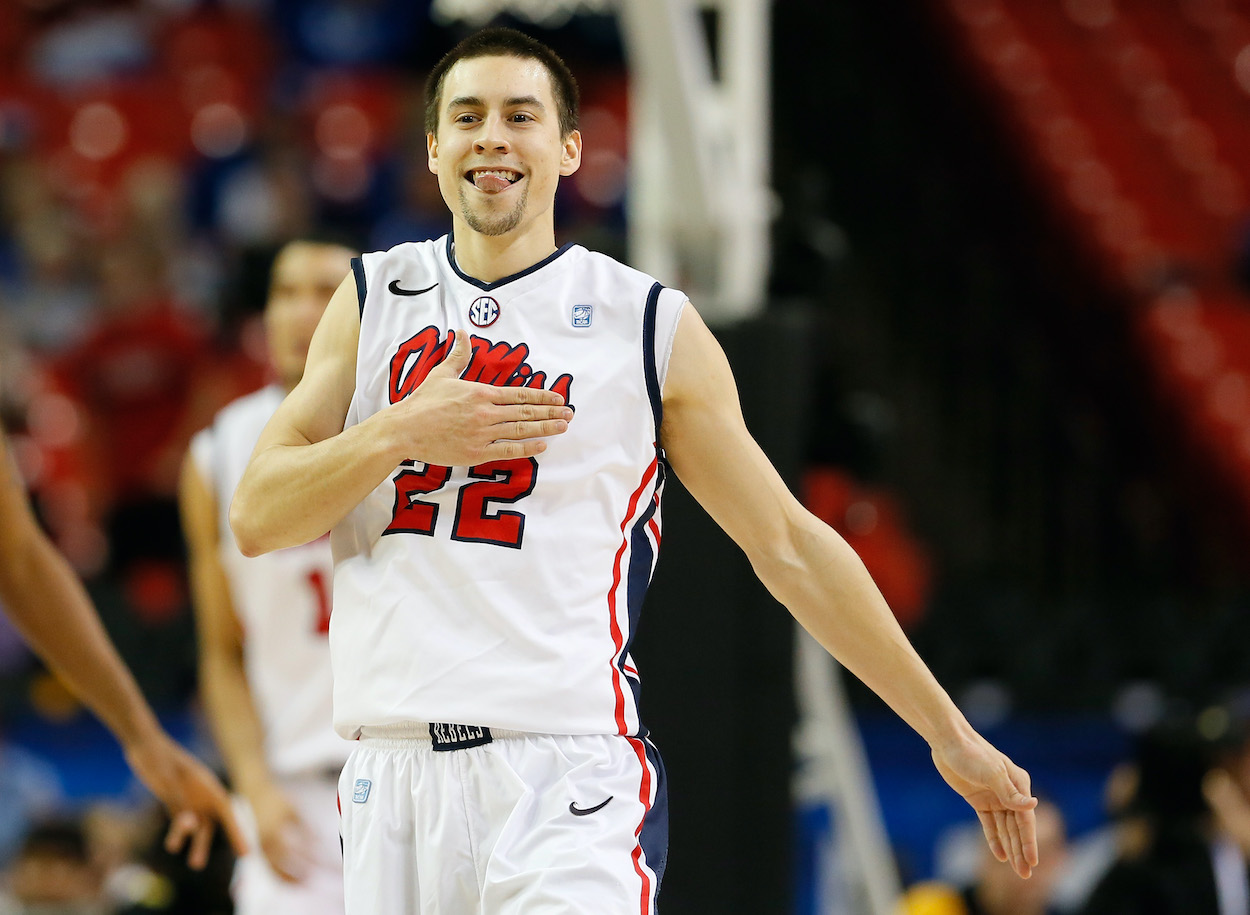 Every few years, we get introduced to another captivating college basketball talent who is beloved by his team's fan base and absolutely abhorred by the rest of the country. Christian Laettner was the founding father of the breed from the late '80s and early '90s. Then came Jalen Rose, then J.J. Redick, Joakim Noah, Tyler Hansbrough, and Grayson Allen. Marshall Henderson wasn't as big of a name as those college stars, but he undoubtedly deserves a spot on that list.
Henderson was an arrogant, trash-talking, lightning rod of a scorer who made Ole Miss games must-watch television in the early 2010s. During his two seasons with the Rebels, Henderson averaged 19.6 points, 1.9 assists, and 1.4 steals per game.
Defenders had to pick Henderson up from the moment he dribbled beyond half-court. He was a threat to shoot from anywhere in the gym, and he had maybe the greenest light in the history of college basketball. Henderson chucked up nearly 12 threes per game for Ole Miss and made 34.6% of his attempts.
Henderson's gun-slinging style of play is what made him a star, but his cocky demeanor and elite trash talk are what made him unique. From mocking the "Gator chomp" during a game against Florida to taunting Auburn's student section point blank after a big road win, Henderson was never shy to rub his success in his opponents' face. He always seemed to play his best basketball on the road when opposing fans were screaming and cursing his name for two hours straight. Most 21-year-olds fold under that type of pressure and chaos. Henderson thrived in it.
Henderson's over-the-top antics rightfully earned him the nickname, "Bad Boy of the NCAA."
Henderson's pro basketball career fell short
After Marshall Henderson's college career came to an end in 2014, he set his sights on the NBA. Unfortunately for the Ole Miss fan-favorite, he went undrafted in the 2014 NBA draft. Henderson spent time overseas playing for professional clubs in Italy, China, Iraq, and Qatar. During his brief stint with Al-Rayyan of the Qatar Basketball League in 2014, Henderson was named the MVP of the Arab Club Championship.
The college standout did earn a spot on the Sacramento Kings' D League roster prior to the 2015 season, but he was never able to make the jump to the NBA.
Henderson last played professionally for Pavia Basket in Italy in 2017.
Where is Marshall Henderson today?
Ole Miss is where the legend of Marshall Henderson was born, so it's only right that he's returned to Oxford years later. In 2020, Henderson was hired by head coach Kermit Davis to serve as a graduate manager for the Rebels. He's also working toward a master's degree.
"Of course, I am thrilled to be back in Oxford," Henderson said after joining Davis' staff. "The people here have been more than wonderful to me for a long time. Anything I can do to help the basketball team continue their success, I will do to the fullest of my ability."
Henderson previously coached at Birdville High School in North Richland Hills, Texas and Thomas University in Thomasville, Georgia.
Maybe the Ole Miss legend will eventually take over as the head coach of the Rebels. Boy, that would sure be something.
All stats courtesy of Sports Reference