What Happened to Don Cherry After He Lost His Job on 'Hockey Night in Canada'?
If you're an NHL fan, you know the name Don Cherry. Whether you loved him or hated him, Grapes was a fixture in the sports world; Saturday night wasn't complete without listening to the latest segment of "Coach's Corner" and hearing which good Canadian boy did something that Cherry felt deserved a thumbs up. In November 2019, however, everything changed. After a Remembrance Day rant criticizing "you people" who didn't wear poppies, Cherry lost his job on Hockey Night in Canada. This has left many wondering: What happened to Don Cherry, and what is he doing now?
Don Cherry spent his life in and around professional hockey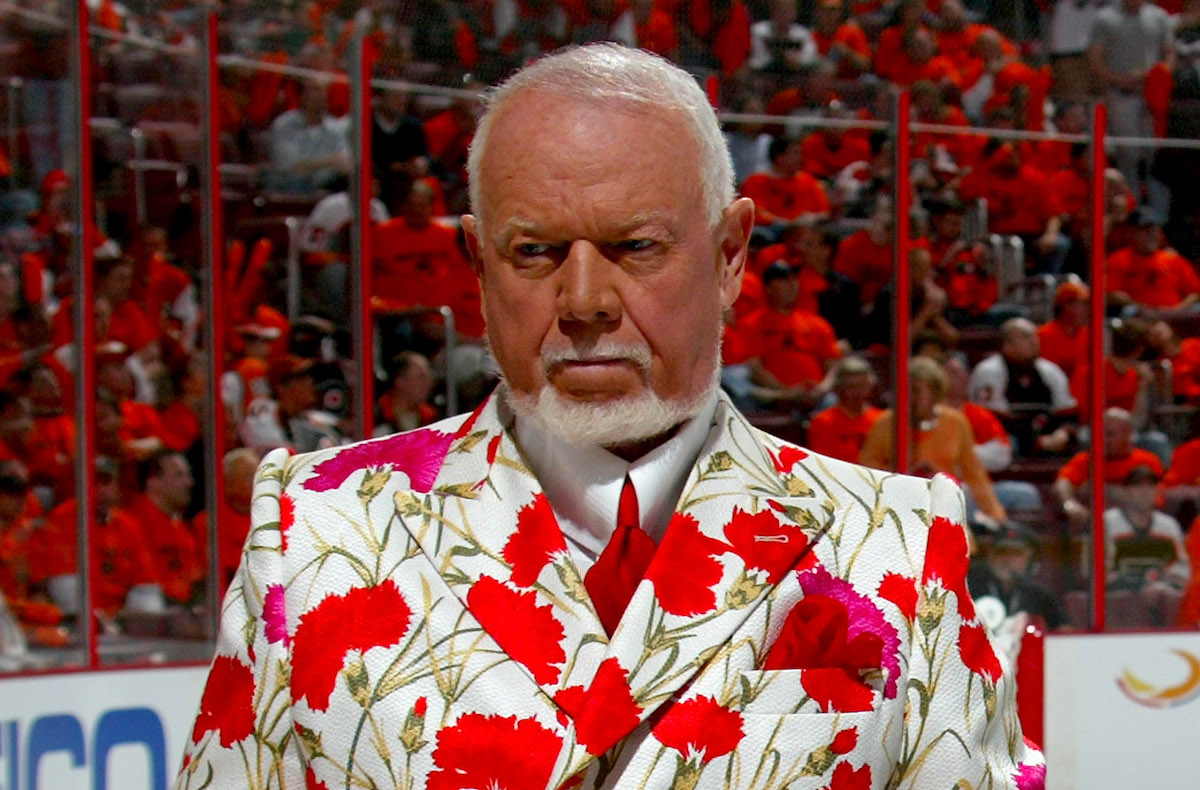 While it may border on cliche to say that hockey is more than a game in Canada, there's some truth to that statement. Don Cherry, for better or worse, used the sport to define his very existence.
Cherry got his start as a player and, while he had a lengthy career, he failed to make much of an impact on the ice. The majority of his games came at the AHL level, where he played over 750 games in the minors, but only made one brief appearance in the NHL.
Despite that reality, Grapes couldn't leave hockey behind. After his time as a player ended, he stepped behind the bench as an AHL coach. He eventually made it to the NHL ranks and a total of six seasons with the Boston Bruins and Colorado Rockies.
Cherry's true impact on the hockey world, however, came through his television work. A color commentary gig gave way to "Coach's Corner," a segment where the hockey-lifer could discuss virtually anything he pleased. While his perspectives didn't push the discourse forward — Cherry frequently bashd Europeans and others who he felt didn't play hockey "the right way" while praising good Canadian boys and hard-working journeymen — he simply became part of the furniture. Don Cherry was simply part of the Hockey Night in Canada experience.
Criticizing 'you people' was the straw that broke the camel's back
If you watched Don Cherry for any length of time, you know he was prone to making some questionable comments. In the early part of the 2019/2020 hockey season, though, he finally took things too far.
In November 2019, Cherry launched into his annual speech about Remembrance Day. While he previously had complained that not enough Torontonians wore poppies, this segment proved to be different.
"You people … You love our way of life, you love our milk and honey, at least you can pay a couple bucks for a poppy or something like that," Cherry said according to an AP report shared by NBC News. "These guys paid for your way of life that you enjoy in Canada, these guys paid the biggest price."
Although Grapes had survived previous controversial statements, Rogers Sportsnet finally had enough. "Coach's Corner" and Cherry's television career promptly became a thing of the past.
What is Don Cherry doing now?
So what is Don Cherry doing now?
After those fateful comments, Cherry lost his place on Hockey Night in Canada. That reality, however, hasn't completely divorced him from the world of hockey. Cherry still maintains a Twitter presence and has his own podcast, fittingly called Don Cherry's Grapevine Podcast.
"I sit at the kitchen table and we just tell stories," the former broadcaster told Simon Whitehouse of NNSL Media. "My son does it and runs it and my grandson Del helps to make it sound good. Every Sunday morning I tell stories most of the time. I try not to get involved too much with scores because we find by the time it comes out, it becomes too dated."
For longtime hockey fans, it probably seems a bit strange to see a Hockey Night in Canada broadcast without Don Cherry. In reality, though, things aren't that different.
While he's no longer on TV, Cherry is still sharing his unique opinions, and, unsurprisingly, he's still not backing down from his "you people" comments. "Cherry said although he would rather still be doing Hockey Night in Canada, he felt he was obliged to not apologize for comments when given the chance because he meant what he said," Whitehouse explained.