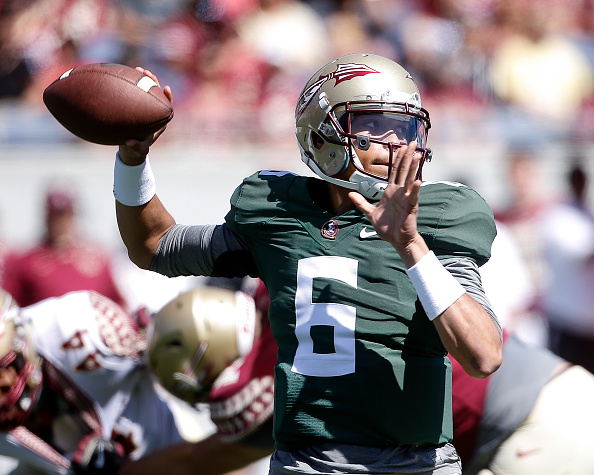 What Happened to Former 'Last Chance U' Star Quarterback Malik Henry?
Malik Henry was a star in high school, but that all changed once he got to college. He's since taken a nontraditional path to stay in the sport.
Malik Henry was a highly-rated quarterback in high school. He committed to play college football at Florida State University, but despite his skill, he struggled to get along with the coaching staff. The Long Beach, California, native left Florida State and transferred to Independence Community College.
The school was featured on Netflix's Last Chance U, which gave viewers a front-row seat to Henry running into the same problems with a new set of coaches.
But where is the quarterback now?
Malik Henry knew how to play the quarterback position
If you watched the high school version of Malik Henry play at Long Beach Tech in California, you could immediately see how talented he was.
He could throw and run the ball. He knew how to make the right reads on offense. And based on his success, Rivals classified him as a 4-star prospect who ranked No. 34 overall in the 2016 class. When he committed to Florida State, he was expected to compete for the starting job.
That's not how Henry's Florida State tenure unfolded, though.
He was suspended for violating team rules but was later reinstated. And after he didn't dress for any games as a freshman, he decided to transfer away from the Seminoles program.
Rather than transferring to another college football powerhouse, the high-level dual-threat prospect decided to join Independence Community College in Independence, Kansas. Jason Brown, then entering his first year as the program's head coach, brought the intriguing signal-caller aboard in an attempt to turn the Pirates around.
Malik Henry had issues at Independence
The third season of Last Chance U the Independence football team throughout the 2017 campaign.
Malik Henry had a good year, throwing for 1,383 yards and 10 touchdowns in 10 games, per the program's website. The Pirates finished with a 9-2 record, but their quarterback had issues with the coaching staff — and Jason Brown, in particular.
Toward the end of the season, Henry did not have any offers from big-time schools and was wondering if he would sign with a school. Netflix followed Independence during the 2018 season, as well, and Henry wasn't on the squad at the start of the year. But a few games into the season, he was brought back as a scout player and ended up playing in two games. He threw for 237 yards and one touchdown, and that was enough for him to get a look from a second Division I school.
Malik Henry signed to play at the University of Nevada
Malik Henry returned to Division I football, but not at a Power Five school.
Nevada took a chance on the dual-threat option, offering him a spot as a walk-on, and he unexpectedly received a chance to start after a strong spring camp and injuries to his competitors — a broken throwing hand for pre-camp favorite Cristian Solano and a collarbone injury to Carson Strong midway through the year.
Henry received his first start against San Jose State on Oct. 12, 2019, and completed 22 of 37 passes for 352 yards, one touchdown, and two interceptions in a nailbiting 41-38 win.
But if that was the high point, the low point followed quickly. After Henry went 17-of-38 for 213 yards, zero touchdowns, and two interceptions in a loss to Utah State, Nevada head coach Jay Norvell reduced his playing time so he could focus off the field. Henry did not return to practice, didn't enroll in classes for the following semester, and moved on from his tumultuous collegiate career.
Where is Malik Henry now?
After his brief up-and-down tenure with the Wolf Pack, Malik Henry landed with the Frisco Fighters of the Indoor Football League. He appeared in seven games during the 2021 season, completing 76 of 140 passes for 778 yards, 10 touchdowns, and five interceptions while rushing 13 times for 21 yards.
Henry has since stuck in the world of indoor football, joining the National Arena League's Jacksonville Sharks in 2021-22 and then suiting up for the Carolina Cobras in 2022-23. Through Week 6 of the team's schedule, the former 4-star recruit had appeared in four games and gone 73-of-123 for 809 yards, 15 touchdowns, and three interceptions.