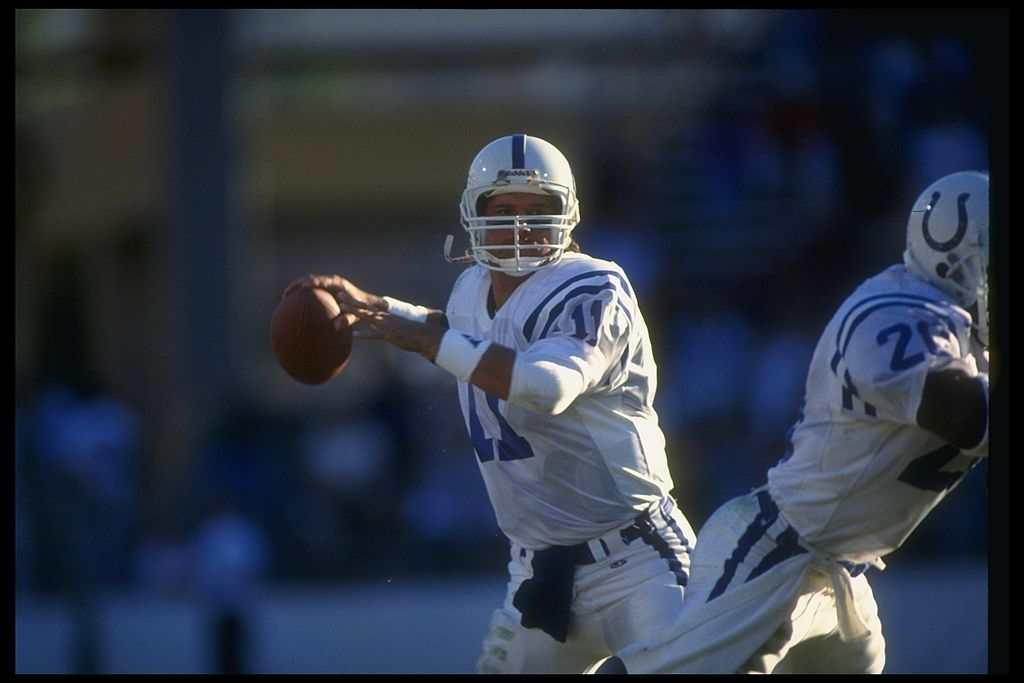 What Happened to No. 1 Draft Pick Jeff George?
Jeff George was the No. 1 pick in the 1990 NFL Draft. He never lived up to the expectations. Where is Jeff George today?
Thirty years ago, the Indianapolis Colts traded multiple players and future picks to the Atlanta Falcons to get the first overall selection of the 1990 NFL Draft. With their pick, the Colts selected quarterback Jeff George. George stayed in the league for 12 seasons but was ultimately a bust. Where is Jeff George today?
Colts select Jeff George at No. 1
Coming out of college where he first played at Purdue before transferring to Illinois, Jeff George impressed numerous NFL teams. Known for his big-time arm, George led the Fighting Illini to a 10-2 record where he threw for 2,738 yards with 22 touchdowns and 12 interceptions. 
When the Colts selected George, it was a homecoming of sorts for the Indiana native who had led his Warren Central High School team to back-to-back state championships in 1984 and 1985. The Colts figured George could be the perfect player to correct their quarterback woes, and he would appeal to the local market that was still getting established after relocating to Indianapolis.
To get the first selection, the Colts had to trade up and gave away a ton of talent in the process. Indianapolis sent wide receiver Andre Rison, offensive lineman Chris Hinton, a 1990 fifth-round pick, a 1991 first-round pick, and a 1991 conditional pick to the Atlanta Falcons. Both players included in the deal put up impressive numbers throughout their respective careers. Rison turned out to be a perennial All-Pro, and Hinton finished his career with seven Pro Bowl appearances and five All-Pros.
George's most impressive number—his rookie contract worth $15 million, which was a record at the time. 
George's winding 12-year odyssey through the NFL
The hometown hero struggled from the start in Indianapolis. In his four seasons with the Colts, George had more interceptions (46) than touchdowns (41). He lost 35 of his 49 career starts. His only winning season came in 1992 when the Colts benched him several games. In the 10 games he did appear, he threw 15 interceptions and seven touchdowns. 
Before the start of the 1993 season, George upset fans and the organization when he demanded a trade and refused to report to training camp. Colts owner Jim Irsay never balked. George eventually reported and played that season. After the season, the Colts promptly traded him, ironically, to the Falcons.
Over the course of the next eight seasons, George achieved minimal success. He led the Falcons to a 9-7 record his second year there and played for a Minnesota Vikings team in 1999 that finished with an 8-2 record while he was at the helm and made the playoffs, the only postseason appearance of his career.
George finished out his career in 2001 with Washington, where he started in two games. His two-game numbers as Redskins quarterback summed up his career. He finished with zero touchdowns and three interceptions.
Where is Jeff George today?
Although he played his last game in 2001, at 34, George kept putting out feelers in the league for years, convinced he could still play. In a 2008 interview on Sirius NFL Radio, George said he found it hard to believe there wasn't a place in the game for him.

"My arm feels like I'm 25. I'm not asking to be a starter. I just want a spot on a team. I still hold out hope I can play in this league."

Jeff George
It never happened. 
Since his playing days ended, George has become an active businessman in Indiana where he purchased several Dairy Queen franchises, insurance agencies, and real estate.
Today, George is still connected to the game following his son, Jeff Jr., who has taken a path very similar to his father. The younger George won a state title with Warren Central High School in 2013 before attending the University of Illinois. He played at Illinois for a couple of seasons before transferring to Pittsburgh in 2018. In 2019, he played in two games for the Panthers and will be a redshirt senior in 2020.
And the George legacy lives on.