What Has Happened to Chiefs RB Clyde Edwards-Helaire?
Led by two-time MVP Patrick Mahomes, the Kansas City Chiefs can score quickly with their potent passing game. Mahomes led the NFL with 41 touchdown passes and threw for an NFL-best 5,250 yards. Rookie running back Isiah Pacheco has kept defenses honest with a strong first season, but what happened to their first-round pick in 2020, running back Clyde Edwards-Helaire?
Where is Clyde Edwards-Helaire?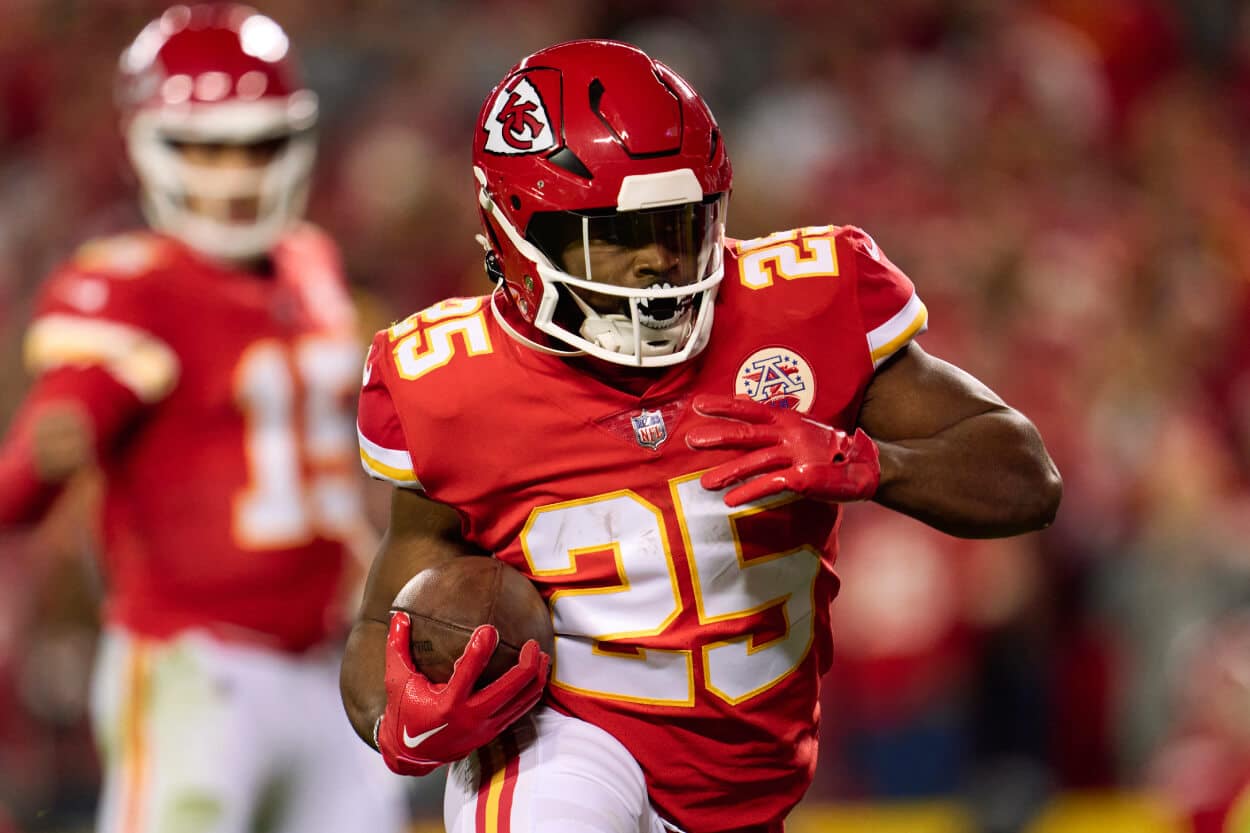 There aren't many holes in the Chiefs offense. Even after trading their top wide receiver, Tyreek Hill, Mahomes & Co. never skipped a beat.
The Chiefs used a first-round pick in 2020 on Edwards-Helaire, a running back out of LSU. They hoped to have a more balanced attack on offense, and Edwards-Helaire delivered immediately. As a rookie, he rushed for 803 yards and four touchdowns. He also caught 36 passes for 297 yards and another score.
This year, he opened as the team's starting back, but the emergence of Pacheco, a seventh-round pick in 2022, pushed him into a backup role. In Week 11, he suffered a high ankle sprain against the Los Angeles Chargers. He hasn't played since.
In his absence, Pacheco has been the top runner in the backfield. Jerick McKinnon has been a strong third-down back. Veteran Ronald Jones has been Kansas City's third back.
The Chiefs activated Edwards-Helaire from the injured reserve list
Earlier this week, the Chiefs announced they activated Edwards-Helaire from the injured reserve list while putting wide receiver Mecole Hardman on injured reserve with a pelvic injury.
According to Chiefs Wire, Chiefs coach Andy Reid made no promises about Edwards-Helaire being active for the game, however. A day after activating him from IR, Reid said he wanted to see how practice went during the week before making him active for the game. Edwards-Helaire said he felt good and would be ready to go if called upon.
"As far as behind the scenes, I was in every meeting," Edwards-Helaire said this week. "Every offensive meeting, every running back meeting. Giving feedback to Pop (Isiah Pacheco) and Jet (Jerick McKinnon) any time that they needed it. And I was always in the building.
"As far as the things that they always needed from me, I was there, I was there helping. I was practicing, I would say for the past three weeks, and I've been running for the past two months. Everything I've been doing has been progressing toward this point and getting the team to winning a Super Bowl."