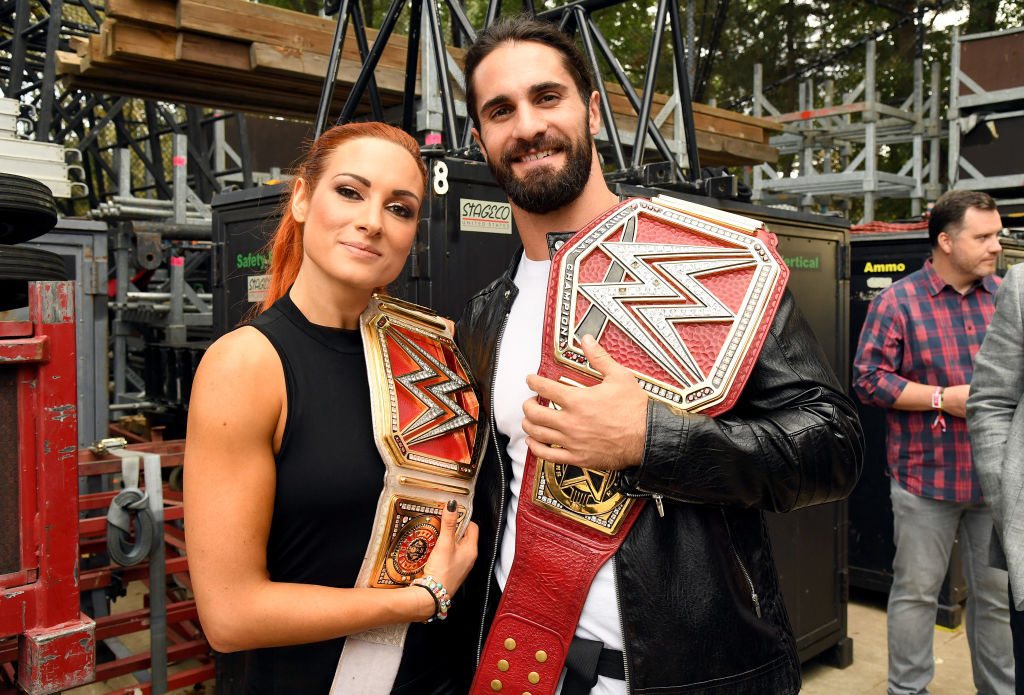 What is Becky Lynch and Seth Rollins' Combined Net Worth?
A look at the combined net worth of WWE stars Becky Lynch and Seth Rollins, who are expecting their first child later this year.
Becky Lynch dropped a bomb on WWE "Monday Night RAW" last night when she announced that she and fiance Seth Rollins are expecting their first child.
Becky Lynch, whose real name is Rebecca Quin, and Seth Rollins, who was born Colby Lopez, were engaged last year and had planned to be married this month. Unfortunately, those plans were changed due to the COVID-19 outbreak but that obviously hasn't stopped the couple from making headlines. The pregnancy announcement sent shockwaves through the world of professional wrestling and WWE will certainly have to make adjustments to deal with the loss of Becky Lynch.
But this is an exciting time for the couple and their first child, due in December, will certainly be born into a comfortable situation. While Becky Lynch and Seth Rollins certainly don't have Triple H and Stephanie McMahon money, WWE's dynamic duo is certainly worth a pretty penny.
Becky Lynch and Seth Rollins have been two of WWE's biggest stars for years
Becky Lynch and Seth Rollins have certainly made their mark in WWE and are easily two of the biggest stars of their generation. Both spent years on the independent scene before signing with WWE, Rollins in 2010, and Lynch in 2013.
After becoming the first-ever NXT Champion in August 2012, Seth Rollins made his main-roster debut later that year at Survivor Series alongside Roman Reigns and Dean Ambrose as The Shield. The trio quickly became one of the hottest factions in history and decimated the WWE roster before Rollins defected from the group in June 2014. He went on to win the Money in the Bank briefcase and became the first man to cash it in at WrestleMania, interrupting the main event between Reigns and Brock Lesnar to win his first WWE Championship. Over the next five years, Rollins became one of the most popular figures in WWE, winning numerous titles. The only person who may have been more popular over the past few years is the woman that will soon give birth to his child.
After spending two years in NXT, Becky Lynch made her debut on the main roster in July 2015 and became the first-ever SmackDown Women's Champion the following year. However, she really hit her stride in 2018 at SummerSlam, where she turned on her former best friend, Charlotte Flair. Over the next six months, Lynch became the hottest thing in all of professional wrestling and was a part of the first-ever women's main event at WrestleMania in 2019, defeating Ronda Rousey and Flair to become both the RAW and SmackDown Women's Champion. While she lost the blue belt back to Flair, she held the RAW Women's Championship for a record 399 days, a reign that ended just last night when she relinquished her title while announcing her pregnancy.
They were both in the top 10 in salary for WWE last year
Big success in WWE usually brings a big salary and both Becky Lynch and Seth Rollins brought home some big paychecks in the last year.
There are a lot of factors that play into how much WWE performers make each year. They're first given what's known as a "downside guarantee" as a base but additional money is tacked on as they're given a cut of merchandise sales from both WWE and third-party licensees. They also receive performance fees, which can vary due to the size of the event and how highly-profiled their match is on the card. Naturally, big names like Becky Lynch and Seth Rollins make quite a bit of money.
Only three men made more money in WWE last year than Seth Rollins: Brock Lesnar, Roman Reigns, and Randy Orton. Rollins brought in a cool $4 million and his fiancee was just two spots behind at No. 6. Becky Lynch became the first female in the history of WWE to make the top 10 in salary as just a wrestler (Stephanie McMahon's salary has long been a mix of her duties as an executive and her on-screen role), bringing in $3.1 million.
How much are Becky Lynch and Seth Rollins worth?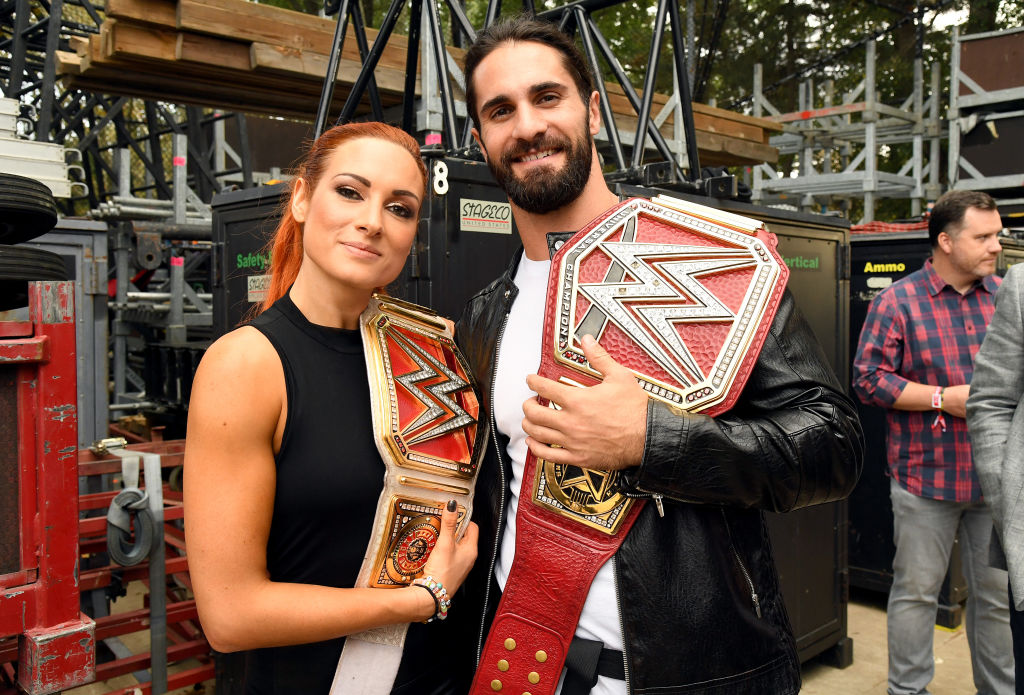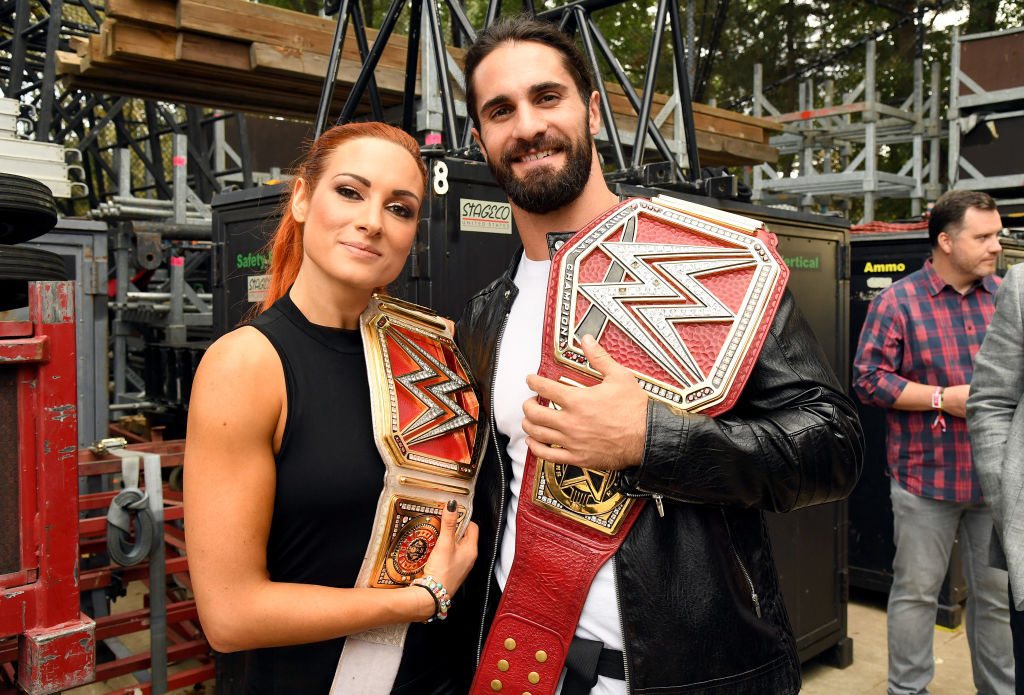 According to Celebrity Net Worth, Becky Lynch is worth $4 million while Seth Rollins is sitting pretty at $9 million. Both seem to be very excited about the birth of their first child and they certainly have plenty of reasons to be.