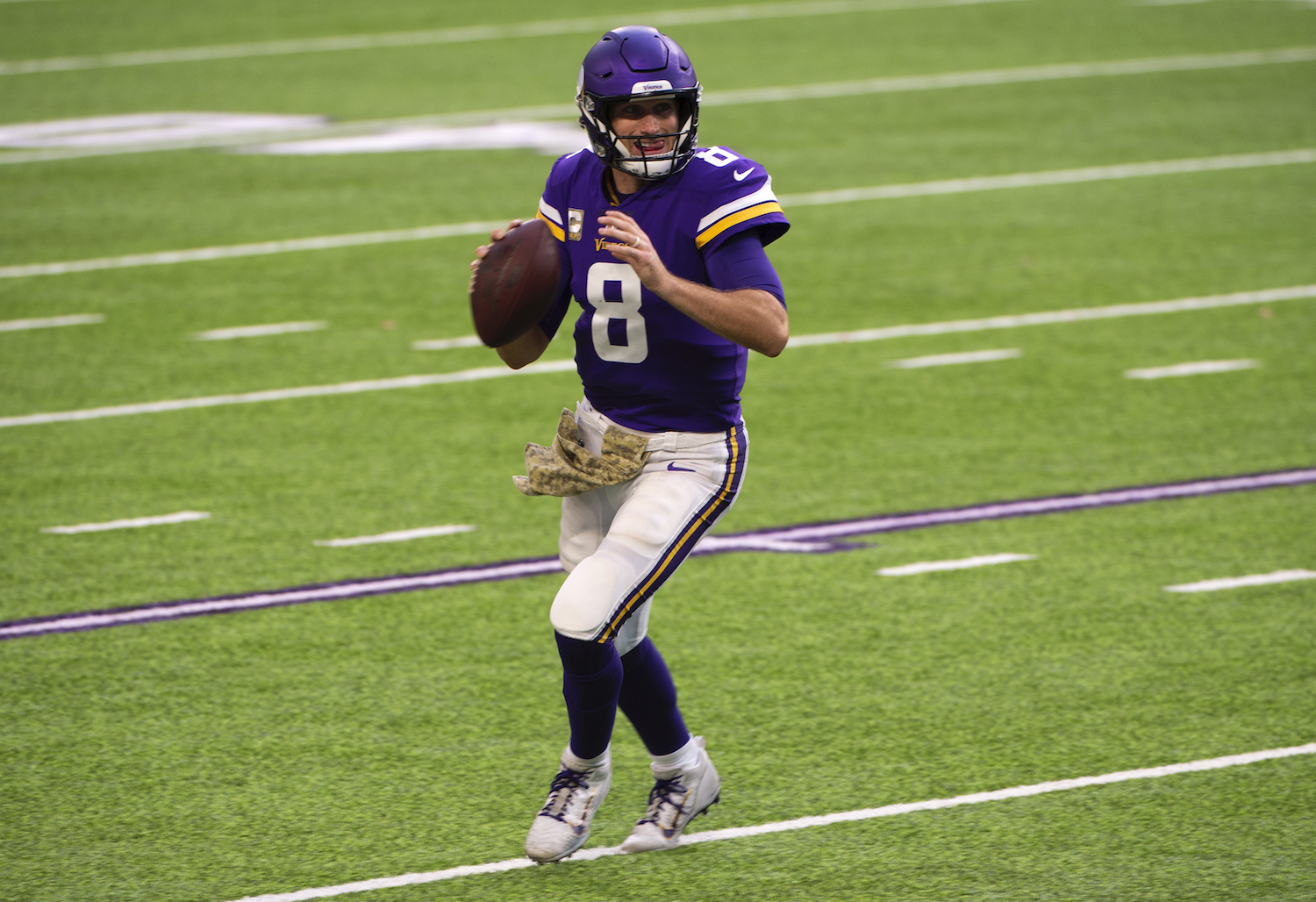 What Is Kirk Cousins' Net Worth?
Kirk Cousins has had moderate success in the NFL but was the highest-paid player in 2018. What is Kirk Cousins' net worth?
Kirk Cousins is in his ninth NFL season and third with the Minnesota Vikings. In 2018, he signed a contract with the Vikings that made him the highest-paid player in the NFL, a move that many questioned considering his limited success. With that big contract, plus his previous earnings and endorsements, he has amassed a fortune in his career. What is Kirk Cousins' net worth? 
Kirk Cousins' career in Washington
After four years in college at Michigan State, the Washington Football Team selected Kirk Cousins in the fourth round of the 2012 NFL Draft. Cousins saw limited action during his first three seasons, starting just nine times. In 2015, head coach Jay Gruden named him the starting quarterback.
In his first full season, Cousins was impressive, throwing for 4,166 yards, 29 touchdowns, and 11 interceptions. He led the NFL in completion percentage at 69.8. Washington finished the 2015 campaign with a 9-7 record and won the NFC East before losing to the Green Bay Packers in the playoffs. 
Kirk Cousins remained in Washington for two more seasons, including 2016 when he earned his first Pro Bowl appearance after throwing for 4,917 yards, 25 touchdowns, and 12 interceptions. In March 2018, Cousins agreed to a three-year $84 million guaranteed contract with the Vikings, which at the time was the largest contract in NFL history. 
Kirk Cousins in Minnesota
During Kirk Cousins' first season with the Minnesota Vikings, he had one of the best statistical years of his career, amassing 4,298 yards, which included 30 touchdowns and 10 interceptions. The Vikings, however, finished with an 8-7-1 record and missed the playoffs. 
Last season, the veteran quarterback had another solid year as he finished the season with 3,603 yards, 26 touchdowns, and six interceptions, the lowest total of his career. The team finished behind the Green Bay Packers in the NFC North and made the playoffs, where they defeated the New Orleans Saints before losing to the San Francisco 49ers in the divisional round.
This season Kirk Cousins has struggled, including a Week 2 game against the Indianapolis Colts, where he threw three interceptions in a 28-11 loss. He finished the game with a 15.9 passer rating, the third-lowest in franchise history. He added another three interceptions to his total in a Week 6 loss to the previously winless Atlanta Falcons. 
Cousins has had some solid games, including a Week 8 performance against the Detroit Lions, where he threw for 220 yards and three touchdowns, with no interceptions. Overall, Cousins' inconsistent performance, combined with a porous Vikings defense has the team at a disappointing 3-5 record midway through the season.
Cousins has a massive net worth
During his five seasons in Washington, Kirk Cousins earned $46.6 million in salary. Since joining the Vikings, Cousins has hauled in $54 million in his first two seasons. This past offseason, he signed a two-year, $66 million contract extension. 
In addition to his salary, Cousins reportedly earns around $2.5 million a year in endorsements according to Forbes. All of it combined, Kirk Cousins has a reported net worth of $70 million. 
Cousins has never been considered an elite quarterback because he hasn't achieved that level of success. Despite that, he's managed to sign two massive multimillion-dollar contracts valued in excess of $100 million. It may be easy to question his ability on the field, but no one is questioning his bank account.