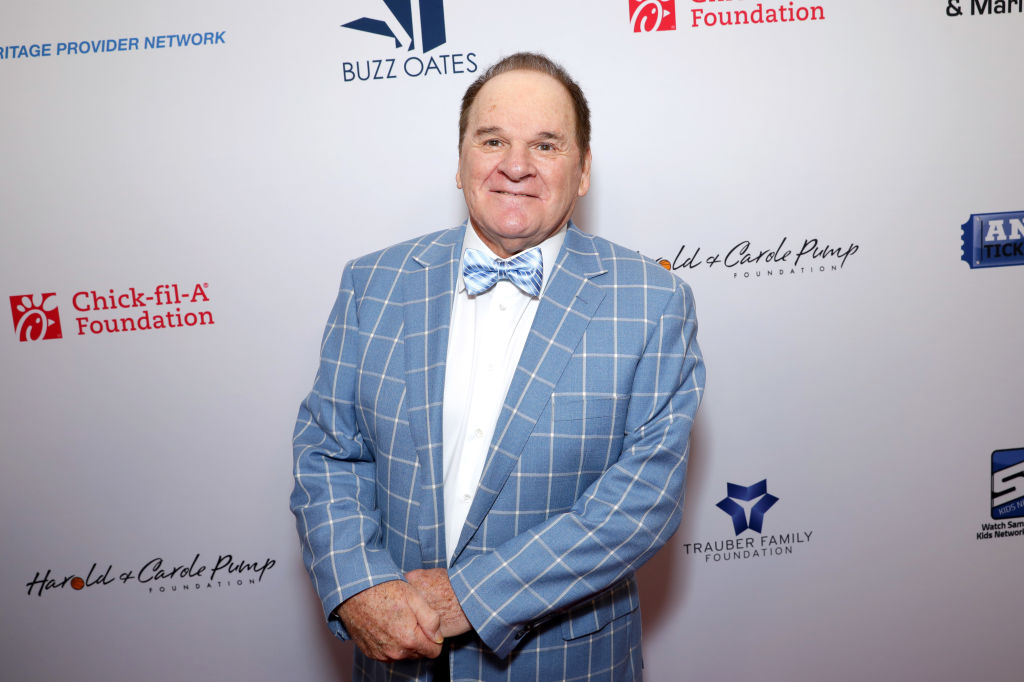 What Is Pete Rose's Net Worth?
Pete Rose is barred from most MLB involvement these days. But he's not exactly leading a miserable lifestyle thanks to his net worth.
Pete Rose was a Hall-of-Fame-caliber player without an invite to the Baseball Hall of Fame. The now-78-year-old switch hitter, associated mostly with the Reds, led a controversial career. To this day, baseball insiders prevent him from official MLB involvement — a sad fate for a player who holds the all-time MLB career hitting record to this day.
That said, he's not exactly leading a miserable lifestyle. Let's look at Pete Rose's net worth and how he earned it in the first place.
Pete Rose's net worth
Rose currently has a net worth of $3 million dollars — well below what one expects from a major sports figure. But one must keep in mind that he mainly played during the 1960s and '70s. Blockbuster contracts were around the corner, but not common during his run.
Rose earned $7.1 million during his MLB days. Today, he pulls in most of his income signing autographs: a whopping $1.2 million a year. He also bolstered his yearly earnings as a Fox Sports commentator.
Rose appeared as a regular anchor during postseason games aired on Fox and FS1 throughout 2015 and 2016. He lost this job when allegations surfaced that he had a sexual relationship with a minor in the '70s.
Rose's Hall-of-Fame-caliber career
Rose played pro baseball from 1963 to 1986. His run began, and after an interlude, ended with the Cincinnati Reds. Rose's stints with the Philadelphia Phillies and Montreal Expos were big news at the time, but don't loom large. He's Cincinnati's guy.
Rose's MLB records go beyond simply being a giant in his own era. He still holds crucial top spots on all-time leaderboards to this day. Most outs: 10,328. Most singles hit: 3,215. Most at-bats taken: 14,053. Most games played: 3,562.
And then there's his crown jewel. Pete Rose still has more hits in his career than any other player: 4,256. The only player who even comes close to that conversation is the great Ichiro Suzuki. He did much of his hitting in Japanese baseball, which doesn't match the talent pool of MLB.
There is no case to be made against Rose's greatness as a player. He's one of a handful of humans to ever pick up a baseball bat and play at such an accomplished level. But one accolade evades him still.
Why Pete Rose isn't in the Hall of Fame
Cooperstown doesn't want anything to do with Rose. It all comes down to an explosive 1989 report alleging that Rose bet on baseball during his four years as the Cincinnati Reds' manager.
Rose denied it at the time but had to swallow getting banned from baseball for life. He didn't admit his guilt until 2004. The timing was terrible; then-MLB Commissioner Bud Selig was a big fan of Rose and explored bringing him back in the fold. Those plans fell apart immediately, reports Heavy. 
Over a decade later, further allegations emerged. Notebooks from the tail end of Rose's playing career point to bets on the Reds taking during that time. So not only did Rose lie about betting as a manager, but he also lied about betting as a player.
The fact that Rose only bet on the success of his own team doesn't seem to matter. Gambling is the red line in pro sports. His chances of reuniting with MLB during his lifetime seem slim. But at least he has that $3 million consolation prize.
Follow more updates from Sportscasting on our Facebook page.