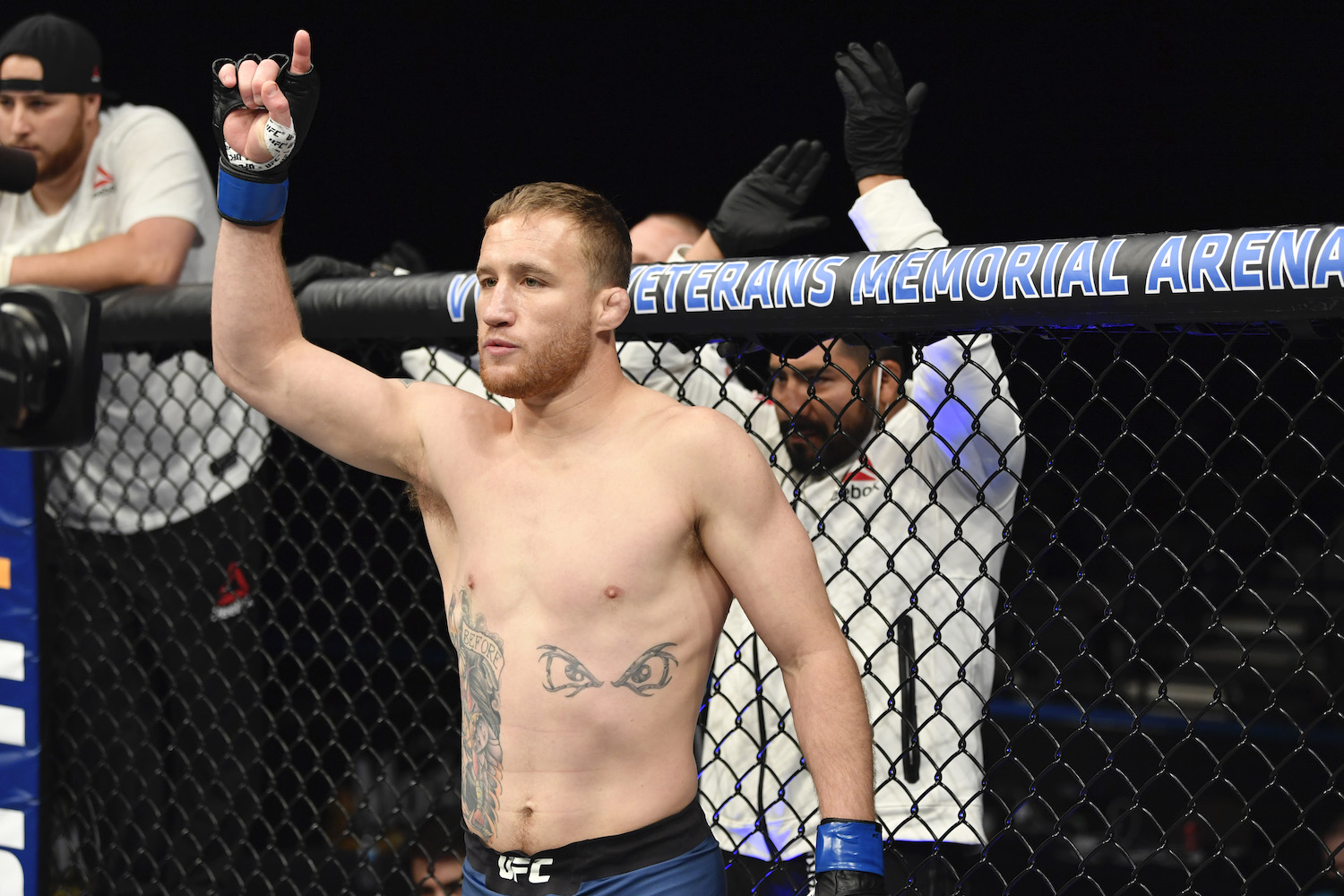 What Is UFC Fighter Justin Gaethje's Net Worth?
Justin Gaethje is 22-2 and one of the top pound-for-pound fighters in the UFC. What is Justin Gaethje's net worth?
Justin Gaethje is the current interim UFC Lightweight Champion. With his 22-2 record, he's ranked as the No. 7 pound-for-pound fighter in the UFC. Gaethje has already had a very successful career in the UFC, but a win over Khabib Nurmagomedov would elevate his status to next level. With all of his success already, what is Justin Gaethje's net worth?
Justin Gaethje was a great wrestler before MMA
Justin Gaethje has made a name for himself in UFC as an aggressive stand-up fighter. Interestingly, that's not his background. He started wrestling at the ripe young age of four. In high school, he won two state titles wrestling in Arizona.
After high school, Gaethje wrestled at the University of Northern Colorado, where he earned All-American honors. Following college, he began his MMA career. As an amateur, he went 7-0 before turning professional in August 2011. 
Justin Gaethje showed early on in his professional career he had a bright future in the sport dominating his opponents. At 7-0, he joined the World Series of Fighting in 2013. In early 2014, he won the WSOF Lightweight Championship. He successfully defended his title five times through 2016 before making the move to the UFC. 
Justin Gaethje becomes a force in the UFC
Justin Gaethje made his UFC debut in July 2017 on The Ultimate Fighter. After his debut victory, Gaethje faced adversity for the first time in his MMA career. 
In his next fight, Gaethje faced Eddie Alvarez. The two battered each other throughout the bout, with Alvarez connecting with a knee in the third round. It was a knockout blow, and Gaethje suffered his first-ever defeat. The fight received Fight of the Night honors.  
Four months later, Gaethje looked to get back on the winning track against a formidable opponent in Dustin Poirier. Poirier and Gaethje went back and forth. During the third round, Gaethje was deducted a point from the score cards for an eye poke. A round later, Poirier went on the attack and won by a TKO.
Since that loss to Poirier in April 2018, Justin Gaethje hasn't lost again and has defeated some of the biggest names in UFC in Edson Barboza, Donald Cerrone, and Tony Ferguson. He enters the fight against Khabib Nurmagomedov with a 22-2 record and a lot of confidence.     
Gaethje worth millions 
During his nine years of MMA, Justin Gaethje has steadily made his way up the ranks. As a result, he's watched the payouts increase along the way as well. His first fight in WSOF, he earned a payout of $12,000. 
In May, when Gaethje defeated Tony Ferguson, he earned $480,000, including $350,000 to show and $50,000 for the Fight of the Night bonus. Against Nurmagomedov, Justin Gaethje is guaranteed $600,000 plus another $150,000 if he wins. 
Justin Gaethje has a combined earnings total of $2,434,500 in his career and has a reported net worth of $2 million.