Whatever Happened to Cardinals Legend Jim Edmonds?
When the St. Louis Cardinals turned themselves into one of the National League's premier teams in the early 2000s, the success began with the presence of veteran outfielder Jim Edmonds. The 6-foot-1 Edmonds spent seven seasons as a Gold Glove outfielder for the Angels and averaged a .295 average and over 20 home runs in five full campaigns.
When a March 2000 trade sent Edmonds to the Cardinals, the California native had a chance to further his career in the National League. How good was Jim Edmonds in his prime, and what is he doing almost a full decade after playing his last game? Let's take a look.
Jim Edmonds was an elite hitter and fielder
Jim Edmonds seems to be remembered now more for his excellent defense than his hitting. Edmonds won eight Gold Gloves in his career and dazzled each season with athletic diving catches, terrific range, and the ability to make people think even the deepest home run would somehow end up in his glove for an out.
Edmonds deserves credit for his hitting, too. He hit a career-high 42 home runs in his first season with the Cardinals and finished fourth in NL MVP voting. Edmonds earned another top-5 finish in 2004 after his second 42-homer season. While future Hall of Fame first baseman Albert Pujols drew all of the attention, Edmonds averaged a .292 average, 35 home runs, 98 RBIs, and 34 doubles in his first six seasons with the Cardinals.
Age eventually caught up with Edmonds and the left-handed slugger was traded to San Diego in December 2007 for future World Series hero David Freese. Edmonds lasted just 26 games with the Padres but hit 19 home runs in 85 games for the Cubs in 2008. After sitting out 2009, Edmonds split 2010 between stints with the Milwaukee Brewers and Cincinnati Reds.
Edmonds shined in the playoffs and hit 13 home runs in 64 career postseason games. Edmonds famously hit a walk-off home run in Game 6 of the 2004 National League Championship Series. In the next game, Edmonds' diving catch turned a sure-extra base hit into a key double play that kept the Cardinals trailing by one run. St. Louis won 5-2.
Edmonds surprisingly hasn't been inducted into the Hall of Fame yet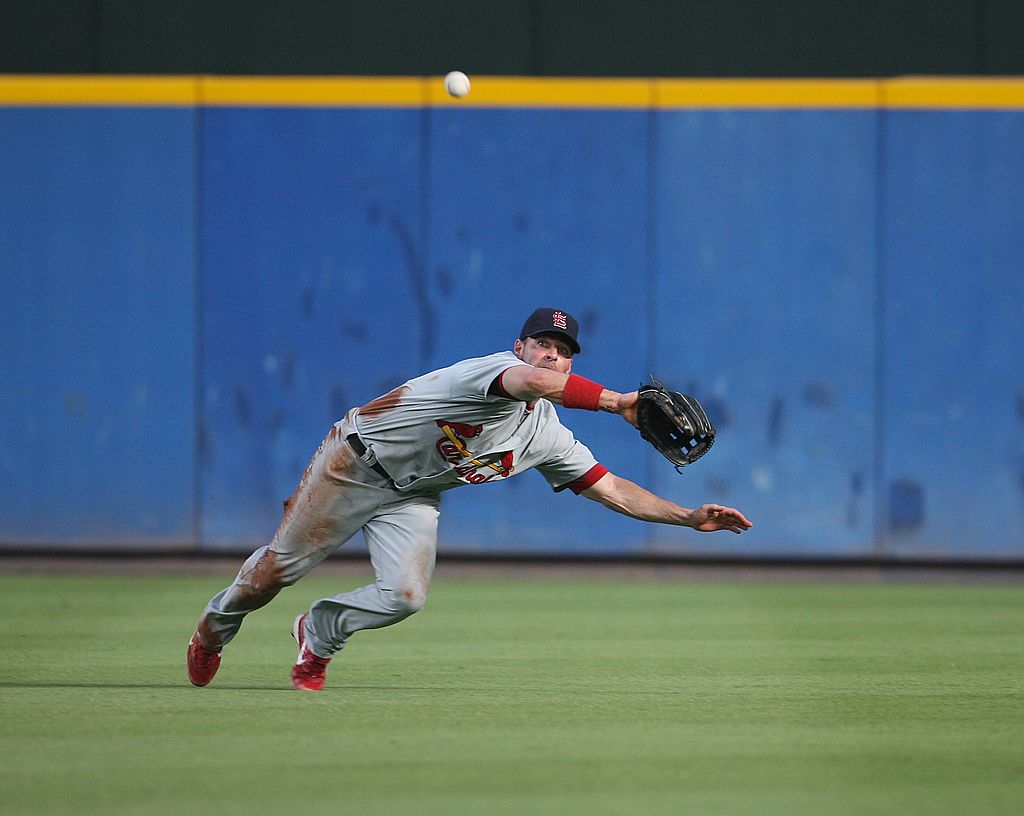 Jim Edmonds retired after the 2010 season with a .284 average, 1,949 hits, 393 home runs and a lengthy highlight reel of defensive plays. Few, if any, considered Edmonds a first-ballot Hall of Famer, but even less predicted he'd only last one year on the MLB Hall of Fame ballot.
Edmonds earned just 11 votes, or 2.5%, in 2016 and was dropped from the ballot. Baseball-Reference's WAR system measured Edmonds' career Wins Above Replacement at 60.4, higher than catcher Mike Piazza (59.6), who earned induction that summer.
Among position players from that 2016 Hall of Fame ballot, the only ones with higher Wins Above Replacement that haven't been elected yet are Edmonds' former teammate, Mark McGwire, and longtime MLB outfielder Gary Sheffield. McGwire admitted to using steroids and Sheffield acknowledged in 2004 he'd previously used a testosterone-based steroid known as "the cream" to help his right leg. Sheffield insisted he didn't know "the cream" was a steroid.
The Today's Game committee, which covers players from 1988 to the present day, next meets in December 2021. It is not yet known if Edmonds will be on that ballot
Where is Jim Edmonds now?
Jim Edmonds turns 50 in June and has stayed close to the Cardinals franchise. Edmonds joined Fox Sports Midwest as a Cardinals broadcaster in 2013 and primarily has worked on the pre-game and post-game shows. Edmonds was inducted into the Cardinals' Hall of Fame in 2014, nearly seven years after playing his final game with the Cardinals.
Right now, though, Edmonds is dealing with a bigger challenge than any fireball-throwing pitcher. Edmonds revealed Saturday he has admitted himself to a hospital and is awaiting test results for the coronavirus. The former All-Star wrote the virus, which has led to over 600,000 cases and nearly 30,000 deaths worldwide, is "no joke."