Where Did Shaka Smart Coach Before Marquette?
As the 2023 NCAA Tournament kicks off, there will many familiar faces on the sidelines. While longtime college basketball stalwarts like Mike Krzyzewski and Jim Boeheim aren't around, Rick Pitino, John Calipari, Kelvin Sampson, Tom Izzo, and Bill Self are all ready to dance. Another familiar name is Shaka Smart, who built his reputation during March Madness. The Marquette head coach is a well-known name, but where did Shaka Smart coach before Marquette?
Where Did Shaka Smart Coach Before Marquette?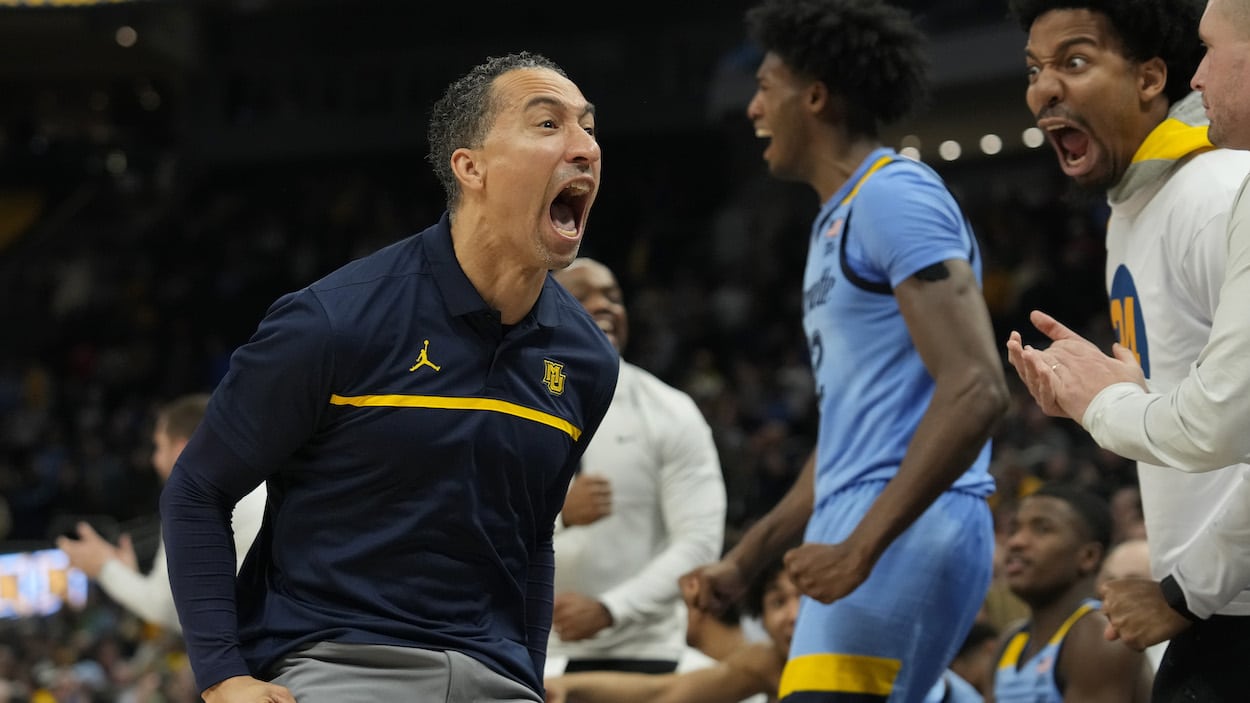 1995-1999: College basketball playing career
Shaka Smart grew up in Wisconsin and attended Oregon High School, just outside Madison. Smart played point guard and lived up to his last name in the classroom. The future college basketball coach gained admission to Harvard but turned it down to play point guard at Division III Kenyon College in Ohio.
1999–2009: Shaka Smart as an assistant coach
After graduating magna cum laude from Kenyon, Smart continued to pursue his basketball dream by going into coaching.
He spent two seasons as an assistant at Division II California (PA) before moving to Division I with Akron. After three seasons helping Keith Dambrot lead a resurgence for the Zips program, Smart once again took another step up in class, joining the staff of Oliver Purnell at Clemson in the ACC.
Finally, Smart took his last job as second chair, finishing his time as an assistant with one season next to Billy Donovan.
2009-2015: VCU
After working his way up from a Division III point guard to Division II assistant to a mid-major to the ACC, then the SEC, Shaka Smart got his first head coaching gig at Virginia Commonwealth University, better known as VCU.
Smart was just 32 when he started his VCU coaching career, but his tender age didn't stop him from making an immediate impact. The Rams went 27-9 and barely missed out on the NCAA tournament, losing to Old Dominion in the Colonial Athletic Association (CAA) conference tournament final. The team did go on to win the postseason CBI Tournament, though.
The following season, VCU made the NCAA tournament, and Shaka Smart etched his name in the March Madness history books.
VCU played in the First Four against fellow No. 11 seed USC, and the Rams won 59-46. Smart's team then beat No. 6 seed Georgetown, No. 3 seed Purdue, No. 10 seed Florida State, and No. 1 seed Kansas. The team then squared off in the Final Four against another Cinderella, No. 8 seed Butler. The Bulldogs won the game 70-62.
Smart continued to win at VCU, leading the team to four more consecutive NCAA Tournaments, but the team never had the success in March Madness that it did in 2011.
2015-2021: Texas
In 2015, Texas hired Shaka Smart away from VCU, and in his first season with the Longhorns, the coach's success continued. The team finished 20-13 and made the NCAA Tournament.
However, Smart couldn't sustain the success he did in his mid-major job.
Over the course of the next five seasons, Texas made two NCAA Tournaments but missed out on March Madness three times. In 2021, the Longhorns won the Big 12 and made the Big Dance. However, after a shocking first-round loss to Abilene Christian, Smart and Texas parted ways.
2021-present: Marquette
Where did Shaka Smart coach next? The Marquette Golden Eagles hired the head coach the offseason Texas let him go.
As he did at VCU and Texas before, Smart started his time at the new school hot. Marquette made the 2021 NCAA Tournament as a No. 9 seed in 22, and after a 28-6 record in 2022-23, the Golden Eagles enter March Madness this season as a No. 2 seed in the East, with No. 15 seed Vermont as their first opponent.