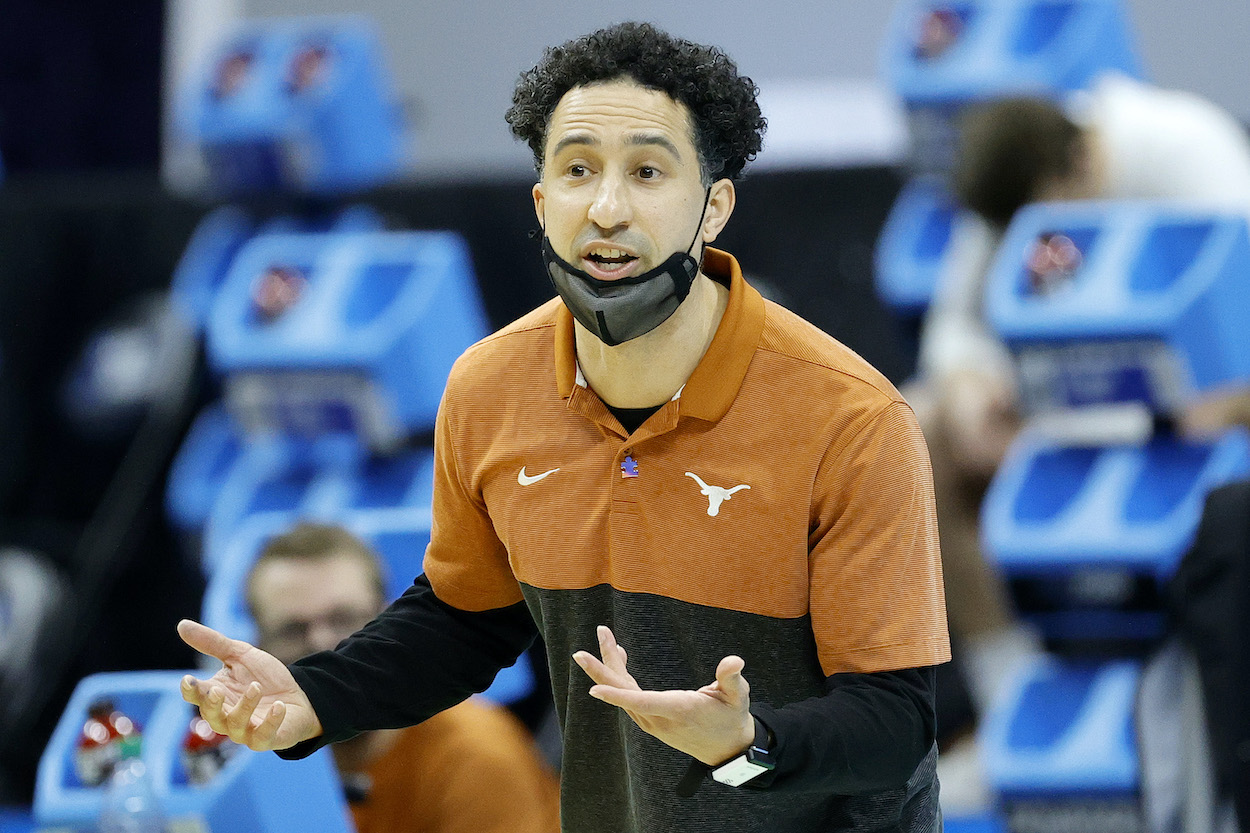 Shaka Smart Sounds Off About the Texas Longhorns' 'Extremely Disappointing' Loss to Abilene Christian
The Texas Longhorns have been bounced from the NCAA Tournament early once again, and this one could be the nail in coffin for Shaka Smart.
Shaka Smart and the Texas Longhorns had national championship expectations this year after winning the Big 12 tournament and earning a No. 3 seed in the 2021 NCAA Tournament.
Well, so much for that.
On Saturday night, Texas was upset in their first-round matchup against 14 seed Abilene Christian. After the loss, a deflated Smart spoke about failing to live up to expectations yet again with the Longhorns. Will he be back at Texas next year or is this loss the final nail in the coffin for the underperforming head coach?
Texas Longhorns suffer embarrassing loss to Abilene Christian in the NCAA Tournament
Texas entered the NCAA Tournament as one of the hottest teams in the country. The Longhorns were coming off five straight wins and a Big 12 championship title, and they were one of the most popular picks to win the national championship.
But Texas might've been looking too far ahead when it met 14 seed Abilene Christian in the first round Saturday night. The underdog Wildcats forced the Longhorns into 22 turnovers and made two late free throws to score the upset win, 53-52.
"A lot of tears in the locker room right now," head coach Shaka Smart said after the loss. "A lot of guys extremely upset with the way the game ended. We have to go home now. Really disappointed, everybody is. I told our guys…I thought coming into this tournament…the way that they handled the things thrown our way all year long. A lot of things that could've made people crack or quit…they stayed together. Tonight, we didn't play our best and Abilene Christian deserves the credit."
Shaka Smart sounds off about 'extremely disappointing' loss
After the loss, with speculation swirling that Smart had coached his final game as the head man at Texas, the once-heralded coach spoke honestly about the early exit.
"Extremely disappointing because we earned a three-seed in the NCAA Tournament," Smart said. "I said to the team…you guys don't understand how hard that is to do and we earned that. Now, we have to make the most of it and we didn't do that. It's really disappointing. I really felt like before this game and during this game…sometimes you have to just find a way to come away with a win. This has been a unique couple weeks for us and we didn't play our best."
Extremely disappointing might even be putting it lightly. Smart had his deepest and most talented team in his six-year tenure with the Longhorns, and he couldn't even lead them past a private Texas school with just over 5,000 students.
Now, a nervous offseason begins.
Has Shaka Smart coached his final game at Texas?
Shaka Smart was brought to Texas in 2015 for one reason and one reason only — to turn the program into a perennial national championship contender again. Smart worked wonders at VCU for six seasons, and he had high expectations entering his new job.
But Smart's six years at Texas have left plenty to be desired. The Longhorns have only reached the NCAA Tournament three times under Smart's watch, and they were knocked out in the first round all three times. This isn't what Texas and its passionate boosters had in mind when they hired Smart six years ago. And after the most disappointing loss of his tenure, he might've just wasted his last chance.
If you ask most Texas fans, Smart may have just coached his last game with the program. But if you ask senior guard Matt Coleman, who played four seasons under Smart, you'll get a different answer.
"They're not in the locker room every day. [Smart] built the culture here. He's not in the game. His guys didn't play to their skillset. It's not on him. I failed," Coleman said after Saturday's loss.