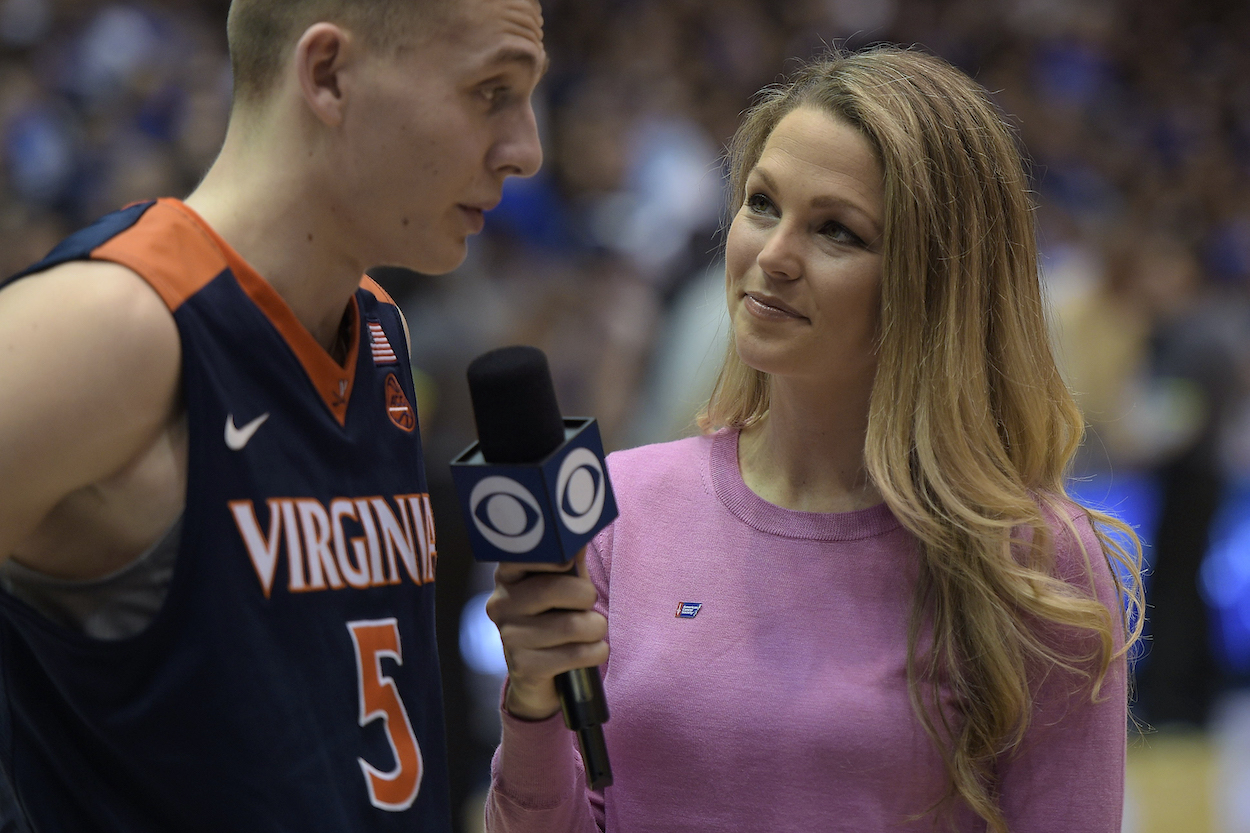 Allie LaForce Is Stepping up to Fight a Debilitating Disease After the Tragic Death of Her Mother-in-Law
TNT broadcaster Allie LaForce has seen the effects of Huntington's disease firsthand, and now she's helping others who suffer from HD.
You know Allie LaForce as the cheery sideline reporter from TNT's coverage of college basketball and the NBA, but she's also a hero in the Huntington's disease community when the television cameras are turned off. LaForce recently lost her mother-in-law to the debilitating disease, and she's been fighting for a cure with her husband and Houston Astros pitcher, Joe Smith, ever since.
Allie LaForce tragically lost her mother-in-law to Huntington's disease
When Allie LaForce married Joe Smith in 2015, the duo formed one of the best power couples in sports. LaForce is one of TNT's top sideline reporters for college basketball and the NBA, and Smith has enjoyed a successful, 13-year career in the MLB as a reliever.
But just as LaForce became a part of Smith's life as a professional baseball player when they tied the knot, she became a part of his family's battle with Huntington's disease at the same time. Smith's grandmother passed away from HD years ago, and his mother was diagnosed with the disease in 2012.
Huntington's disease is a rare brain disease that is inherited by family members and passed down to younger generations. It causes the breakdown of nerve cells in the brain and currently has no cure. Parents who suffer from HD have a 50% chance of passing it down to their children.
After a long battle with HD, LaForce's mother-in-law, Lee, tragically passed away in August of 2020. And sadly, the family's battle with HD isn't even over. Smith has a 50% chance of inheriting the disease, and it could strike at any time.
Allie LaForce and Joe Smith are fighting to find a cure for Huntington's disease
After losing two family members to Huntington's disease, Allie LaForce and Joe Smith are fighting back. They founded the HelpCureHD Foundation to help families affected by Huntington's disease, and it's become the biggest part of their lives away from sports.
HelpCureHD lays out its goals on its official website:
Remove the financial burden that PGT-IVF has on families who are at-risk and in-need families who want to receive this treatment to stop the HD gene from being passed on to the next generation
Our broader focus is to continue developing partnerships with fertility clinics across the country and raising funds to help cover these costs for many more families.
Have 25 HD-Free babies through the PGT-IVF grant program in 2021
Through preimplantation genetic diagnosis with in vitro fertilization (PGD-IVF), families affected by HD can ensure their children are born without the disease. HelpCureHD strives to help as many families as possible conceive healthy children through PGD-IVF.
Allie LaForce is on her own journey to have an HD-free child
Since LaForce's husband has a 50% of being diagnosed with Huntington's disease at some point in life, the couple isn't taking any chances with their first child. Their first attempt at fertilizing an egg through IVF, which costs $20,000 per round, was unsuccessful.
But, last year, LaForce and Smith tried again, and this time they struck gold. The couple planned on moving forward with a pregnancy once they heard the good news, but COVID-19 got in the way.
"We have three frozen embryos without Huntington's disease," LaForce told NewsNation earlier this year. "We are very excited about that. But we were going to transfer one in last April. And of course, that was right after COVID hit and we decided to wait until more research came out about COVID and pregnancies."
Eventually, LaForce and Smith plan on having a child that is 100% free of HD. Through their own pregnancy journey with IVF, they realized how stressful and financially damaging it can be to have an HD-free child, and that's why they're giving back to other families who are trying to do the same.