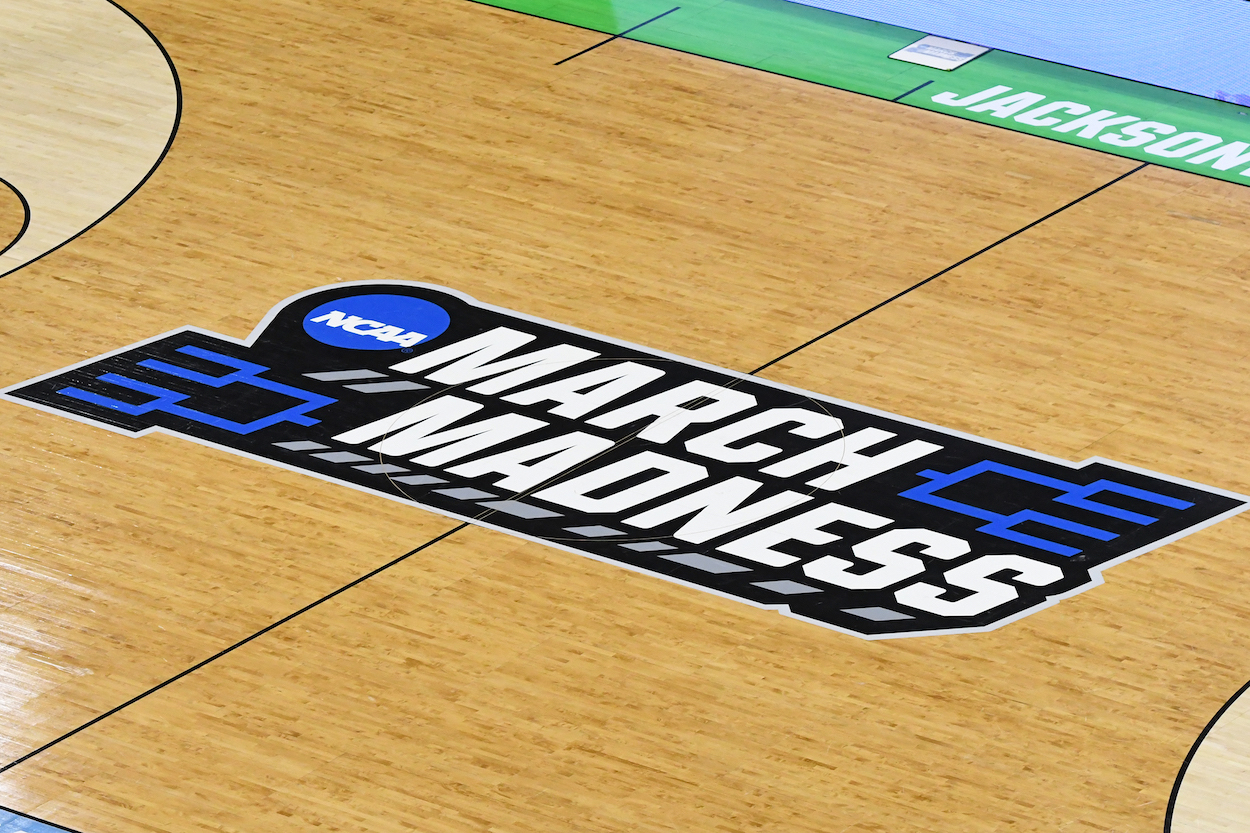 Jay Bilas Slam Dunks on NCAA President for Disparities in NCAA Tournaments and 'Shocking Failure in Leadership'
After an Oregon women's basketball player exposed the huge disparity of treatment between the men's and women's NCAA Tournaments, Jay Bilas blasted NCAA president Mark Emmert for it.
College basketball fans look forward every year to the end of the season and the men's and women's NCAA tournaments. On the surface, everything appears equal, from the selection show identifying the teams up until the final horn and awarding of the national championship. 
However, this year, the NCAA got called out by a women's player from the University of Oregon who pointed out a huge disparity between the workout facilities for the men's and women's teams. The video went viral and voices like Stephen Curry called on the NCAA to right the wrong. ESPN's Jay Bilas took it one step further and absolutely ripped NCAA president Mark Emmert for his role in the situation.
Oregon women's basketball player calls out NCAA for disparities in tournaments
Sedona Prince is a sophomore center for the University of Oregon women's team. The No. 6-seeded Ducks are in San Antonio, along with all the other teams in this year's NCAA Tournament, in a bubble-like environment similar to the men's tournament. 
Prince, who transferred to Oregon after a year at the University of Texas, posted a video to social media on Friday showing how the women had a single set of dumbbells as a "weight room" in San Antonio versus a room full of workout equipment for the men in Indiana. 
Prince said the NCAA's initial response indicated it wasn't money that was the issue, but space. She then proceeded to show a large empty room that also housed the practice court and "weight room." 
She then concluded with a profound message about the disparities between the men's and women's NCAA tournaments. "If you aren't upset about this problem, then you're a part of it."
World reacts and NCAA apologizes 
Prince's video on the disparities between the men's and women's NCAA tournaments exploded. It received millions of views. One of those who saw it and opted to speak out was NBA superstar Stephen Curry. He posted a reply to Prince's video on Twitter.
"wow-come on now! @marchmadness @NCAA yall trippin trippin," Curry wrote. 
The NCAA's Lynn Holzman, who is the VP of women's basketball, offered an emotional apology.
"This is my passion. I care about women's basketball and women in sport," Holzman paused, clearing her throat as she got choked up. " We fell short this year in what we've been doing to prepare in the last 60 days for 64 teams to be here in San Antonio. And we acknowledge that. When people passionately care about something, in this case, women's basketball, our fans, our student-athletes who are playing this game, it is our responsibility to give them a great championship experience and one they can be proud of. It's disappointing. I don't even have the words to describe how painful it is personally."
Jay Bilas calls out Mark Emmert for multiple failures at NCAA Tournament
On Saturday, ESPN's Jay Bilas was asked his thoughts about the situation at the NCAA tournaments, and the college basketball analyst laid most of the blame—especially the response—at the feet of NCAA president Mark Emmert. 
"The NCAA men's and women's tournaments are all under the same umbrella. Whatever was ordered for the men, and was there for the men, should have been ordered for women. That seems beyond reasonable discussion. What I found extraordinarily troubling was the response we saw when this was pointed out. This is a question of leadership. Mark Emmert, the president of the NCAA, was nowhere to be found when this issue was being discussed."
Bilas said he completely disagreed with Emmert's approach to let Holzman take the brunt of the criticism.
"And I can tell you that's the first thing that should have happened with Mark Emmert. He should have been out front and should have said, 'This is unacceptable. It is on me. I am the president of the organization. I am the responsible leader here. And we apologize profoundly and will fix this.' But that's not what happened. He was nowhere to be found. Didn't speak for over 24 hours after this before an enterprising and outstanding reporter literally bumped into him in a hallway in an NCAA arena. And he didn't know the details of this. It's a shocking failure in leadership. And there you can understand why we have these systemic issues. This is not the first time. Let's just hope it's the last."
Will it be the last time? Time will tell.
Like Sportscasting on Facebook. Follow us on Twitter @sportscasting19.