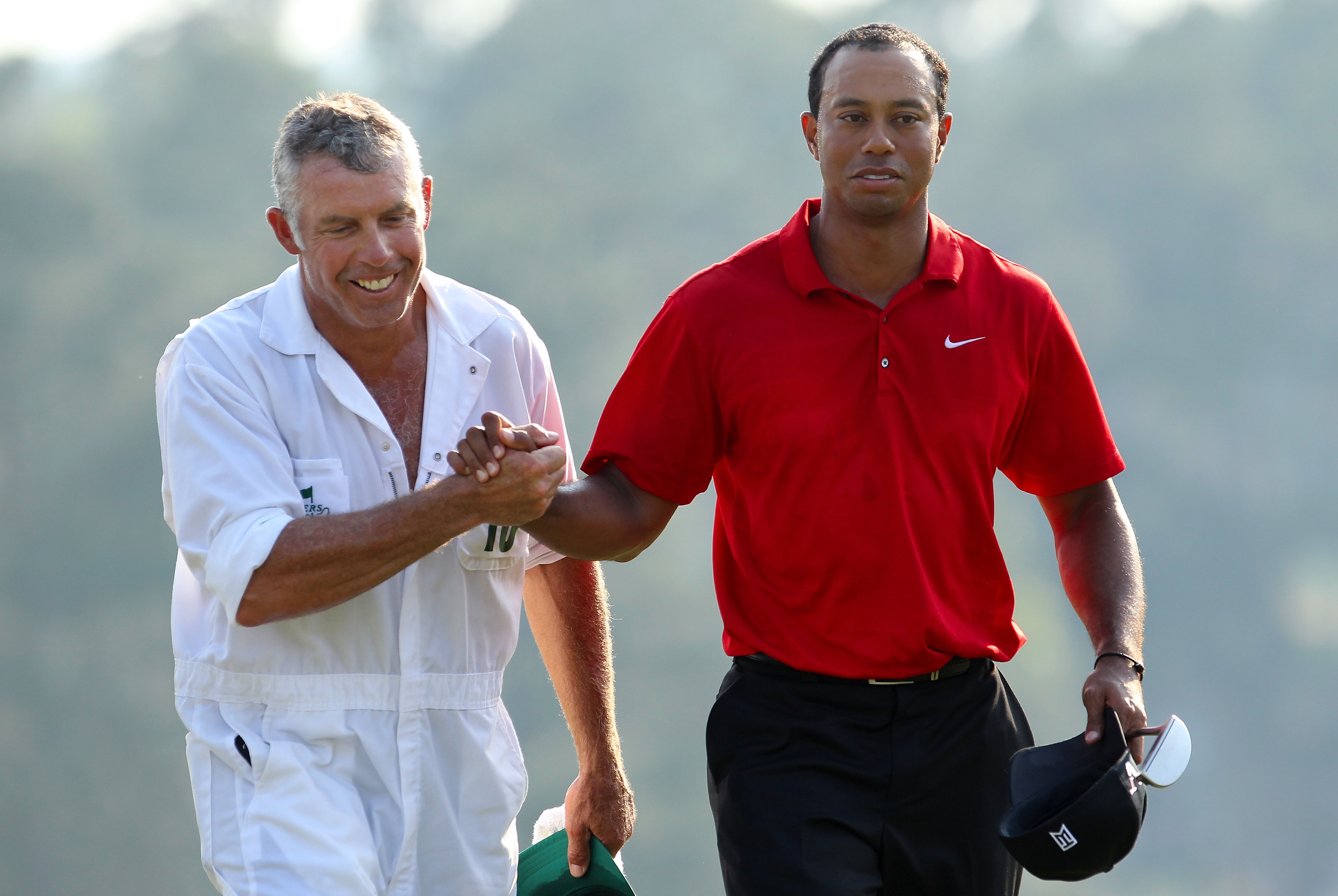 Where Is Tiger Woods' Former Caddie Steve Williams and What Is His Net Worth?
Steve Williams caddied for Tiger Woods a dozen years and the pair won 72 times and 13 majors. Williams made a ton of money. Where is Steve Williams today and what is his net worth?
From 1999 to 2011, Steve Williams was the best caddie on the PGA Tour. That's because the bag he was toting belonged to Tiger Woods. Williams was also successful before and after his time with Woods. But during his time with Woods, Williams was a part of history carrying the bag for 13 of his 15 major titles. With Woods' wins and earnings, Williams benefitted quite nicely. However, nine years ago this week Woods unceremoniously fired Williams. Where is Steve Williams today and what is his net worth?
Steve Williams before Tiger Woods
Steve Williams first started caddying in New Zealand at age six. By 10, he was caddying 36 holes each day on the weekends. He honed his own game in the evenings after his rounds caddying on the course. By the time he was 13, he was a two-handicap. But unlike most golfers, Williams enjoyed caddying more than playing. After working with Australian golfer Peter Thomson, which included a third-place finish at the New Zealand Open, Williams, at age 15, headed off to Europe to start working full-time on the European Tour.
For the next decade, Williams bounced around the different tours working for various golfers, including Ian Baker-Finch and Greg Norman. Williams and Norman connected. In 1982, he started working as Norman's regular caddie in Asia, Australia, and some European Tour events. In 1988, Williams moved to the U.S. where he worked full-time for Norman.
Unfortunately, his time with the sometimes volatile Norman didn't last long. He was fired a year later. For the next decade, Williams caddied for Raymond Floyd on both the PGA and Senior Tours. Then, in 1999, Williams got an opportunity that would change his life forever. 
Steve Williams joins Tiger Woods on a history-making journey
The numbers Steve Williams achieved with Tiger Woods are simply astounding. In their dozen years together, the pair won an incredible 72 times worldwide, including 13 majors. In addition to carrying his clubs, Williams served as a protector of Woods and often found himself in the headlines.
In 2002 at the Skins Game, Williams wrangled an expensive camera from a photographer who snapped a picture in the middle of Woods' swing and tossed it into a nearby pond. At the 2004 U.S. Open, Williams kicked the lens of a New York Daily News photographer, and also took the camera from a fan, who turned out to be an off-duty police officer.
The fiery Williams also made headlines for the wrong reason in 2008 when he made disparaging remarks about Phil Mickelson. Eventually, Woods intervened and made Williams apologize. The pair's relationship took a drastic turn in 2010 after Woods crashed his car, and the subsequent reports that followed on Woods and his adulterous behavior. Williams was in the dark about all of it.
In July 2011, Woods surprised everyone, including Williams, when he fired his long-time caddy. 
What is Steve Williams' net worth?
Steve Williams didn't stay out of work for long and found a job with Adam Scott. Williams caddied for another major victory in 2013 with Scott at the Masters. The pairing lasted until 2017. At the time, Williams announced his retirement from caddying. 
Last year Williams came out of retirement to work for Jason Day. It didn't last long. Williams worked with the Australian a couple of months, Day struggled, and the two parted ways. Williams retired once again. 
Over the years carrying the bag for more than 75 wins, including 14 majors, Steve Williams has collected some sizable paychecks. According to Celebrity Net Worth, Steve Williams has an impressive net worth of $20 million. Williams is obviously set for life with that amount of money, and to think it was all achieved while walking a golf course for years and he didn't make a single swing.