While Kareem Abdul-Jabbar Let Others Decide Greatness, LeBron James Explained Why He's the Best — Even in Defeat
Tuesday night was LeBron James' night. The Los Angeles Lakers forward became No. 1 in the record books, passing former Lakers great Kareem Abdul-Jabbar as the NBA's all-time scoring leader. James soaked in the moment, one shared with his family in front of the home crowd.
Abdul-Jabbar set his mark in April 1984, passing the late, great Wilt Chamberlain and his 31,491 career points. When it was over, Abdul-Jabbar had a lot less to say after his big night than James did Tuesday.
Kareem Abdul-Jabbar didn't say a whole lot after setting his all-time scoring mark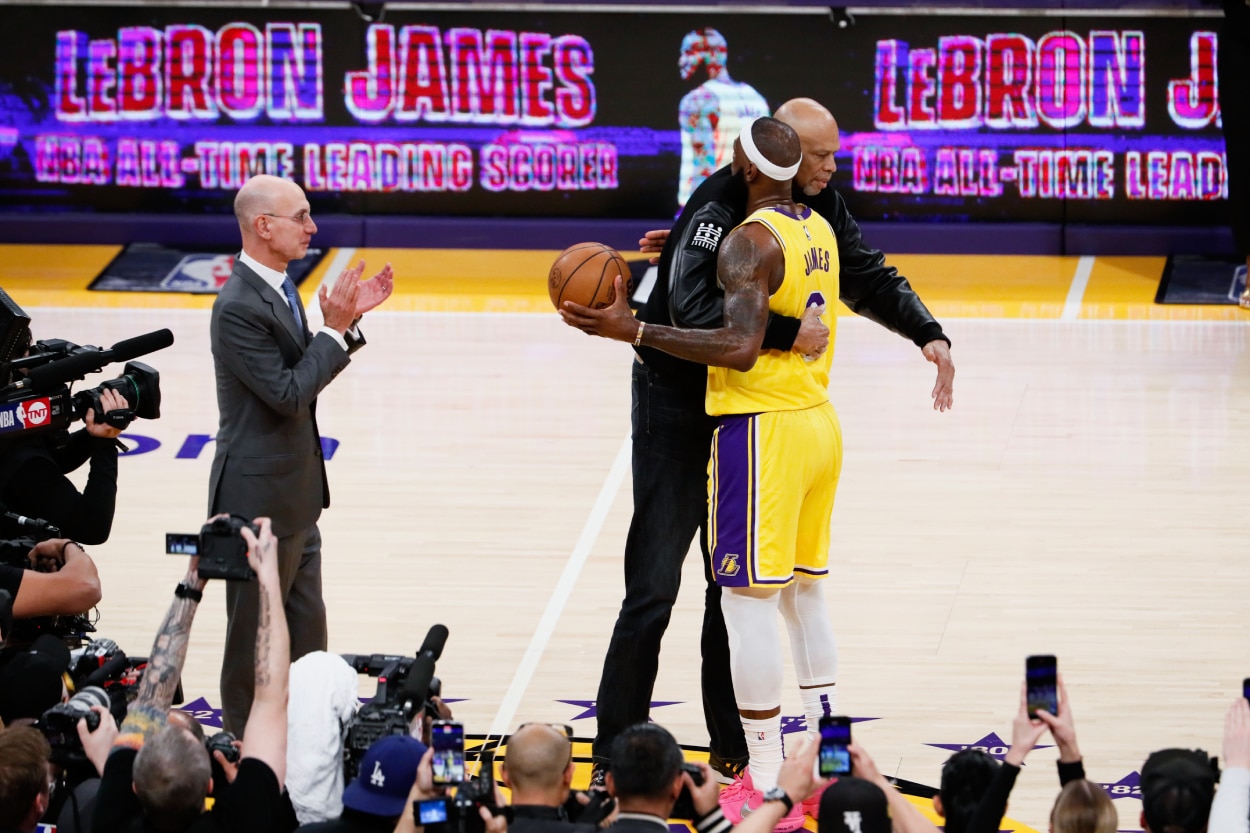 Abdul-Jabbar's scoring mark lasted 38 years. He always said records are meant to be broken, and he was genuinely happy for James.
When Abdul-Jabbar set his mark on April 5, 1984, against the Utah Jazz in a game played in Las Vegas. His Lakers knocked off the Jazz, and he was happy to put the record behind him. According to The Associated Press, Abdul-Jabbar said he wanted to be remembered as a key part of a series of successful teams as opposed to a great individual player.
"That's what this game is all about," he said then. "You see exceptional players that couldn't take their teams anywhere. I've always enjoyed doing well as a team."
Abdul-Jabbar surpassed Chamberlain and was ready to move on to bigger and better things.
"It was a big burden off my shoulders and a big burden off the team's shoulders," he said. "Our goal is to win a world championship. We can focus on that now."
Abdul-Jabbar was in attendance Tuesday night, happy for the man who pushed him to No. 2 in the books. For quite some time, Abdul-Jabbar said he was "excited" to see his record broken.
"I'm excited to see it happen," Abdul-Jabbar said during a one-on-one interview with Substack writer Marc Stein in September 2021. "I don't see records as personal accomplishments but more as human achievements. If one person can do something that's never been done, that means we all have a shot at doing it. It's a source of hope and inspiration."
James had a different reaction than Kareem after making history
With 10.9 seconds left in the third quarter, James hit a fadeaway jumper for his record-breaking points. Kareem's record of 38,387 points was gone. A celebration ensued. It continued into the locker room, even after the Lakers lost 133-130 to the Oklahoma City Thunder.
No question, it was LeBron's night. This has been building up all season, and the record finally broke. James hugged his family and soaked in the scene during a brief stoppage in play to celebrate the moment. Unlike Abdul-Jabbar, who wanted to move past his event, James was quite different.
"Oh, that's tough!" James said to his son Bronny, who showed him the record-setting shot on his phone, per ESPN. "You got that saved? Send that to me."
Of course, the GOAT topic came up, and James used it as an opportunity to make a case for himself as the best ever. He was simply asked if this record does anything for his case as the NBA's GOAT.
"For me, I think it's great barbershop talk," James said. "It's going to happen forever and ever. If I was the GM, or whatever the case may be, of a franchise I was starting up and I had the No. 1 pick, I would take me."
He could have stopped there, but he didn't.
"But that's just me because I believe in myself, what I bring to the table, a guy that's been able to transform his game over the course of 20 years, be able to play any position in this league, excel at any position," he continued. "I can play 1 through 5. I've led the league in assists. I've been able to do whatever it is this game has wanted me to do and also transform my game as well."
He still wasn't done.
"Just being able to stay with the curve and changing my game if I needed to and improve my game. That don't take away from nobody else," he said. "So many great players that have played this game, that has lasting long legacies in this game, this NBA is a beautiful thing, and there's some beautiful players that play it, but I can't take nobody over me."
Can you imagine Abdul-Jabbar, Larry Bird, or Michael Jordan campaigning for themselves as the best player in the world during their playing days? It never would've happened. They certainly wouldn't have gone on a 181-word rant about how great they were — especially after a loss.