Who Are Each of the 22 Participants in the 2023 NBA All-Star Celebrity Game?
The 2023 NBA All-Star Weekend has arrived, and we've got a loaded schedule ready to commence in Salt Lake City. The All-Star Game, Dunk Contest, and 3-Point Contest are obviously the main attractions, but the All-Star Celebrity Game is also an entertaining feature of the weekend every year.
So, let's learn a little bit about each of the 22 participants in the 2023 NBA All-Star Celebrity Game.
Team Dwyane Wade
Nicky Jam
Nick Rivera Caminero, aka Nicky Jam, is a Latin singer most known for his hit songs "X," "El Perdón," and "Bella y Sensual." He's released five studio albums since 2017.
Jesser
Jesser (Jesse Riedel) is a content creator with more than 11 million YouTube subscribers. He's most famous for playing NBA 2K, but we'll see if he can ball without a controller at All-Star Weekend.
Simu Liu
Simu Liu is an actor most known for his leading role in Marvel's Shang-Chi and the Legend of the Ten Rings.
DK Metcalf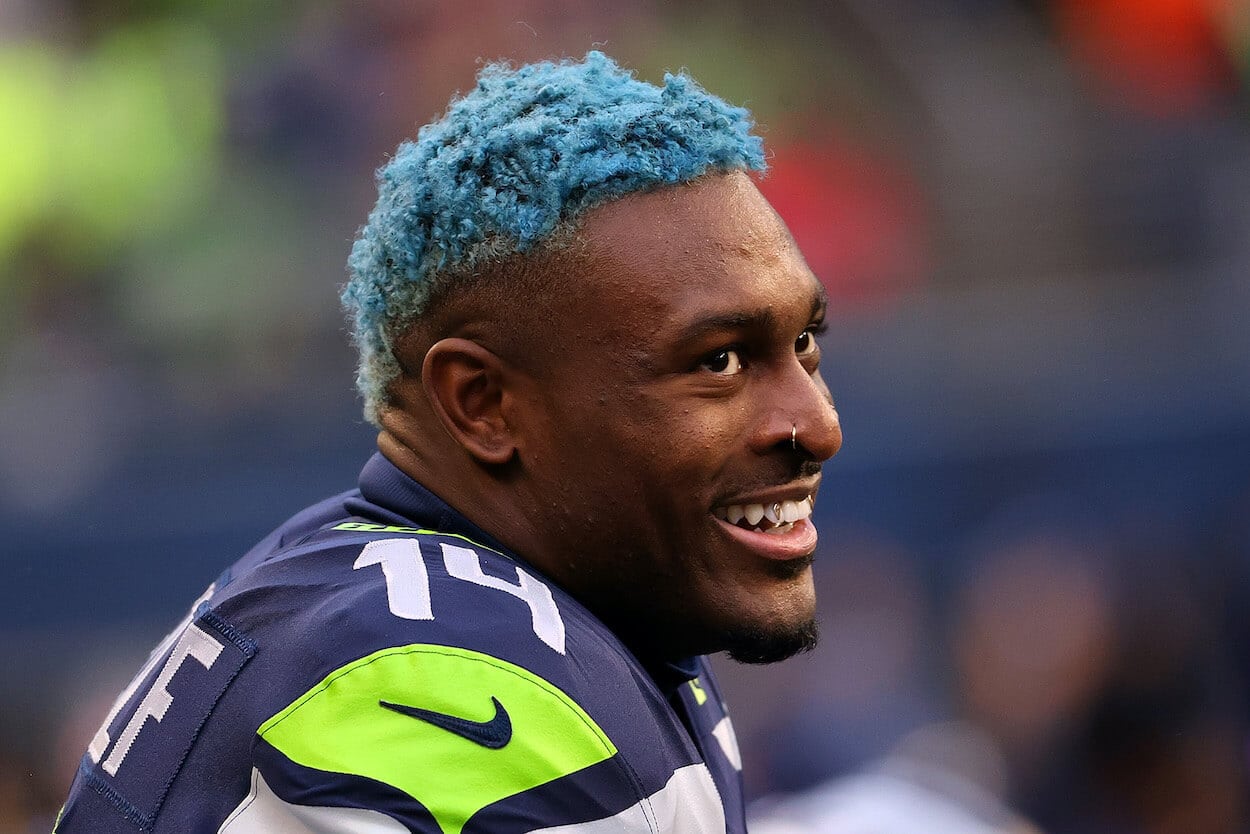 If you're a sports fan, you most likely know who DK Metcalf is. He's a star wide receiver for the Seattle Seahawks who's racked up 4,218 receiving yards and 35 touchdowns in four years as a pro. I wouldn't want to get in his way on the fastbreak.
Hasan Minhaj
Hasan Minhaj is a comedian, writer, producer, actor, and television host most known for his Netflix show Patriot Act with Hasan Minhaj.
Janelle Monáe
Janelle Monáe is a singer, rapper, and actor who's received eight Grammy nominations. Her famous songs include "Make Me Feel," "I Like That," and "Tightrope."
Arike Ogunbowale
Arike Ogunbowale is a WNBA star who plays for the Dallas Wings. She's made the WNBA All-Star Game two years in a row and won the All-Star Game MVP award in 2021.
21 Savage
21 Savage (real name Shéyaa Bin Abraham-Joseph) is a rapper who's worked with Drake, J Cole, Travis Scott, and more. His hit songs include "Bank Account," "Ric Flair Drip," and "A Lot."
Ranveer Singh
Ranveer Singh is an actor who's won five Filmfare Awards. He's one of the highest-paid Indian actors in the world.
Frances Tiafoe
Frances Tiafoe is a professional tennis player from Orlando, Fla. He's won one career singles title, and his best finish in a Grand Slam was a semifinal appearance at the 2022 U.S. Open.
Alex Toussaint
Alex Toussaint is a popular Peloton instructor, motivational coach, and Puma athlete.
Team Ryan Smith
Kane Brown
Kane Brown is a country music singer most knows for his songs "Heaven," "Thank God," and "What Ifs."
Cordae
Cordae (full name Cordae Amari Dunston) is a singer and rapper formerly of the YBN group. His 2019 album The Lost Boy received two Grammy nominations, and he's currently dating tennis star Naomi Osaka.
Diamond DeShields
Diamond DeShields is a WNBA star who plays for the Phoenix Mercury. She played her first four seasons with the Chicago Sky and won a championship in 2021.
Calvin Johnson
Calvin Johnson is a retired NFL wide receiver who played nine seasons with the Detroit Lions. He racked up 11,619 receiving yards and 83 touchdowns and is now in the Pro Football Hall of Fame.
Marcos Mion
Marcos Mion is a Brazilian television host, actor, author, and businessman.
The Miz
The Miz (real name Michael Gregory Mizanin) is a professional wrestler in the WWE. He first rose to fame as a television personality on The Real World in 2001.
Everett Osborne
Everett Osborne is an actor and basketball player who plays professionally in Australia. He played his college ball at University of Texas Rio Grande Valley, where he averaged 4.7 points per game in his career.
Ozuna
Ozuna (full name Juan Carlos Ozuna Rosado) is a Puerto Rican singer, songwriter, and rapper. His 2018 album Aura hit No. 7 on the Billboard top 200.
Albert Pujols
Albert Pujols is a retired MLB player most known for his years with the St. Louis Cardinals. He won three MVP awards, two World Series titles, and ranks fourth all-time in home runs with 703.
Guillermo Rodriguez
Guillermo Rodriguez, more simply known as Guillermo, is a talk show personality, comedian, and Jimmy Kimmel's right-hand man on Jimmy Kimmel Live!
Sinqua Walls
Sinqua Walls is an actor most known for his roles in Friday Night Lights, Secret Life of the American Teenager, and American Soul.