Who Is Favored to Win March Madness 2023? The No. 1 Overall Seed Surprisingly Isn't the Betting Favorite
Ah, March Madness — the greatest time of the year for college sports fans.
There's no better feeling than printing out a fresh NCAA Tournament bracket and sizing it up with a futile sense of hope in your heart. Every pick is right until the first game tips off, so there's nothing quite like the anticipation leading up to the first round on Thursday.
You know you won't be able to pick a perfect bracket, but you can still win your bracket pool by nailing the national champion. To help your process, let's check out the betting favorites to win March Madness and which team has the best odds to win it all in 2023.
Surprisingly, it's not Alabama, the No. 1 overall seed in the tournament.
Who is favored to win March Madness 2023?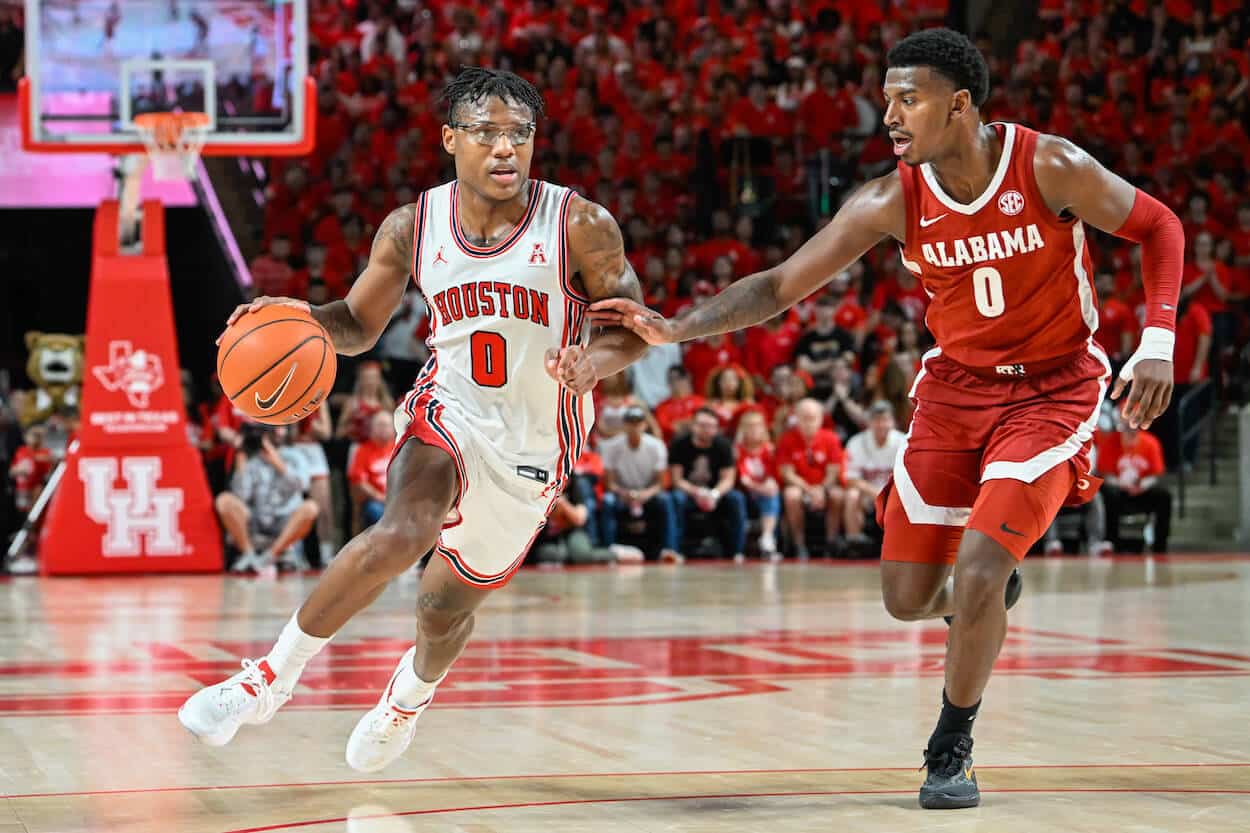 The No. 1 overall seed in the 2023 NCAA Tournament seemed to be up for grabs heading into conference tournament week. Houston and Kansas were in the conversation for most of the season, but both teams got rolled in their conference championship games to leave a sour taste in the selection committee's mouth.
Alabama, though, cruised through the SEC Tournament and dominated Texas A&M in the championship game to make a timely statement. The selection committee awarded the Crimson Tide with the No. 1 overall seed in the 2023 NCAA Tournament.
However, Alabama isn't the betting favorite to win the national championship.
That title still belongs to Houston, which is +500 ($100 bet would win $500) to win it all (FanDuel). Alabama is right behind Houston at +800, while Kansas, Purdue, and UCLA round out the top five at +1200 each.
Houston earned the No. 1 seed in the Midwest region after a 31-4 season. The Cougars lost, 75-65, to Memphis in the AAC championship game, but they were playing without leading scorer Marcus Sasser. If Sasser is able to return from his recent injury to play in March Madness, Houston will be the team to beat in the NCAA Tournament.
March Madness odds
Check out the full list of national championship odds below:
Houston +500
Alabama +800
Kansas +1200
Purdue +1200
UCLA +1200
Gonzaga +1500
Marquette +1500
Arizona +1500
Texas +2000
Tennessee +2500
Baylor +2500
UConn +2500
Duke +3000
Kentucky +3500
Creighton +3500
TCU +4000
St. Marys +4500
Texas A&M +4500
Indiana +5000
Xavier +5000
Michigan State +6000
Virginia +6500
Iowa State +6500
Miami +7500
Kansas State +7500
Arkansas +7500
Maryland +10000
San Diego State +10000
Iowa +10000
West Virginia +10000
Illinois +10000
Memphis +10000
Providence +13000
Florida Atlantic +13000
USC +15000
Auburn +15000
Penn State +15000
NC State +20000
Northwestern +20000
Utah State +20000
Mississippi State +35000
Missouri +35000
Boise State +35000
Pittsburgh +45000
VCU +45000
Arizona State +45000
Drake +45000
Iona +50000
Vermont +50000
Nevada +50000
Colgate +50000
Oral Roberts +50000
Charleston +50000
Kent State +50000
Furman +50000
Fairleigh Dickinson +50000
SE Missouri State +50000
UNC Ashville +50000
Kennesaw State +50000
Louisiana +50000
Northern Kentucky +50000
Texas A&M-CC +50000
Montana State +50000
Howard +50000
Texas Southern +50000
UC Santa Barbara +50000
Grand Canyon +50000
Princeton +50000