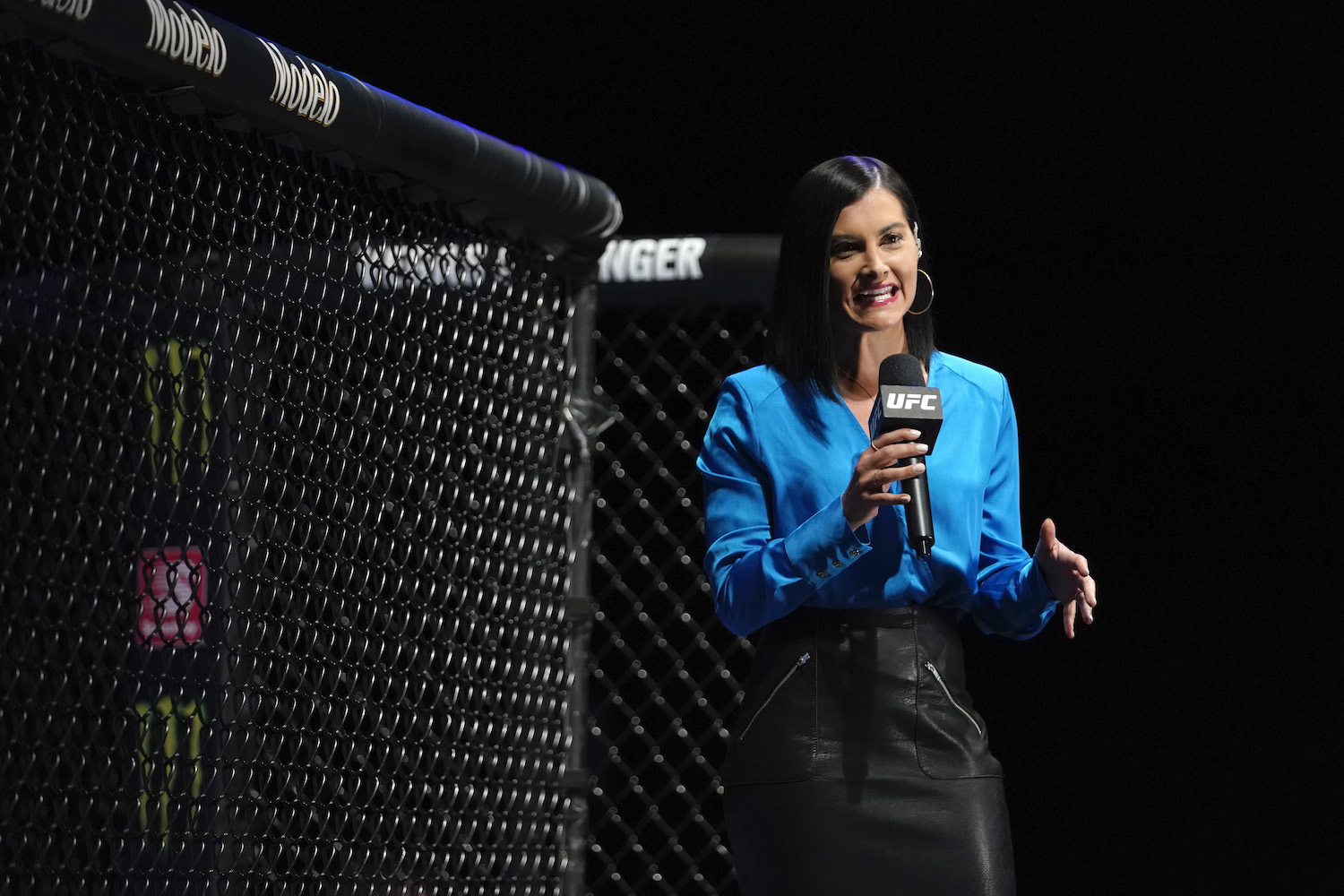 Who Is Megan Olivi?
Megan Olivi is the UFC fan's source for all things pre- and post-fight. She's covered UFC for 10 years, has an interesting past, and is married to a fighter. Who is Megan Olivi?
Megan Olivi can always be spotted cage-side for UFC fights where she provides insightful pre-fight reports before each fighter steps inside the Octagon and informative post-fight interviews at the fight's conclusion. Olivi is in her 10th year covering mixed martial arts, and it's apparent on each broadcast, she enjoys what she does. 
What most people don't know is before her rise to fame with the UFC, Olivi worked at some interesting places, including one particular job where a well-known television personality inspired Olivi in pursuing her future career. Another interesting fact is Olivi is married to someone in the sport. Who is Megan Olivi?
Megan Olivi and life before the UFC
While Megan Olivi grew up in Pennsylvania, she was always a sports fan following the New York Giants and New York Yankees. Although she enjoyed mainstream sports, she had combat sports in her genes. Her grandfather was a Navy champion boxer. Her brother was also a professional boxer and wrestler, the latter of which was something her father did growing up.
"I grew up on a wrestling mat," she told the Gboy Times. "I would be two years old and running around with the guys on the mat. Then I reffed the little kids' matches and me and my sister also worked tournaments."
When she graduated from high school, Megan Olivi attended Seton Hall University, where she majored in political science and interned at a variety of different places. One of those locations was Fox News Channel, where she worked as an assistant to former personality Megyn Kelly. It was with Kelly during the 2008 election that Olivi learned about hustle, work ethic, and that she didn't want to work in politics. 
Megan Olivi begins career with the UFC
While at Fox, Olivi always talked sports. At one point, a member of the production crew encouraged her to go on camera and talk about sports. She did just that and launched an hour-long online show.
In 2010, after she graduated with honors from Seton Hall and Fordham, where she received a degree in communications and mass media studies in addition to her political science degree, she took a chance and moved to Las Vegas. She limited herself to one year to find a job in sports. 
She landed a job with Heavy. As luck would have it, the UFC partnered with Heavy and hired Olivi to host pre- and post-fight shows for pay-per-view events. When the UFC signed a TV deal with Fox, all the stars aligned for Olivi, and she was on the fast track to success. 
Since her arrival with the UFC, Olivi has been present for all the biggest fights. She is counted on each time to deliver late-breaking information before the fight, and ask the hard-hitting questions after, probing for answers the television-viewing audience wants to hear.   
Olivi's life outside of the UFC
Fortunately for Megan Olivi, with Fox Sports, she's been able to work in a blend of coverage of both UFC and NFL action, where she works during the season as a sideline reporter. She said working in multiple sports is challenging, but it also keeps her sharp.
"I love the challenges. Whether it's within the UFC or NFL, I just like being able to build those other muscles. Doing football interviews I was like, 'Oh, this guy's totally a fighter I would interview.' I think to be a pro athlete, you have to be a certain kind of person. In terms of broadcasting, they're very different. But the athletes are athletes." 
When Olivi isn't working, which is rare, she enjoys hiking, running, yoga, cooking, and spending time with her dog and husband, Joseph Benavidez, who she married in 2015. Benavidez knows a little something about UFC. He's currently the No. 2 ranked flyweight fighter.  
As for the future, Olivi doesn't see herself reducing her workload covering the UFC or NFL anytime soon. For UFC fans, that's a good thing, because there's no one better in the business.