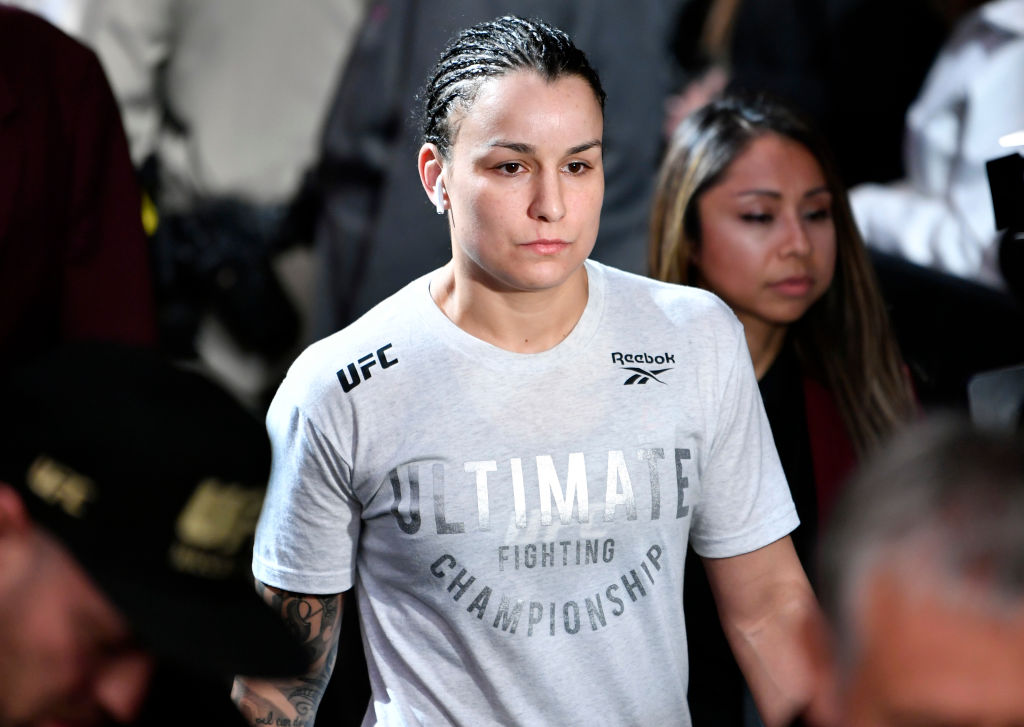 UFC's Raquel Pennington Lucky to Have Her Leg Much Less Fight in UFC After Horrifying Accident
UFC's Raquel Pennington is grateful for each opportunity to fight since 2017 when she was in a horrific ATV accident and almost lost her leg.
Each time UFC fighter Raquel Pennington has stepped inside the octagon since late October 2017 she realizes it's a gift. That's because on a cold winter's day in Colorado, what was supposed to be a fun family adventure turned into an absolute nightmare in a matter of seconds. Pennington was involved in a serious ATV accident that severely injured her leg. At that moment, the UFC was the last thing on her mind. Pennington was more concerned about whether or not she would lose her leg.  
Raquel Pennington's rise in the UFC
As an amateur in MMA, Raquel Pennington impressed. Pennington started when she was 19 and managed to win seven of her eight first fights, including five by submission. In 2012, she turned professional. She proceeded to win three out of her first four fights. 
After a couple of losses, Pennington got her chance with the UFC on the Ultimate Fighter, where she won two out of her three bouts before making her official UFC debut in March 2014. Pennington suffered a pair of defeats early on, including losses to tough competition in Jessica Andrade and Holly Holm.
From late 2015 through 2016, Pennington established herself in the UFC with quality wins including a victorious rematch over Andrade as well as a unanimous decision over Meisha Tate at UFC 205. Pennington's win over Tate earned her a shot against the indomitable Amanda Nunes. The fight had been agreed in principle but had yet to be made public on that snowy day in October 2017.
Pennington severely injures leg in ATV accident
Raquel Pennington was riding as a passenger with her cousin behind the wheel of the ATV. With the snow falling and blanketing everything in white, they headed out for a quick trip to pick up lunch. Not long into the trip, Pennington's cousin turned a corner, and the ATV suddenly rolled toward Pennington's side.
As Pennington lept from the tumbling vehicle, the roll cage crushed her left leg. Fortunately, Pennington's cousins lifted the ATV off of her, but it was too late. The damage had been done. The 29-year-old had suffered a gruesome injury that included a broken leg and a malformed calf. Incredible pain pierced her leg. She feared the worst. 
"Because of the way my leg felt, I was worried about amputation," Pennington told The Sporting News. "Making the call to my family and to my coaches, it was like, 'What happened?' It threw everybody for a loop.
"After I met up with the orthopedic doctor and we went through everything, my only concern was if I get to keep my leg. When the doctor said he thinks my leg is going to be ok and I lucked out in not having to have an amputation. I'm very grateful to still have my leg and to still have this opportunity to fight for the title (against Nunes)." 
Raquel Pennington's career since accident
Raquel Pennington was immobilized for weeks and relegated to lying on the couch and watching television. After several months on crutches, she slowly began to work her way back into shape. Almost seven months after the accident, she stepped inside the octagon to face Amanda Nunes for the UFC Women's Bantamweight title. 
Pennington battled, but eventually succumbed in a fifth-round knockout. She's had mixed results since the fight with Nunes. She's lost twice, including another defeat at the hands of Holly Holm. She had an impressive win over Irena Aldana in July 2019.
When Pennington steps inside the octagon as the No. 6-ranked fighter in the women's bantamweight division tonight against Marion Reneau, she knows there are expectations of her. Pennington welcomes the challenge because she knows no fighter will ever strike the fear in her that she faced that cold winter's day in 2017.