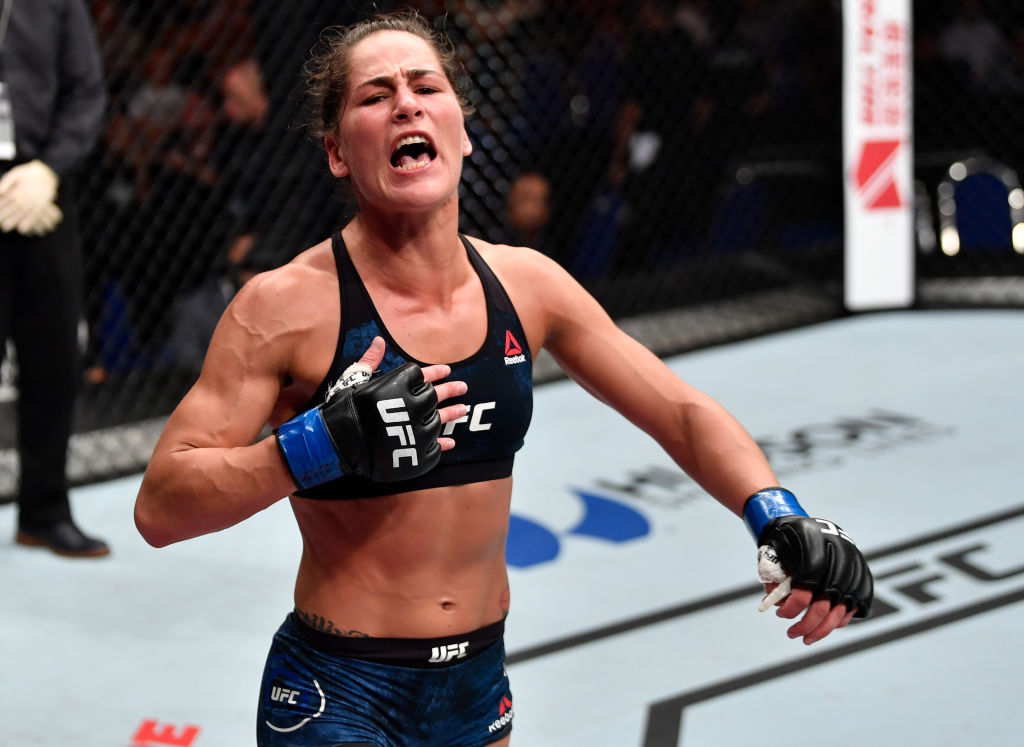 Jessica Eye Fended off Death and Her Father to Get to Where She Is Today
Jessica Eye's history is filled with pain—both physical and mental. Despite those early struggles, she's managed to overcome them and become a top women's fighter in the UFC.
Every person on the planet faces adversity. It can present itself in all different types of circumstances. How the person deals with those challenging times in life defines their character. For Jessica "Evil" Eye, she's had more than her share of defining moments in her lifetime. To her credit, she's used them as motivation to become the UFC's No. 1 flyweight contender.
Jessica Eye's rise in the UFC
Jessica Eye made her MMA professional debut in June 2010. After she achieved early success on various series including the North American Allied Fight Series and Bellator, she made the move to the UFC in 2013. Unfortunately for Eye, things didn't go as planned. 
After her first fight, which she won in a split decision, Eye had her victory overturned when she tested positive for marijuana. It would only get worse from there. Eye then lost five of her next six fights including all four of her fights in 2015-2016. Following her last defeat, Eye had a heart-to-heart conversation with Dana White. He told her to take some time off. She did, for two years. 
It paid off as Eye returned to the octagon refreshed and won her next three fights, the final win an impressive split-decision ruling over Katlyn Chookagian in December 2018. Since that fight, Eye has had mixed results, including a loss to Valentina Shevchenko and a victory in her last fight in December over Viviane Araújo. 
While the fight with Cynthia Calvillo was scheduled to be a flyweight bout, Eye missed weight, and it will be a catchweight bout instead.
Eye almost dies in car accident
It was a cold winter's day in Ohio in 2003. Jessica Eye was a high school sophomore. On the snowy drive home after a soccer game, the battery in her old 1982 vehicle began to falter. Eye pulled over to the side of the quiet country backroad and called her dad, Randy, for help. He arrived in his truck a few minutes later.
After connecting the jumper cables to both vehicles, Randy instructed his daughter to get inside her vehicle and start it. Then, tragedy struck. A drunk driver came weaving around the corner and slammed into Eye's car and sideswiped her dad's truck. The impact sent Eye flying off into the woods. One of her dad's legs was crushed in between her vehicle and his truck. 
Eye lost consciousness almost immediately upon impact. She broke her back, fracturing both her T5 and T6 vertebrae. She was bedridden for nine weeks and had to wear a special back brace for months. Her father had to have reconstructive surgery. The two recovered together. It was a bonding time. It was peaceful. Those times were rare. 
Jessica Eye overcame her abusive father
A couple of years before Jessica Eye and her father cheated death together, Eye thought she might die at the hands of her father in one of his violent rages. It happened after the 14-year-old, and her father had a miscommunication as to where she was supposed to be one Saturday night. 
When Randy learned she was at a party down the road, he found her, grabbed her by the hair, then the neck, and threw her to the ground. When she tried to get up, he'd hit her again. Eventually, they made it to the car, and made the short trip home where he continued the assault. He punched her. He stomped her. Eye said she thought she was going to die that night.
That horrible moment changed her forever, but she didn't realize it until a couple of years later when she walked into a Cleveland MMA gym. Once inside Strong Style, Eye never flinched. She wasn't fazed by the hitting and punching going on all around her. It was energizing. Sadly, she knew exactly what it felt like to take a punch. 
Shortly after, Eye became a regular at the gym and began training in earnest. In 2008, she fought her first opponent and pummeled her. It was much of the same for the next 17 months until she turned professional. And now, today, Eye is the No. 1 contender in the women's UFC flyweight division. 
Eye's story is a difficult one to hear. But it is uniquely her story. Through her pain, she found perseverance. Through her despair, she found hope. And through the octagon, she found her future. The future is now.