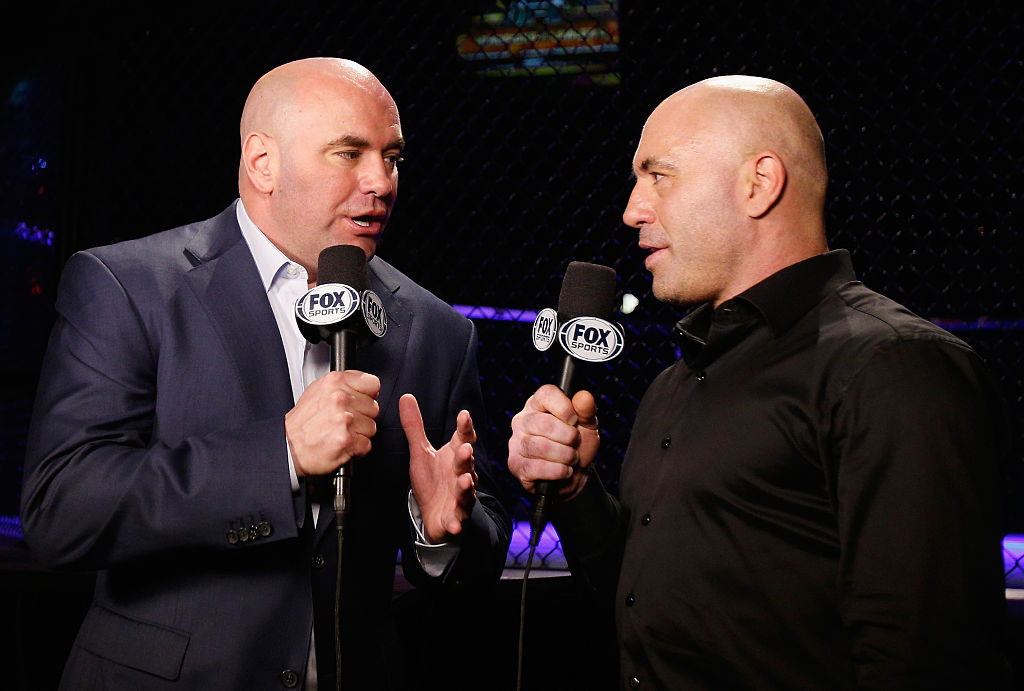 Dana White's Net Worth Still Dwarfs Joe Rogan's Even After $100 Million Spotify Deal
Dana White still far outranks Joe Rogan in net worth despite Rogan recently scoring a $100 million deal from Spotify for his podcast.
Dana White and Joe Rogan have become incredibly wealthy thanks to UFC. White became a celebrity as the face of the company. Along the way, he helped it grow in popularity. Rogan, on the other hand, grew into a recognizable character as a commentator.
Of course, he's also developed a huge following because of his podcast. Recently, Rogan scored a stunning deal to take his content to Spotify. But even after breaking the bank on the partnership, Rogan's net worth still falls far behind his friend's.
Dana White has built a staggering net worth as the face of UFC
Born in Manchester, Conn., Dana White developed into a cultural icon because of his love for mixed martial arts. Before becoming the face of UFC, he worked several interesting jobs. White actually worked as a bellhop in a Boston hotel. Ironically, he and his co-workers would settle tip disputes in good ole' fighting fashion.
When boxing didn't work out, he finally got into UFC. He first served as a manager. But in 2001, he and a group of investors purchased the company. As stars like Conor McGregor, Jon Jones, and Khabib Nurmagomedov emerged, the UFC brand did too. And all of that has made White a rich man.
The 50-year-old White has an estimated net worth of $500 million. Though UFC got sold in 2016, White still serves as president. In March 2019, ESPN reported that he signed a seven-year deal to continue in that role. He explained his thought process behind remaining with UFC.
"After the sale I stayed on, and we've been working hard for the last two and a half years to take this thing to the next level," White said. "That's why I'm here. I didn't stay here. It's not about money. It's not about any of that stuff.

Joe Rogan scored a $100 million deal from Spotify
Like Dana White, Joe Rogan can credit much of his financial success to UFC. However, he does boast a much more diverse set of skills. Besides his work as a commentator, Rogan wears many different shoes. He's been a stand-up comedian for years, and he famously hosted Fear Factor. In addition, he's become incredibly popular more recently because of his podcast.
With a wide variety of guests, including Arian Foster and Mike Tyson, Rogan has grown a loyal following. The UFC commentator who called many famous fights struck gold in May. Spotify signed Rogan to a deal reportedly worth $100 million, according to The Wall Street Journal. Rogan cautioned fans on social media about any concerns that the show may change.
"They want me to just continue doing it the way I'm doing it right now," he said. "It's just a licensing deal, so Spotify won't have any creative control over the show."

Rogan's net worth is still far behind White's
Joe Rogan scored an industry-changing deal. Yet, even that $100 million payday doesn't put him anywhere near Dana White when it comes to net worth. According to Celebrity Net Worth, the multi-talented star has an estimated net worth of $100 million. He obviously earned a significant portion of that as a UFC commentator.
Rogan began calling fights back around 2002 and made millions as the voice of UFC. For viewers, Rogan brought the perfect blend of knowledge, humor, and entertainment. However, the father of three has a chance to narrow the gap with his highly successful podcast.
Forbes estimated that in 2019, Rogan earned $30 million from ad revenue, live shows, and YouTube broadcasts of his podcast. By moving to Spotify, that could give Rogan a chance to take his yearly earnings to a new stratosphere. Unfortunately, for now, he's still at least $400 million short in comparison to Dana White.