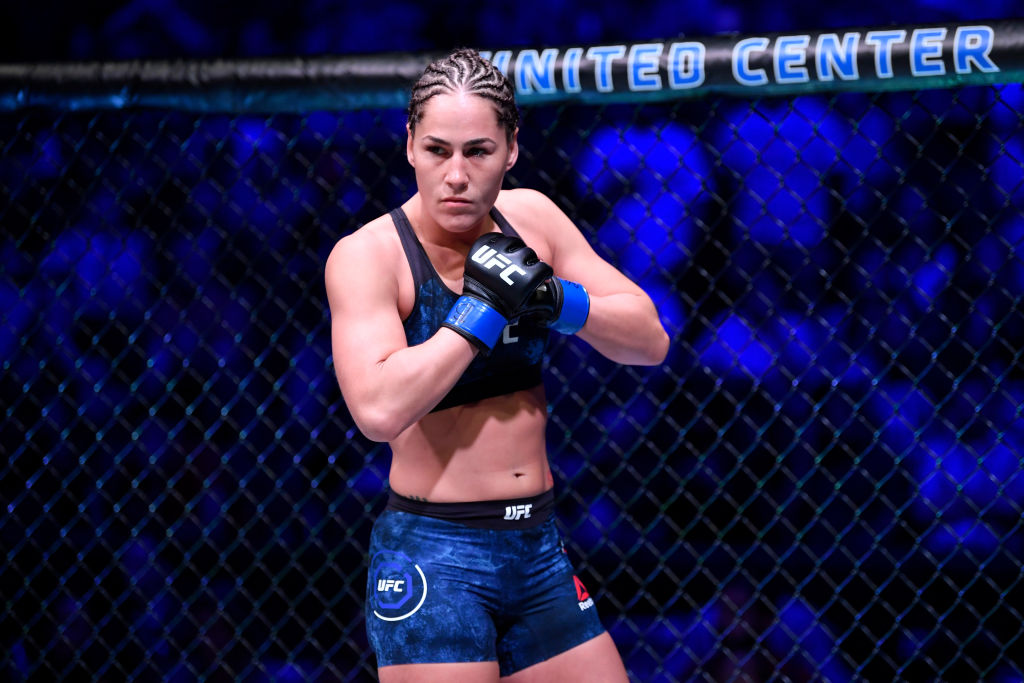 A Look Back on When Jessica Eye Made Leslie Smith's Ear Explode at UFC 180
Top to bottom, the UFC women's division may be the best it's ever been. Obviously headlined by current two-division champion Amanda Nunes, who last Saturday night looked nearly perfect in a five-round victory over Felicia Spencer, the women of UFC are constantly headlining events, a trend that will continue on Saturday night when Jessica Eye …
Top to bottom, the UFC women's division may be the best it's ever been. Obviously headlined by current two-division champion Amanda Nunes, who last Saturday night looked nearly perfect in a five-round victory over Felicia Spencer, the women of UFC are constantly headlining events, a trend that will continue on Saturday night when Jessica Eye and Cynthia Calvillo meet in the co-main event of UFC on ESPN 10.
Jessica Eye is currently the top-ranked contender to Valentina Shevchenko's Women's Flyweight Championship, despite being brutally beaten by her a year ago, and a decisive win over Calvillo could put her in line for another title shot. But before that, let's take a look back at one of the most sensational wins of Eye's career, a devastating TKO victory over Leslie Smith in 2014 in which Smith nearly lost an ear.
Jessica Eye has certainly had an interesting career
If nothing else, the career of Jessica Eye has certainly been interesting. After overcoming so much just to become an MMA fighter, including a life-threatening car accident and an extremely tumultuous relationship with her father, Eye has had some controversial moments in UFC.
Eye had a 10-1 record in various promotions, including Bellator, before making her debut in UFC in 2013. In her first fight with the promotion, Eye earned a split-decision victory over Sarah Kaufman at UFC 166, only to see that turned into a no-contest when it was found she'd tested positive for marijuana, for which she was fined and given a probationary one-year suspension. She then lost five of her next six fights.
In her most recent fight, a unanimous decision victory over Viviane Araujo this past December at UFC 245, Eye missed weight, tipping the scales at 131 pounds, five pounds over the 126-pound limit for the flyweight division. The fight still took place but Eye had to fork over a percentage of her purse, something she'll have to do again following her fight with Calvillo as she weighed in at 126.25 pounds ahead of Saturday night's fight.
So you just never know what's going to happen with Jessica Eye but it's always going to be entertaining.
She was brutally knocked out in her lone UFC title fight
Following four straight defeats from 2015-2016, Jessica Eye returned to UFC in 2018 and righted the ship, reeling off three straight victories, which earned her a shot at Valentina Shevchenko's Women's Flyweight Championship last June at UFC 238.
Eye got through the first round (barely) but got caught early in the second as Shevchenko hit her with a vicious kick to the head, clearly knocking Eye out cold as her head bounced off the canvas. She was unconscious for several minutes before coming to. She's still hoping to get another shot at Shevchenko's title down the line.
But let's now look back on when Jessica Eye was the one dishing out the punishment instead of taking it.
Jessica Eye nearly took off Leslie Smith's ear at UFC 180
At UFC 180, Jessica Eye was making her third appearance for the promotion and took on Leslie Smith in a bantamweight bout. Eye was extremely aggressive from the opening bell, throwing flurries of punches and kicks at Smith throughout the first round, most of them landing with force. And then it happened.
During the onslaught in Round 1, Jessica Eye hit a big right hand to Leslie Smith's head, a perfect shot that made Smith's cauliflower left ear explode on impact, squirting blood everywhere. The ear was looked at by a doctor in between rounds and Smith was allowed to continue but veteran referee Herb Dean stopped the fight in the second as blood continued to gush. Later photos and replays showed that the ear had been completely ripped open and was essentially just hanging there when the fight was ended, which Smith was completely against. She later told ESPN that she hadn't felt a thing but understood why the bout was stopped as she actually could've lost her ear.
So which Jessica Eye will show up on Saturday night? We'll just have to wait and see.