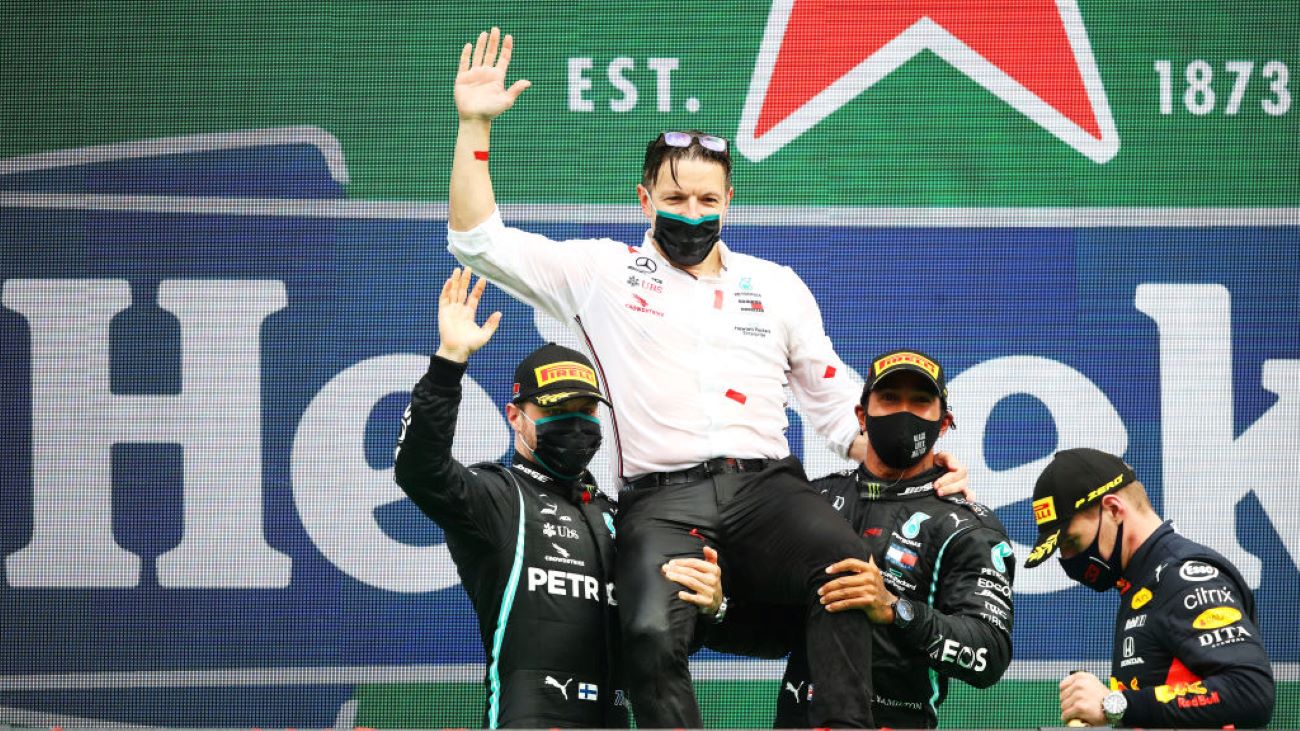 Who Is Peter 'Bono' Bonnington? He's Only the Formula 1 Race Engineer Serving as Driver Lewis Hamilton's Calming Influence
Formula 1 Race Engineer Peter "Bono" Bonnington has been a calming voice to all-time great driver Lewis Hamilton for his last six F1 World Championships.
When the time is appropriate, often during heated in-race exchanges, Formula 1 race engineer Peter "Bono" Bonnington knows what to say over the radio to driver Lewis Hamilton.
"Get in there, Lewis."
When it's time to make a tricky move, Bonnington often unleashes one of the favorites of Mercedes fans, "OK, Lewis, it's hammer time."
Formula 1 Race Engineer Peter 'Bono' Bonnington has the gift of in-race gab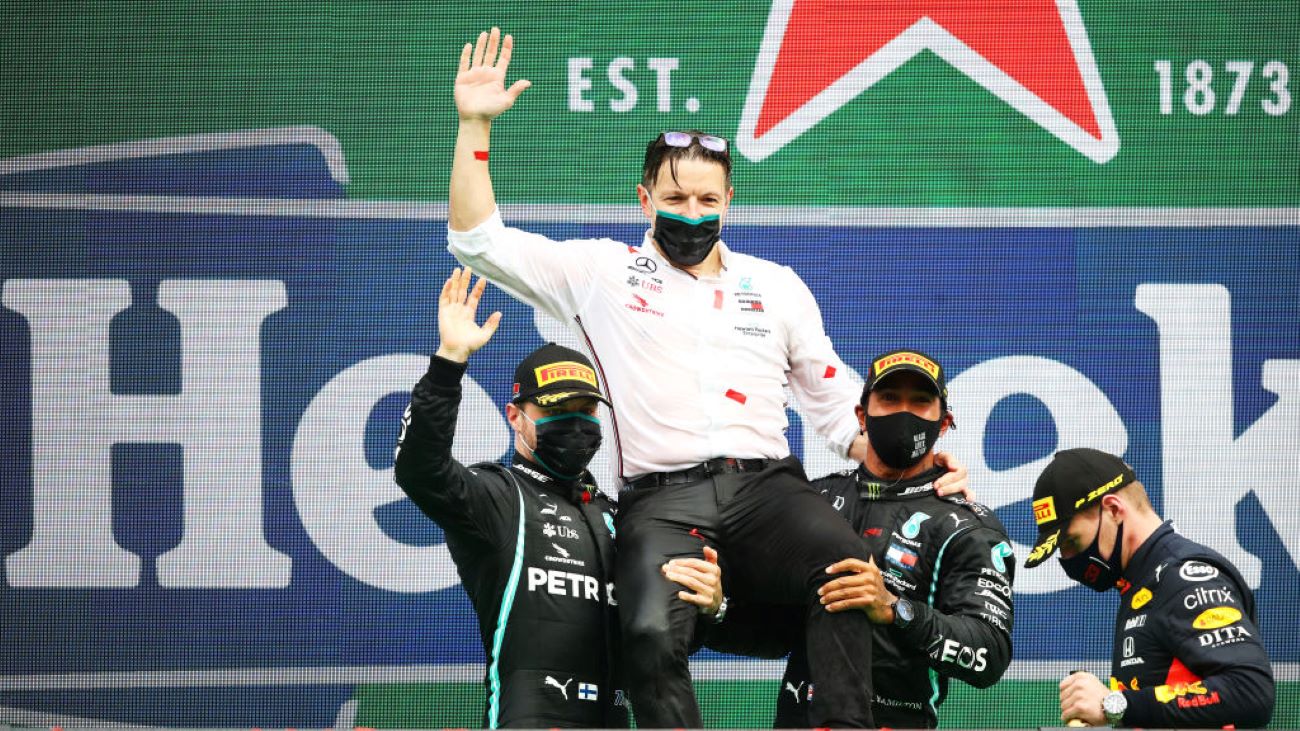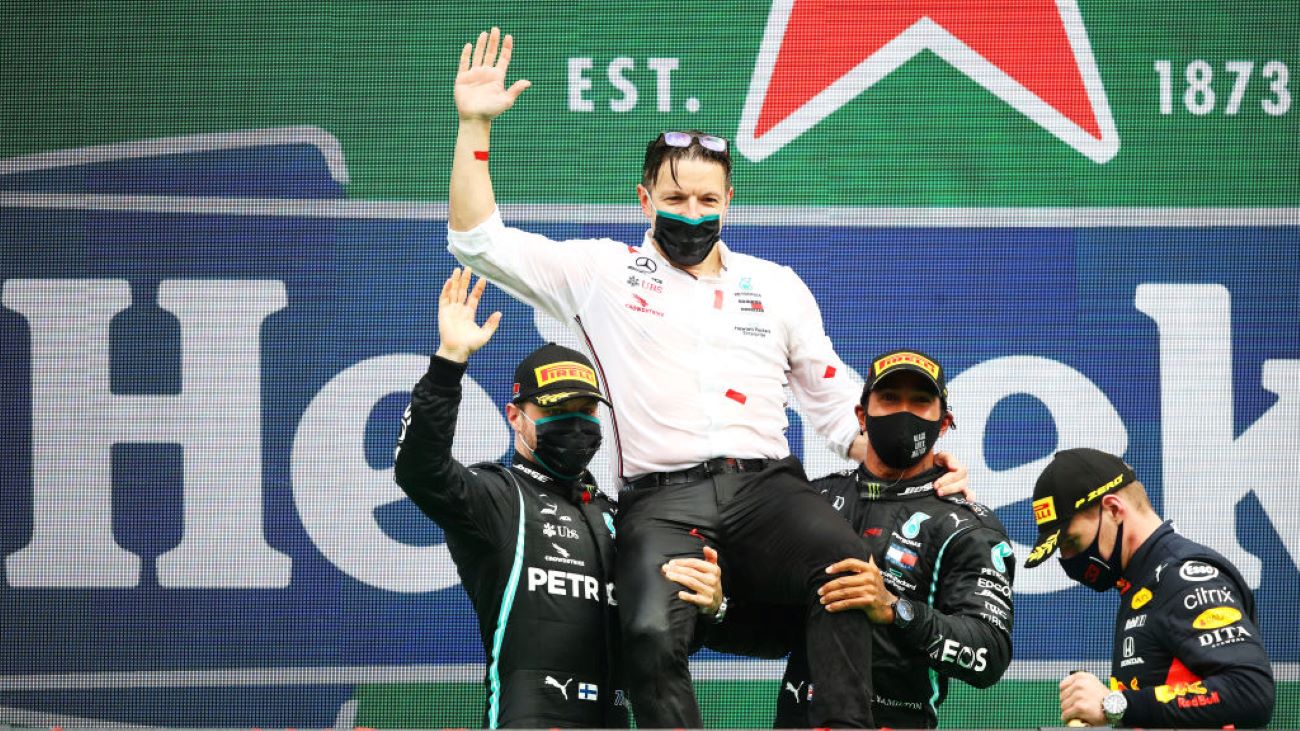 Since being paired with Hamilton, Bonnington has enjoyed the most successful streak of any F1 race engineer, earning six championships over the past seven years.
Bonnington's path to Mercedes started in the early 2000s. His first experience came as a data engineer with Jordon Grand Prix, and he proved a quick study under the tutelage of engineer Andrew Shovlin.
Race engineers are the main link between the driver and team officials. When the driver is behind the wheel, the race engineer serves as a liaison between making the winning moves and crashing into a wall.
Bonnington's influence was on full display during the 2020 British Grand Prix.  
Hamilton was beginning to unravel emotionally. His dominant 30-second lead was shrinking, and the finish line was approaching. Gaining on Hamilton was his rival, Max Verstappen. 
A left-front tire had a puncture, forcing Hamilton to slow down. Verstappen sped up, creating a frantic final lap.
Recorded by formula1.com, Bonnington calmly coaxed Hamilton forward: "So please don't go for the fastest lap. We just need to get the car home."
Bonnington constantly calmed Hamilton by providing detailed information over the final few corners, but Verstappen kept coming on strong. 
With Bono in his ear, Hamilton held on for the win with five seconds to spare.
"That's it, mate," Bonnington said over the radio at the finish. "You've done it. You've done it."
Driver Lewis Hamilton disagrees with tire change during Turkish GP
Though he's generally content to remain in the shadows of Hamilton's success, Bonnington's influence with Hamilton earned scrutiny on Oct. 3 during the Turkish Grand Prix.
Gunning for P3, Hamilton disagreed with Mercedes officials' call to pit and change tires to accommodate the damp track. Hamilton insisted there was no time to pit. He could travel the final 17 laps on the current set of tires.
With the aid of Bonnington's advice, Hamilton relented and came in for new intermediate tires.
The plan backfired as Hamilton lost too much track space on the pitstop, and he eventually finished fifth.
Hamilton was furious. Anyone on the team radiofrequency could hear him denouncing the decision to Bonnington: "We shouldn't have come in. … I told you."
But as usual, Bonnington's presence helped calm him down.
Bono and Hamilton chasing championship No. 7 together
Bonnington's job is to keep Hamilton cool and collected during the often high-pressure moments of F1 racing. Like he did in the frantic final lap of the British GP.
The duo is tracking toward a seventh title together.
As F1 returns for the United States Grand Prix on Oct. 24, Hamilton and Bonnington trail series leader Max Verstappen by six points (262.5-256.5). No other driver is close to the front-runners.
With Bonnington's aid, Hamilton has developed into the most successful Black driver in the history of F1. He's evolved into a cultural icon inside the sport and in mainstream marketing.
Bonnington, through it all, has remained Hamilton's calming presence.