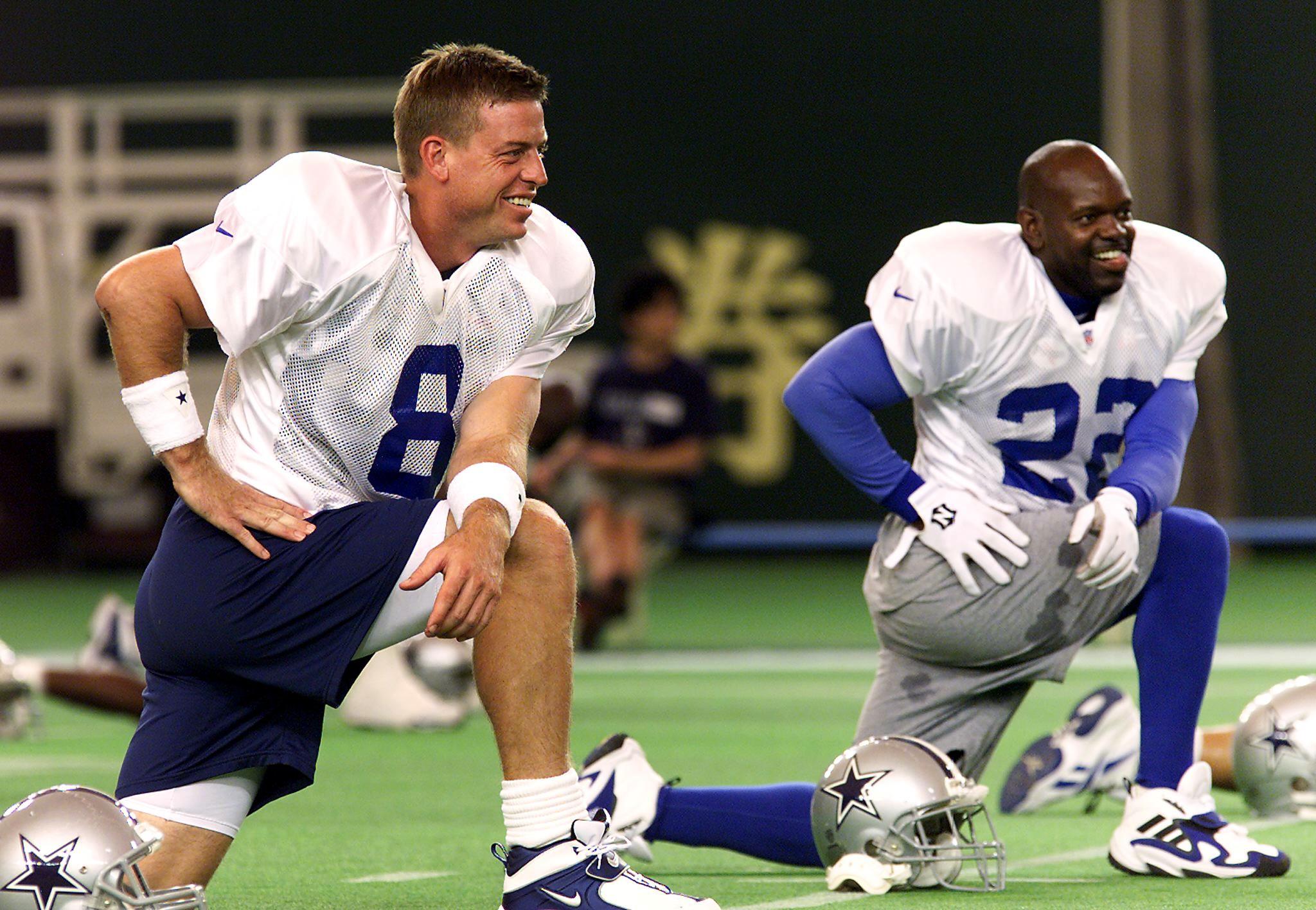 Who Is the Highest-Paid Dallas Cowboy of All Time?
Troy Aikman and Emmitt Smith might be the greatest Cowboys of all time, but they aren't the highest-paid players in franchise history.
The Dallas Cowboys are considered America's Team, and for a good reason. The franchise has produced some of the most famous Hall of Famers in NFL history. Troy Aikman, Emmitt Smith, Deion Sanders, and Tony Romo are just a few of the all-time greats who have donned the blue star. You know all the Cowboys legends, but which one made the most money in the NFL? The answer might surprise you.
Troy Aikman and Emmitt Smith both made over $50 million with the Cowboys
Troy Aikman and Emmitt Smith might be the most famous Cowboys ever, but they didn't rake in the most cash in franchise history. Although neither holds the top spot, they both still made over $50 million in Dallas.
Aikman played all of his 12 NFL seasons in Dallas and made $55.5 million with the team. The most Aikman made in a single season was $16 million in 1999. It's likely he shuttered watching Dak Prescott sign for a whopping $31.6 million for the 2020 season.
Smith actually made more money in the NFL than his longtime QB, but he played three more seasons in the league. The Hall-of-Fame running back made $61.2 million during his career, including $53.7 million from his time with the Cowboys.
Tony Romo is the highest-paid Dallas Cowboy of all time
Tony Romo may not have a more successful career than Aikman, but he does have him beat in one category. Romo made $127.4 million with the Cowboys, more than double what Aikman made with the team.
Romo's story from undrafted to Cowboy great is an inspiring one. He signed with Dallas as an undrafted free agent for a measly $10,000 in 2003. He turned that into a dazzling 14 years in the NFL and one of the highest-earning football careers ever.
As it stands today, Romo is the 18th highest-paid NFL player of all time, right behind Sam Bradford and Brett Favre. He's one of just 23 players in NFL history to earn more than $120 million in the league.
Tyron Smith, who still has plenty of football years left, is second in Cowboys history with $72.5 million in career earnings. Smith and Aikman are right behind him, with Demarcus Lawrence coming in at No. 5 with $53.4 million.
Dak Prescott will surpass Tony Romo in career earnings
Tony Romo may be the highest-paid Cowboy ever, but he won't hold that title for much longer. Dak Prescott recently signed hs exclusive franchise tag worth $31.6 million in 2020.
If Prescott and the Cowboys can agree on a long-term deal soon, Prescott could earn the largest contract in NFL history. A five-year deal worth over $30 million per year would give Prescott more money in one contract than Romo earned in his entire career.
As time goes on, NFL players will earn more and more money as the salary cap soars. Romo has held the top spot in Cowboys' history since he retired, but he might not be there for long.
Either way, Romo probably isn't complaining considering his $18 million per year CBS deal just kicked in. Romo might end up earning more money talking about football than he did playing the sport for 14 years.
All contract stats courtesy of Spotrac