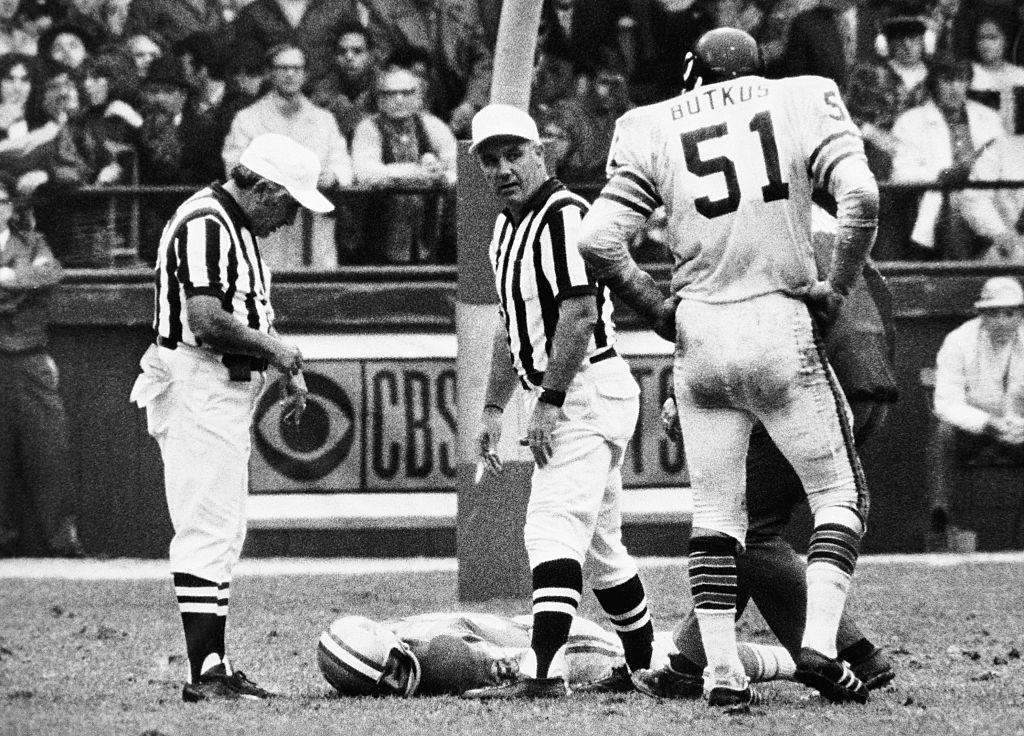 Who Is the Only NFL Player to Die in a Game?
In 100-plus years of violent collisions, concussions, and broken bones, only one NFL player has died in a game. Here's a look at that tragic day in Detroit.
In the National Football League with all the violent collisions, countless concussions, and grotesque injuries, surprisingly, only one NFL player has died during a game in the league's 100-plus year history. To this day, it was one of the most horrifying moments in sports history as 54,000 fans at Tigers Stadium watched on in utter shock and disbelief. Here's a look back at that tragic day in Detroit.
Who was Chuck Hughes?
The Philadelphia Eagles selected Chuck Hughes out of Texas Western College in the fourth round of the 1967 NFL/AFL draft. In college, Hughes set numerous all-time records for the school, including most all-purpose yards in a single game (401 yards), most yards per reception for a single game (34.9), and most receptions in a single game (17). 
In Philadelphia, Hughes combined to play as a receiver and on special teams as a kick returner. After three seasons with the Eagles, Hughes went to Detroit in 1970 looking for more playing time under head coach Joe Schmidt.
Hughes got precisely what he wanted that first season with the Lions when he started nine games at wide receiver. Unfortunately, more starts didn't necessarily translate into more catches. Hughes hauled in eight catches for 120 yards, an impressive 15 yards per reception. 
In the 1971 season, Hughes saw even less time on the field until the sixth game of the season. That's when late in the game at Tigers Stadium, with the Lions trailing the Chicago Bears 28-23, Hughes was pressed into action after Detroit receiver Larry Walton suffered an injury. 
The only NFL player to die in a game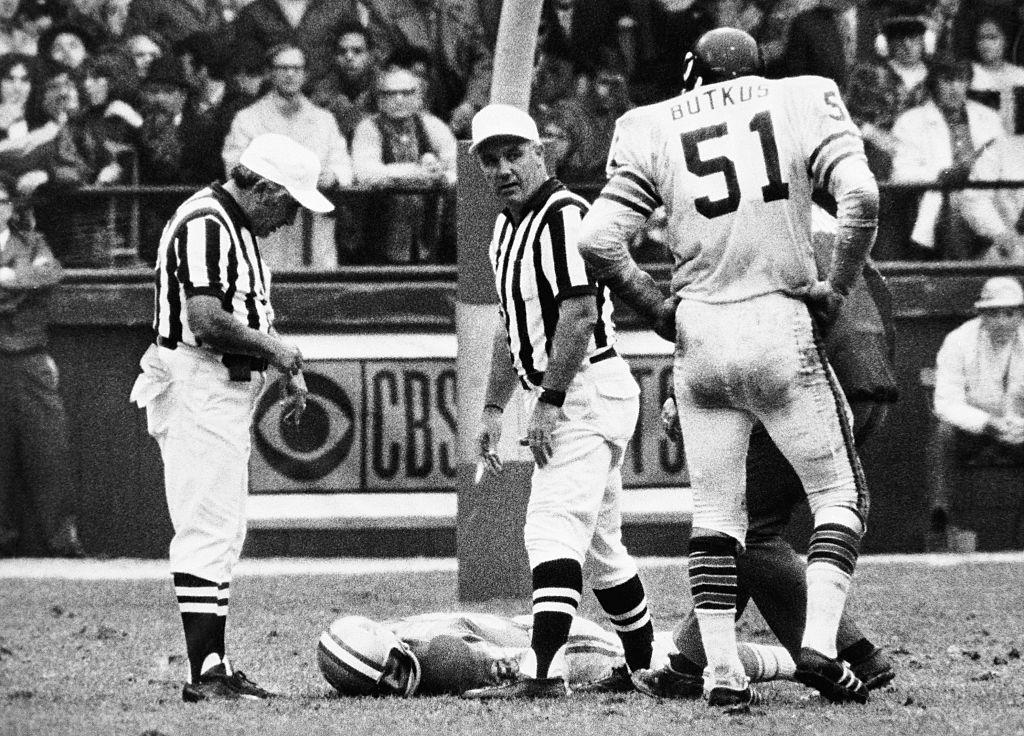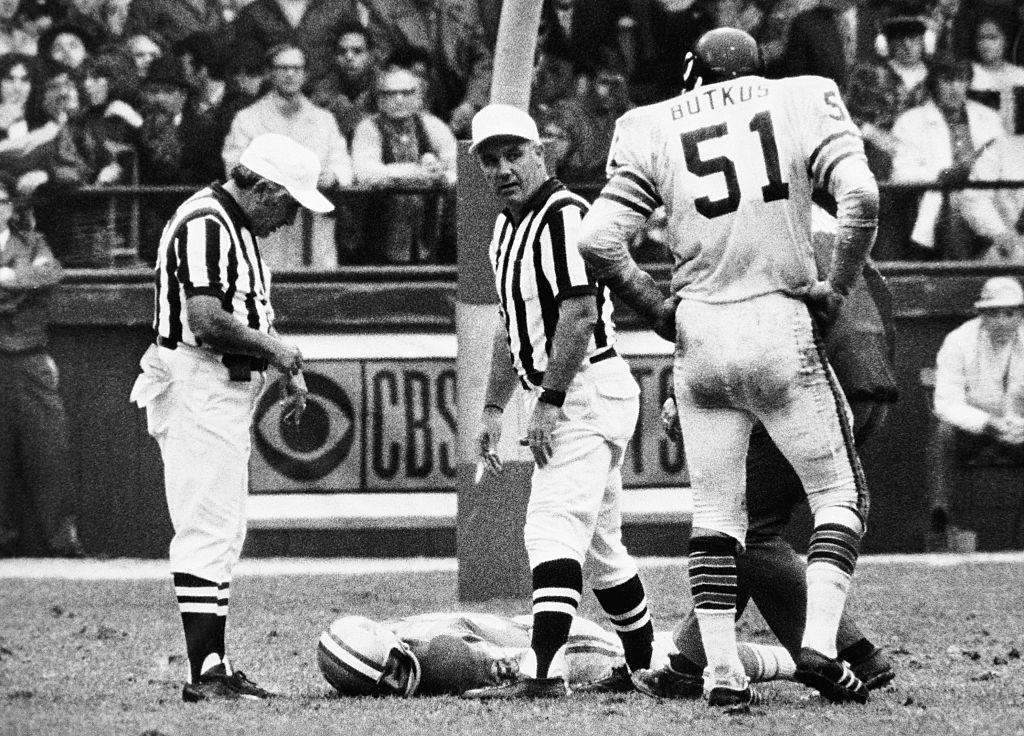 As the Lions drove down the field for the potential game-winning score, quarterback Greg Landry connected with Hughes for a 32-yard strike. It was Hughes' first catch of the season. Sadly, it turned out to be the last catch of his life.
Three players later and just over a minute remaining in the game, Landry threw an incomplete pass to tight end Charlie Sanders near the end zone. Hughes, who was a decoy on the play, started heading back to the huddle. As he reached the 20-yard line, Hughes inexplicably collapsed to the ground clutching his chest. 
Bears linebacker Dick Butkus, who was standing next to Hughes, motioned frantically to the Detroit sideline, as the fallen player's body began twitching with convulsions. Team doctors and trainers rushed to help. An ambulance crew hurriedly drove on to the field, placed his lifeless body on a stretcher, loaded him into the back, and drove him to Henry Ford Hospital. He was pronounced dead shortly after 4:30 PM. 
What happened after Chuck Hughes died?
An autopsy showed Hughes had premature hardening of the arteries and died of acute coronary thrombosis. He had a family history of heart disease. The heart attack could have happened in his kitchen. It could have happened driving in his car. Instead, it happened in front of 54,000 fans at Tigers Stadium.
Several days later, head coach Joe Schmidt and the entire Lions team attended Hughes' funeral in San Antonio. Hughes left behind his wife, Sharon Leah, and son Brandon, who was days shy of his second birthday.
An insurance company set up a $10,000 trust fund for Hughes' young son. His widow filed a $21.5 million malpractice lawsuit against Henry Ford Hospital in 1972 for not diagnosing his condition when he was hospitalized after complaining of chest pains earlier in the season. The lawsuit was settled out of court for an undisclosed amount of money.
In memory of the Detroit Lions player, the organization retired Hughes' number 85 and annually give an award to the most improved player in his name.