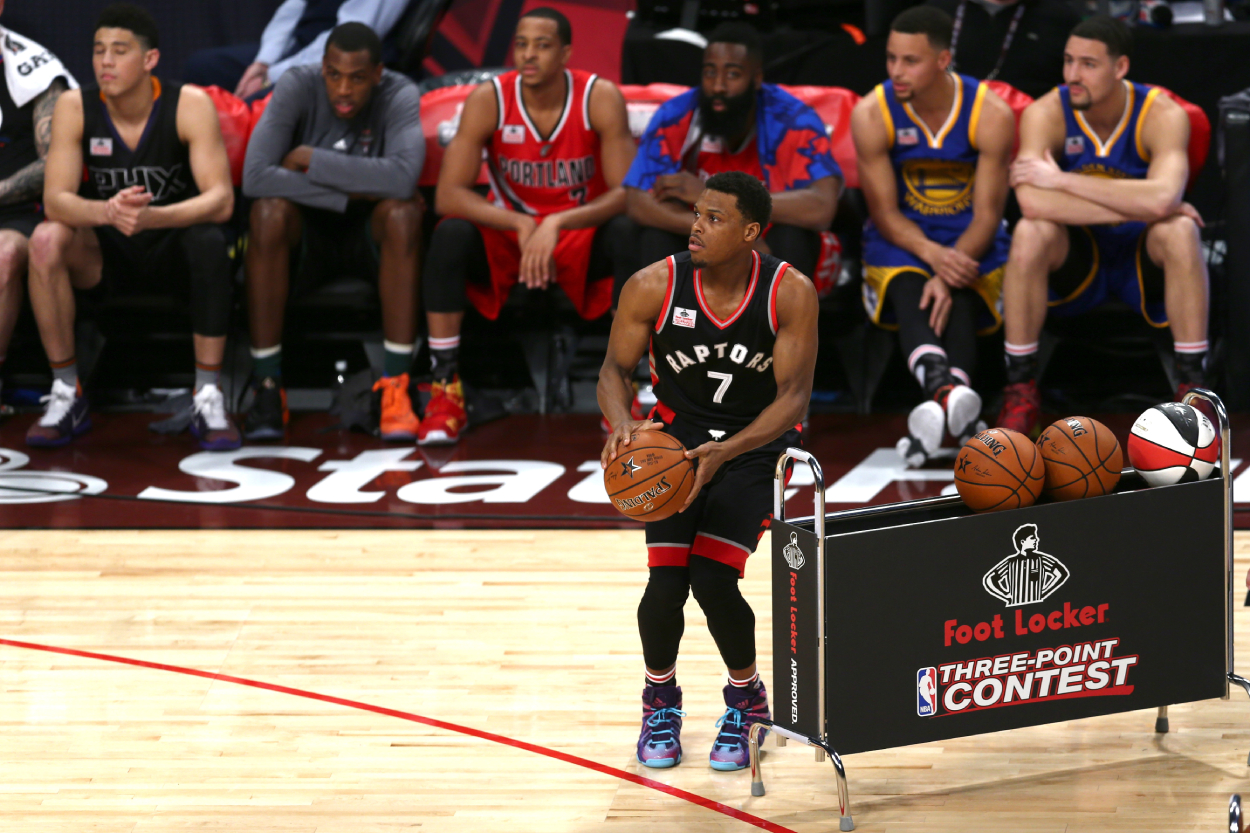 Who's Won the Most NBA Three-Point Contests?
What NBA player has won the most three-point shooting contests?
Stephen Curry won't be around this year to defend his NBA Three-Point Shooting Contest title. Last year, the Golden State Warriors guard needed to hit his last two shots to defeat Mike Conley of the Utah Jazz for his second title. He did just that, finishing the round with 28 points and topping Conley's 27.
Curry is one of seven players to have won the long-distance title multiple times. Which NBA player has won the most NBA Three-Point Contests?
The NBA Three-Point Contest has been around for 36 years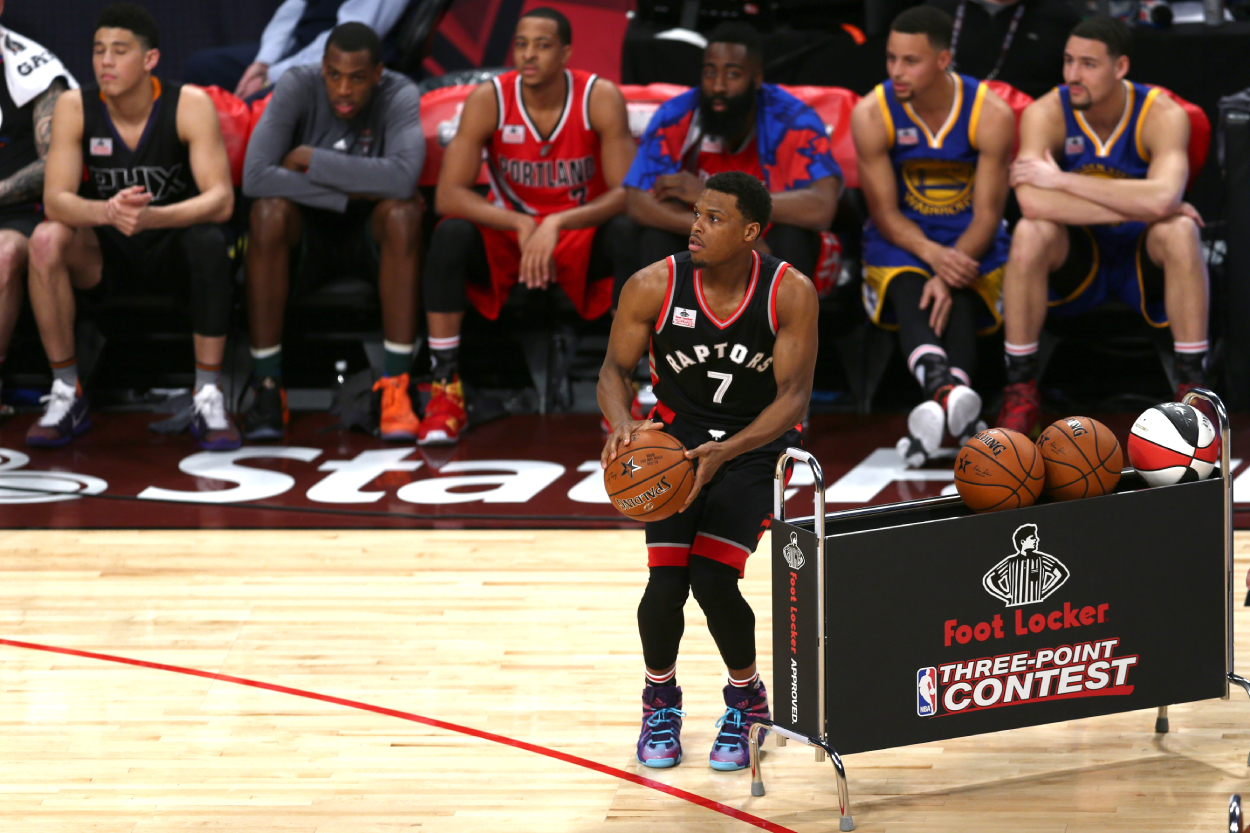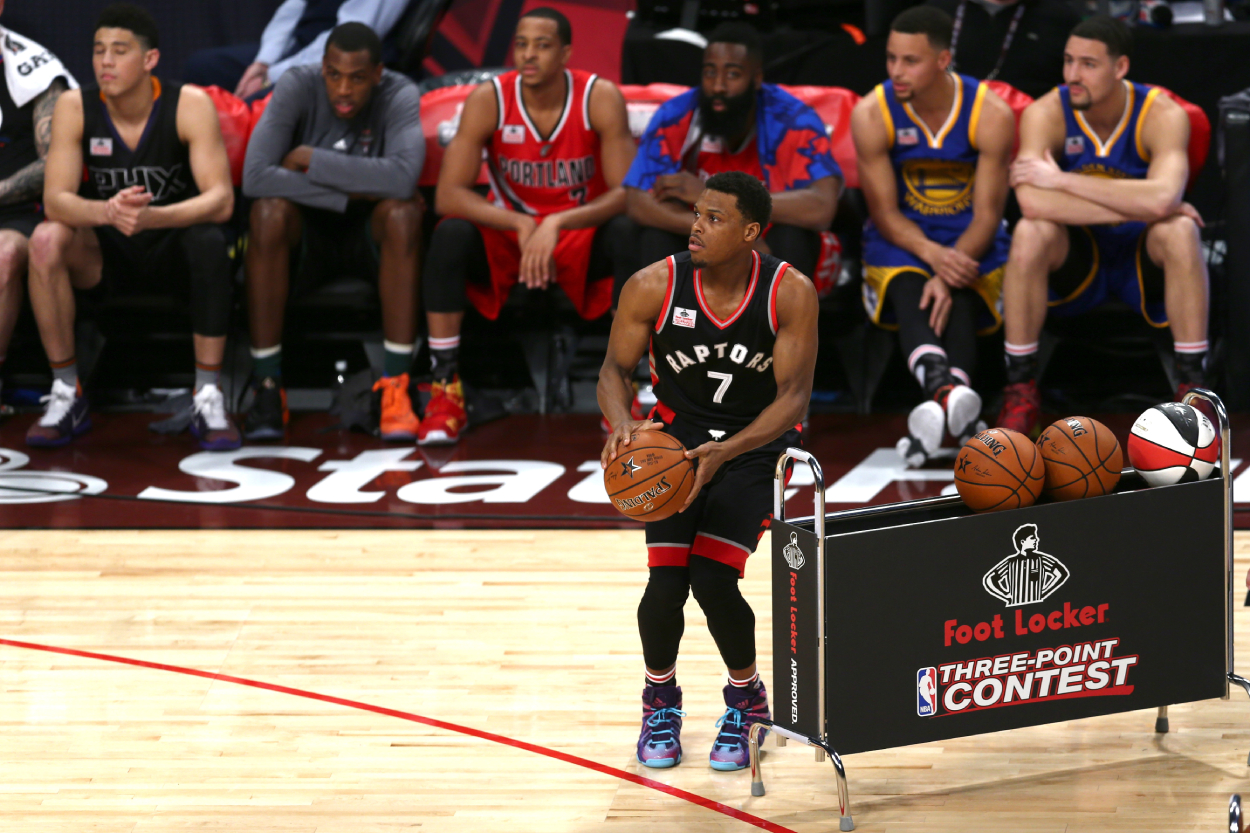 The NBA made the three-point contest part of its All-Star Weekend back in 1986. Eight players — Larry Bird, Craig Hodges, Kyle Macy, Trent Tucker, Eric "Sleepy" Floyd, Norm Nixon, Leon Wood, and Dale Ellis — took part in the event held at Reunion Arena, home of the Dallas Mavericks.
Bird, who guided the Boston Celtics to the NBA title and was named the league's MVP in 1986, also took home the three-point trophy. He, along with Curry, Hodges, Peja Stojakovic, Jeff Hornacek, Mark Price, and Jason Kapono, have all won the event at least twice.
Bird, Hodges, Stojakovic, Hornacek, Price, and Kapono have all done it in back-to-back years.
Last year, Curry, the NBA's all-time leader in three-pointers, set a record with 31 points in one round. In 2013, Kyrie Irving became the youngest player to win the title at 20.
What player has won the most NBA three-point contests?
While seven players have won the shooting contest at least twice, only two players are three-time champs. Bird and Hodges are the only two to have won it on three occasions, and they both did it within the first seven years of its existence.
In the first year, Bird famously entered the locker room before the event and asked what player was coming in second place. He wowed the crowd by making 11 straight shots in the final round against Hodges.
In 1987, Bird retained his title despite struggling in the opening round. He eventually made his way to the finals, outlasting Detlef Schrempf 16-14.
Bird secured his three-peat in '88 when he took part in the final round while wearing his warm-up jacket against Ellis. Ellis shot first and recorded 15 points. For Bird, it came down t the last two shots. Trailing 15-14, he tied it before throwing up the money ball and an index finger, signaling he's No. 1, as his final shot swished through the net.
Bird never took part in the three-point contest again, opening the door for Hodges. After Ellis won the title in 1989, Hodges won it each year from 1990-92, joining Bird as the only two players to ever win it three times.
Karl-Anthony Towns headlines this year's list of participants
It's not often you'll find a seven-footer taking part in a long-range shooting competition. This year, Karl-Anthony Towns of the Minnesota Timberwolves will get a crack at it. He'll join Trae Young, Fred VanVleet, Desmond Bane, Luke Kennard, CJ McCollum, Patty Mills, and Zach LaVine.
Towns is hitting 41% of his three-pointers this season while attempting better than five per game.
"I'm going to go out there to try to win," Towns said, per the Pioneer Press. "I'm trying to put some high scores up there, and I'm looking at it like I'm competing against myself, not my opponent, because I want to do a really good score from my own sake.
"It's something I've wanted to do for awhile, so when I got the call (with the invite), it was cool. It was very cool to get that call, and I'm excited. It's something I've always wanted to do."
With Towns being in the contest, it just shows how much the game has changed. Seven-footers no longer need to be stuck inside the paint, and he's out to prove it.
"I think when you're 7-foot, no matter if you're a casual, everyone is going to want you to be on the post because that's just the narrative built for how many years for big men, that big men have to be in paint doing hook shots, Hakeem Olajuwon fakes and stuff like that," Towns said. "The game has changed, and I'm just going to go out there and show that bigs have evolved and can shoot the three ball with the best of them, guards or anybody."