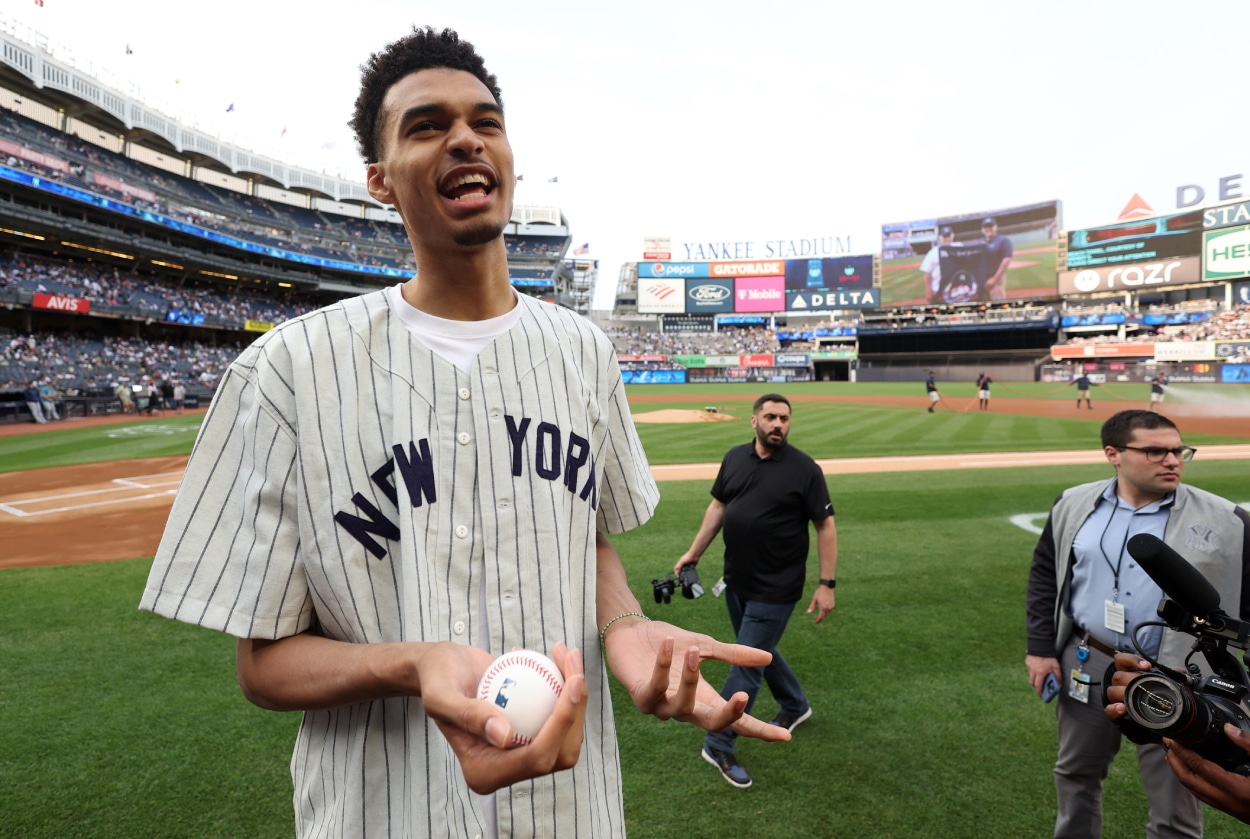 Why Are There Only 58 Picks in the 2023 NBA Draft?
For the second straight year, there will only be 58 picks in the NBA Draft.
The 2023 NBA Draft takes place Thursday. Plenty of action is expected to take place in the two rounds. While French phenom Victor Wembanyama is the clear-cut top choice, all 30 NBA teams are expected to be heavily involved. With 30 teams in the league, why are there just 58 picks this year?
The Philadelphia 76ers and Chicago Bulls forfeited picks in the 2023 NBA Draft
The 2023 NBA Draft will be a little lighter than usual this year, with only 58 selections. The Philadelphia 76ers and Chicago Bulls both had to forfeit draft picks for violating NBA rules.
In October, the NBA announced the 76ers violated tampering rules involving two players. The league concluded that the team talked with free agents P.J. Tucker and Danuel House Jr. before the period when teams could have discussions with free agents. The league penalized the Sixers by stripping them of their second-round draft picks in 2023 and 2024.
The Bulls were also nailed for tampering. Their incident took place in 2021 when they signed Lonzo Ball during a sign-and-trade deal. The Bulls did not have a 2022 second-round pick.
This will be the second straight year that the NBA Draft has fallen two selections short of the standard 60 picks. In 2022, the Milwaukee Bucks and the Miami Heat were short second-round picks because of tampering violations.
The Bucks spoke with Bogdan Bogdanovic too soon, while the Heat engaged in conversations with Kyle Lowry before the appropriate deadline.
The 2023 draft is Victor Wembanyama and everyone else
There shouldn't be much drama about the top pick in the 2023 NBA Draft, but everything else after that is up in the air.
Wembanyama, the 7-foot-4 versatile Frenchman, is widely regarded as the most promising prospect in the draft. He's athletically gifted and can play anywhere on the court. The San Antonio Spurs own the No. 1 pick, and it would be a shocker if they took anyone other than Wembanyama.
After that, it's anyone's guess.
Guards Scoot Henderson and Brandon Miller are likely the next two picks, but where they'll land is up in the air. The Charlotte Hornets own the No. 2 pick, while the Portland Trail Blazers follow at No. 3.
Expect plenty of movement this year. Rumors continue to swirl, and the Boston Celtics already got the trade parade rolling. The Celtics sent veteran guard Marcus Smart to the Memphis Grizzlies in a three-team deal. The Celtics received Kristaps Porzingis from the Washington Wizards and also acquired the 25th pick in the draft from the Grizzlies. Boston sent Mike Muscala, Danilo Gallinari, and its No. 35 pick to the Wizards. Washington also received guard Tyus Jones from Memphis, per ESPN.