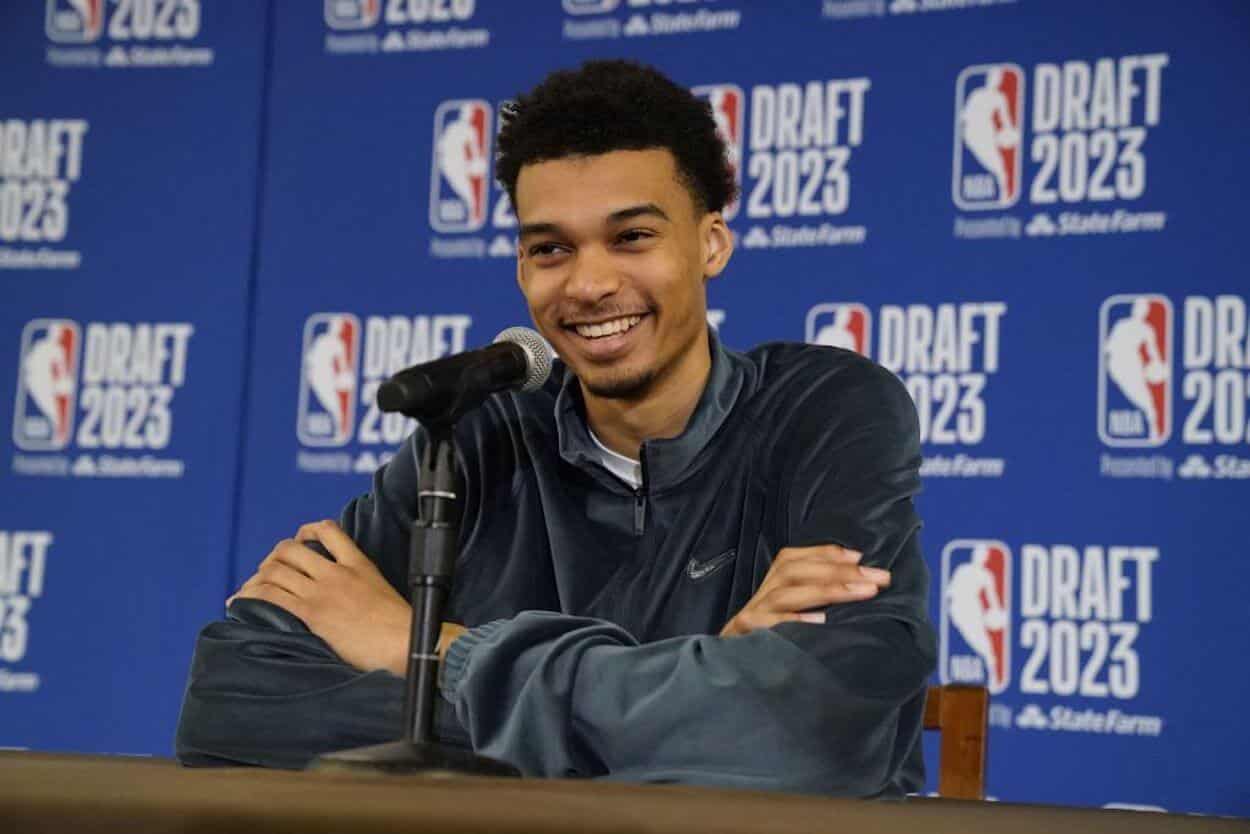 Victor Wembanyama Showed the Best and Worst of His Athleticism In the Span of a Few Hours
While Victor Wembanyama can apparently kick a ball 10 feet in the air, you might not want to sign him as your baseball team's starting pitcher.
A key part of Victor Wembanyama's appeal as an NBA draft prospect is his athleticism. It's one thing to be tall, but Wemby does more than simply tower over the competition. He's also light on his feet, capable of running the floor, tracking defenders on the perimeter, and generally moving like a man half his size. Sometimes, it seems like there's nothing that he can't do.
Well, other than throwing a baseball over home plate.
In the days leading up to the 2023 NBA draft, the teenager found himself squarely in the spotlight. While that showed off the weakness of his athleticism — the first pitch we previously alluded to — it also gave Wembanyama a chance to tell a rather mind-blowing story during a podcast.
Let's check them both out and see what we make of them.
Wembanyama's first pitch left something to be desired, but it did confirm that he has massive hands
While basketball has become a global game, baseball is still a bit more regionalized. America's pastime has spread beyond the 50 states, but it hasn't really taken root in Europe. That reality set the stage for one of Victor Wembanyama's rare missteps.
On June 20, 2023, the French phenom headed up to Yankee Stadium and threw out the ceremonial first pitch. Wemby does deserve some credit for going to the rubber — we've seen plenty of celebrities pitch from the front of the mound — but let's just say that his effort was a little bit outside.
Without making a mountain out of a molehill, that pitch may have been the first time we've seen Wembanyama commit an athletic misstep on a big stage. Has he dropped the ball (literally and figuratively) before? Of course, but even the most dedicated NBA fan wasn't watching every game he played in France. This, however, was plastered all over social media in a matter of minutes.
But if that throw left you feeling skeptical — if that's the case, you should reconsider how you evaluate NBA prospects — there was a silver lining to the outing. A picture of the teenager holding a baseball also made its way online, and while it's not quite Andre the Giant holding a beer can, it still confirms that Wemby has massive hands.
Those mitts are probably more relevant to his basketball career than throwing a baseball, anyway.
Victor Wembanyama also blew JJ Redick's mind by describing how he kicked a ball that was stuck in the rim
Visiting Yankee Stadium wasn't Wembanyama's only engagement, though. The Frenchman also appeared on an episode of JJ Redick's The Old Man and the Three podcast. While he shared plenty of insights, one story centered on some incredible athleticism.
"One time, believe it or not, I was 14," Wemby remembered when asked if he'd ever done anything in practice that he wished a camera crew witnessed. "I was 14. And you know when the ball is stuck on the rim? Like when you're shooting, and it just sticks between the rim and the backboard? … Well, I was with a coach back then, and, like, the practice was over. So I was just ****ing around, and we're just laughing. And we were laughing, and I jumped, and I tried to kick the ball. To kick it with my foot. And I touched it with my foot. The ball, between the backboard and the rim."
If it takes you a minute to wrap your mind around some kicking a ball that's 10 feet off the ground, you're not alone. Redick tried to work things out in real-time.
"I'm trying to understand the physiological dynamics of that," he mused. "Did you flip around, or did you just have that much flexibility?"
For the record, it was the latter. While Wembanyama didn't reenact the move or anything like that, he confirmed that he went up and came straight back down to land on his feet. And, if you're still skeptical, he said that the move would be on camera one day.
After seeing the good and 'bad' of Wemby within a day, it's safe to say the hits will only keep coming
While the timeline is a bit iffy — the podcast was presumably recorded a bit earlier — that interview hit the airwaves the morning after Wembanya's first pitch at Yankee Stadium. Having that lowlight and highlight (using the terms loosely) juxtaposed against each other was certainly striking, but it does bode well for us as sports fans.
At this point in time, it's safe to say that the teenager possesses incredibly raw talent. His highlights have confirmed that, and his tale of kicking a ball stuck in the rim would suggest there's even more physical prowess that we haven't seen.
Throwing out the first pitch showed some different things. There's physical gifts — the massive hands — and, if we want to try to push the analytic envelope, a fearlessness. Wembanyama isn't a shrinking violet with second thoughts about the spotlight; he's ready to roll, even if his first pitch isn't a perfect strike.
If nothing else, these two divergent moments seem to suggest that, for better or worse, Victor Wembanyama will give basketball fans plenty to talk about for the foreseeable future.
And, at the end of the day, that's what we really want, right?