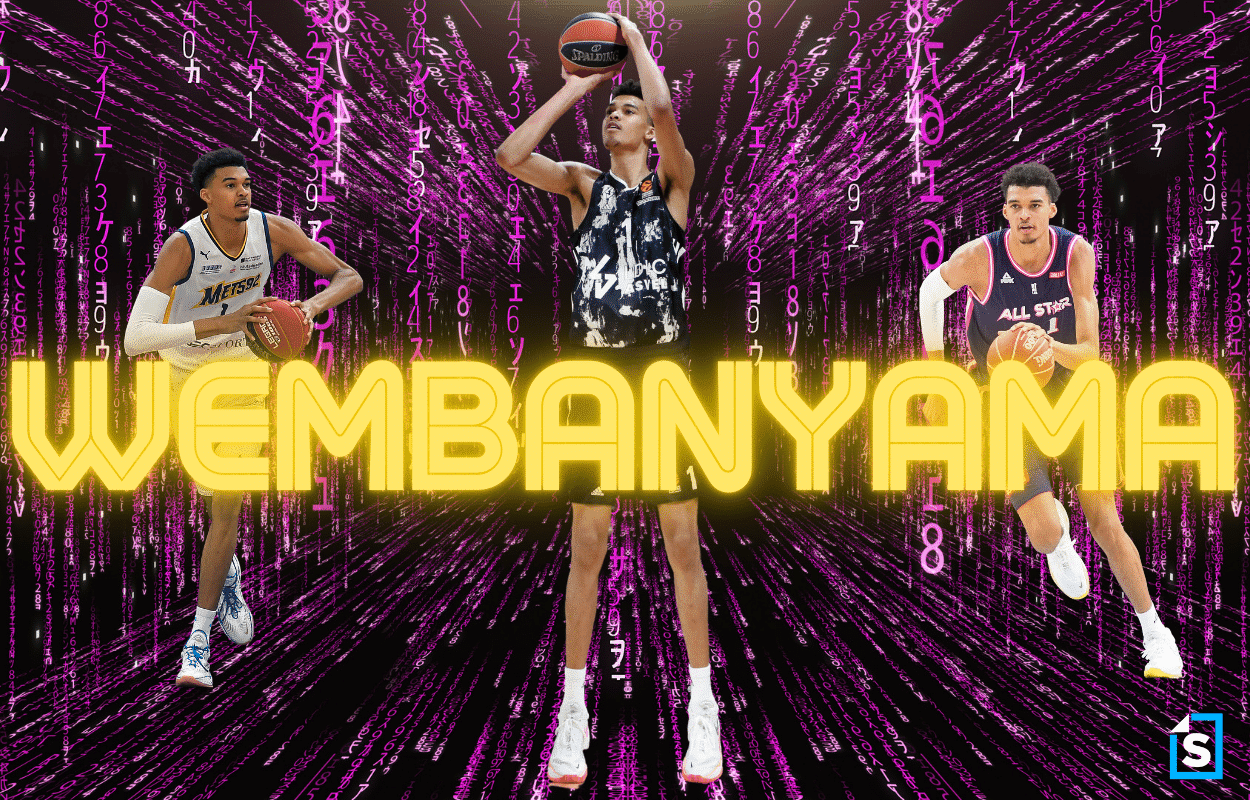 Victor Wembanyama: Biography, Career, Net Worth, Family, Top Stories for the Rising Basketball Star
Who is Victor Wembanyama? We've got you covered with anything and everything about the rising basketball star.
While the NBA may be based in North America, the league has become an increasingly international entity. With each passing year, more and more players come from abroad to join the Association. They're not just place-fillers, either. Consider Victor Wembanyama as the next example.
Although the young big man is yet to officially sign his contract and become an NBA player, there's no doubt he has both the physical tools and the natural talent to get the job done. Can things go wrong along the way? Of course, but his stardom seems like a safe bet.
So, with that trajectory on the table, let's get to know the real Victor Wembanyama. Here's everything you need to know about the Frenchman, ranging from his basketball story to some projections about what the future holds.
Article contents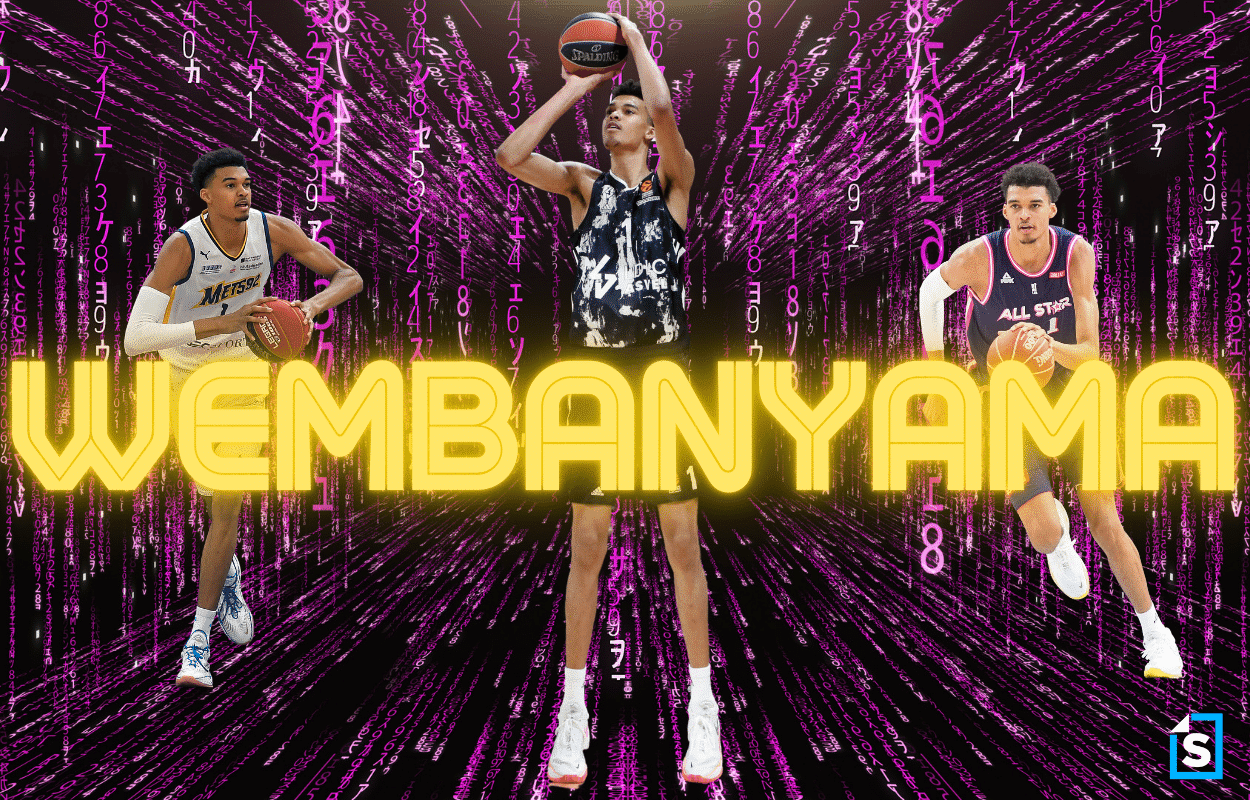 Quick facts
Early life and road to the pros
Nanterre 92 career
ASVEL career
Metropolitans 92 career
European stats
French national team career
NBA scouting reports
Height
Net worth and career earnings
Nicknames
Media presence
FAQ
Quick Victor Wembanyama facts
Full name: Victor Wembanyama
Birthday: Jan. 4, 2004
Birthplace: Le Chesnay, France
Parents: Felix Wembanyama and Elodie de Fautereau
Siblings: Eve Wembanyama and Oscar Wembanyama
Listed height: 7-foot-3.5
Listed weight: 229 pounds
NBA draft history: Selected first-overall by the San Antonio Spurs in June 2023
Professional teams: Nanterre 92 (France), ASVEL (France), Metropolitans 92 (France), San Antonio Spurs
Professional position: Forward/Center
Professional numbers: No. 1 (Nanterre 92, ASVEL, Metropolitans 92, San Antonio Spurs), No. 32 (French national team)
Professional playing career: 2019-present
Marital status: Single
Early life and road to the pros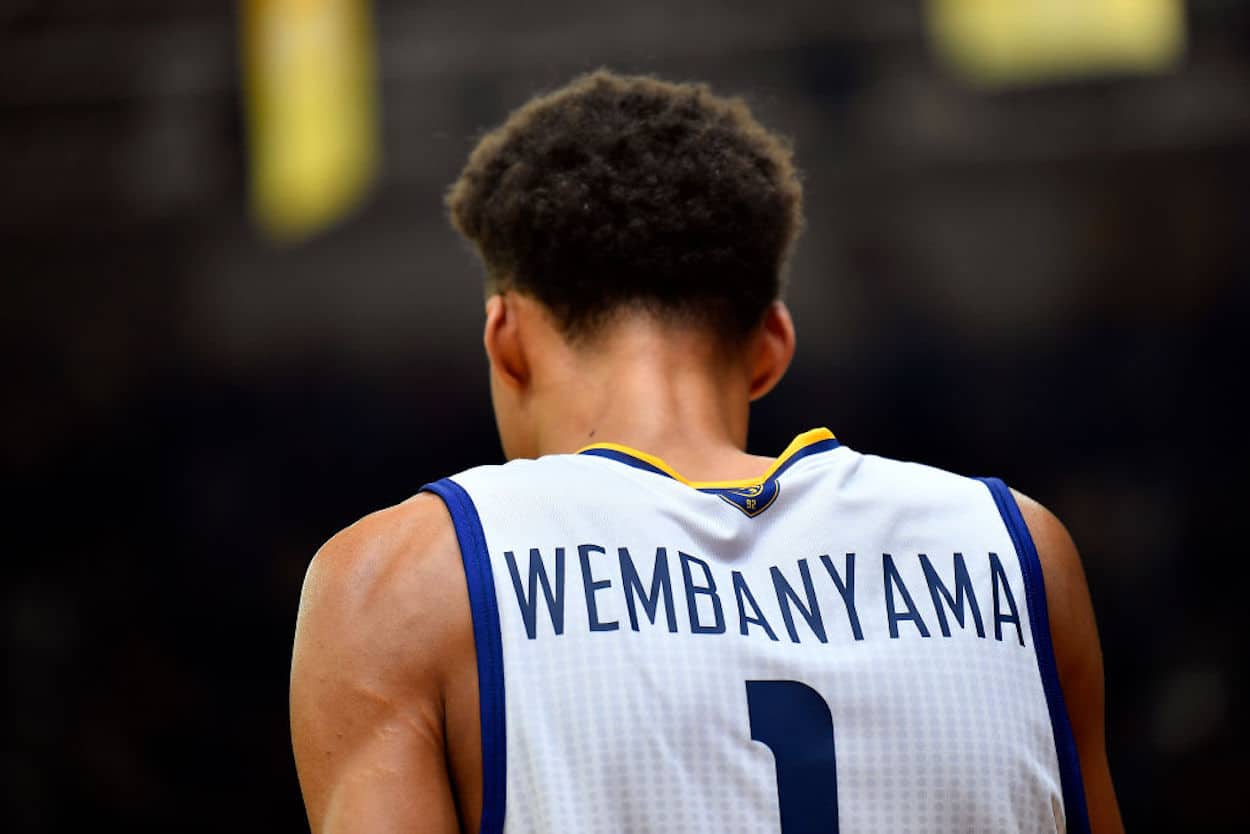 When you think of stereotypical images of France, you probably imagine Paris' fashion industry, the Eiffel Tower, or the countryside that's the foundation for some of the world's great cuisine. While all of those ideas have a grounding in reality, that wasn't the childhood that Victor Wembanyama knew.
The future phenom grew up in Le Chesnay, which sits near Versailles outside of Paris. It was only a matter of time before he got into sports. Two of his grandparents played basketball. His father, Felix, was a triple-jumper, while his mother, Elodie, played and coached basketball. As a boy, Victor would tag along with her as she worked with local youth teams.
While there were forays into other sports, like soccer and judo, Victor ultimately landed on the hardwood.
"I mean, I had the choice, and I still have the choice to play or not play basketball, but basketball has always been around," he told Pierre Giberne in a 2022 SLAM story. "I can't avoid it in my family." 
And Wembanyama didn't avoid it. He joined Entente Le Chesnay Versailles at age seven. A few years later, one of JSF Nanterre's coaches was watching a game and wondered who the mysterious figure sitting on the bench was since he looked like a full-fledged adult — a coach, perhaps? It turned out to be Victor, which set the stage for a move to the Nanterre youth team.
Before long, he made his professional debut for their senior squad.
Victor Wembanyama's career with Nanterre 92
At the tail end of 2019, Victor Wembanyama made his professional debut during one of Nanterre's EuroLeague games. While he didn't see much action that year — he spent most of his time with the under-18 squad — making a senior debut at age 15 is still quite the feat.
When the 2020-21 campaign rolled around, though, the prospect got more time in the spotlight. He still suited up for the U18s on occasion and briefly joined the lower-tier Centre Federal but appeared in 22 total games for Nanterre on both sides of a foot injury.
Again, the raw stats weren't much to look at — he averaged 1.3 points and 2.3 rebounds in EuroCup action and 6.8 points and 4.7 boards in domestic play — but those numbers take on a different timbre when you remember that he was a teenager playing against grown men.
Victor Wembanyama's career with ASVEL
Few modern players stay with one team for their entire career. Victor Wembanyama, however, confronted that reality earlier than most. After spending two seasons with Nanterre, the big man was ready for a move.
In June 2021, Wembanyama signed on the dotted line to join ASVEL, a Pro A club led by NBA veteran Tony Parker. There, injuries proved to be a problem. The teenager missed the start of the season due to an unspecified illness, and he later fractured a finger. He returned from that spell on the sidelines only to suffer a bone bruise in his right shoulder. Later in the year, he suffered a psoas muscle injury that took him out of the action as his teammates won the league title.
Despite those absences, Wembanyama still appeared in 13 EuroLeague contests and 16 domestic games. He averaged 6.5 points and 3.8 rebounds in the former and 9.4 points and 5.1 rebounds in the latter.
Even though the league ended in a Pro A title, a change was on the cards. Wembanyama opted out of his contract with ASVEL, looking to take his burgeoning talents elsewhere.
Victor Wembanyama's career with Metropolitans 92
That elsewhere turned out to be Metropolitans 92, another Pro A club.
As ESPN's Jonathan Givony explained, that allowed Wembanyama the chance to play under Vincent Collett, a well-respected French coach who, in addition to leading the senior national team, helped the likes of Nicolas Batum develop into NBA-ready talents.
Whether due to Collett's coaching, his natural maturation, or a combination of factors, the center took a giant step forward. He started off the season by dominating two exhibition games against the NBA G-League Ignite and kept up the pace in Pro A play.
Through 34 games of the 2022-23 season, Wembanyama is averaging 21.6 points, 10.4 rebounds, and 2.4 assists.
That, unsurprisingly, has earned him an All-Star nod and helped confirm him as one of the best NBA prospects we've seen in quite a while. Before long, teams in the Association were praying that the the draft lottery worked in their favor.
The San Antonio Spurs are the ones who struck gold. The Texas club emerged from the 2023 NBA Draft Lottery with the top pick, meaning Wembanyama will be teaming up with Gregg Popovich and Tim Duncan. Beyond the obvious benefits of working with those legends, that will also help the teenager keep a bit of extra cash in his pocket.
Victor Wembanyama stats
While there is value to the eye test, at a certain point, every player or team is what the numbers say they are.
Thankfully for Victor Wembanyama, the raw statistics are starting to mirror his clear potential. Not only does he look the part — with an incredible blend of size, athleticism, and skill, the teenager is a scout's dream — but he's starting to post star-quality performances with regularity. Just consider the trajectory below:
| | | | | | | |
| --- | --- | --- | --- | --- | --- | --- |
| Season | Games | PPG | RPG | APG | SPG | BPG |
| 2020-21 (Domestic) | 18 | 6.8 | 4.7 | 0.8 | 0.2 | 1.9 |
| 2020-21 (EuroCup) | 4 | 1.3 | 2.3 | 0.5 | 0.0 | 1.0 |
| 2021-22 (Domestic) | 16 | 9.4 | 5.1 | 0.8 | 0.9 | 1.8 |
| 2021-22 (EuroLeague) | 13 | 6.5 | 3.8 | 0.5 | 0.4 | 1.9 |
| 2022-23 (Domestic) | 34 | 21.6 | 10.4 | 2.4 | 0.7 | 3.0 |
Victor Wembanyama on the French national team
Beyond his club engagements, Victor Wembanyama also takes the court for another team. As you might expect, given his talent, he's suited up for France at the international level.
In 2019, the talented teenager took part in the FIBA Under-16 European Championships and made quite the impact, helping push France to a silver medal. He repeated the feat in 2021 at the Under-19 Basketball World Cup; France left with another silver after falling to the United States in the finals despite a 22-point effort from Wembanyama.
After that success, the young center earned a place on the senior squad, although injuries delayed his debut. He made his first appearance for the proper French national team in November 2022, coming within one rebound of a double-double against Lithuania. After the game, Vincent Collett (yes, the same coach as Wembanyama's club team) compared the teenager to one of the opposition's all-time greats.
"Victor is like Arvydas Sabonis. Not as strong as Sabonis, but with the same skills," the bench boss told Basket News. "For sure, Sabonis was a mountain, and Victor is really skinny. But they're both 2.21 m [7-foot-3] and the same size. And Victor is not only a tall guy. He's superb in skills."
Victor Wembanyama NBA scouting reports
When you combine everything — his size, skill set, and raw talent — it's easy to assume that Victor Wembanyama has all the tools required for NBA success. There's a reason megastars like LeBron James were already giving him advice well before the 2023 draft.
At the same time, we've all seen plenty of highly touted draft picks flop on the big stage. And Charles Barkley — if you value his opinion — isn't ready to go all-in on Wemby.
With that in mind, let's consider what some experts are saying about the French prospect.
A Draft Digest write-up on SI.com highlighted Wembanyama's blend of size and skill
"The defensive upside for a guy of Wembanyama's size is obvious. The impact he's able to make on that end of the floor is tremendous. If he's not able to block a shot, he's at least impacting it and drastically reducing the chance of the shooter converting," the piece explained. "Wembanyama moves well in the paint, which allows him to be effective as a help-side defender. He's known for blocking the shot of players he's not even defending. The 7-footer has elite lateral quickness and is able to move his feet very well. As such, Wembanyama is great on the perimeter and has even proven to be effective defending guards and wings. He's especially impactful in drop coverage."
On the offensive end, the center was described as "a unicorn." His shooting touch isn't perfect, but he has solid form that should improve over time, some level of ampidexterousness, and a high release point.
So, what about weaknesses?
At this point, the young center "gets away with a lot, especially as it relates to shot selection," which makes sense given the competition he's facing. Similarly, he's going to face a stiffer physical challenge in the Association.
While it's cliche to say rookies have to hit the weights and grow into their frames, that can certainly be applied to Wembanyama. Given his recent injury history, it's fair to wonder how he'll hold up over an 82-game season against NBA defenders. Will a personalized pregame routine be enough to keep him healthy?
Writing for FanSided, Christopher Kline had a similar take
"The root of Wembanyama's special upside is evident at first glance: he's gigantic, listed in the 7-foot-5 range with a standing reach tall enough to dunk without leaving the ground," he explained. "He can fulfill various roles offensively, from simple lob threat and play finisher to legitimate go-to scorer."
Kline also noted that the center's size and footspeed pay dividends on the defensive end, allowing him to affect the play even if he's beaten at the point of attack.
Again, the potential red flag arises when you consider Wembanyama's future in the NBA paint.
"Physicality could be problematic for Wembanyama when faced with high-level NBA athletes," Kline noted. "Stronger centers like Joel Embiid and Nikola Jokic will attack his chest and bump him off his spot. He's long and quick enough to recover, but those situations will test the limits of his 8-foot wingspan and his vaunted ability to erase disadvantages."
Beyond that, rebounding ability – how much will teams be willing to sacrifice in exchange for the teenager's upside? – and the injury bug could also be concerns.
For a third perspective, let's consider what Sam Vecenie offered in a post for The Athletic about the French phenom
"We haven't had a prospect like Wembanyama in a while, a 7-foot-4 potential superstar who can create his own shot off the bounce in transition, out of isolation, out of mid-post sets, and as a dynamic pick-and-roll threat," the senior writer explained. "He's also an elite shot blocker who led EuroLeague in that category last year as an 18-year-old — a ridiculous accomplishment. Barring some sort of injury-concern-based question in the pre-draft process, he will be the No. 1 pick."
While other scouting reports offered some concerns, Vecenie just kept the praise coming.
"Wembanyama is the best prospect to enter the draft since [LeBron] James. He was utterly dominant in front of over 200 NBA front office personnel in Las Vegas earlier this month in a head-to-head showing with the No. 2 prospect here, Scoot Henderson," he wrote. "I broke down the first of those games in detail, explaining what makes Wembanyama so special from a size and coordination perspective while intermixing elite-level skill. His upside is becoming the best player in the NBA, and it's hard to say that about any draft prospect."
Shaquille O'Neal, however, was a bit more skeptical of Wembanyama … although he may have changed his tune
By and large, Victor Wembanyama has received rave reviews from scouts and analysts. Shaquille O'Neal, however, is a bit less confident about the French phenom's NBA future.
"No, and I'm a bit skeptical because the good and bad thing about highlights," the Diesel told Sportscasting when asked if he was prepared to say Wemby was bound for stardom. "When you put your highlights on, you always show the good parts. I want to see this kid play a full game. He's not very big — he's tall, but he's building up a lot of muscles, not that strong. He can shoot, he can dribble, he can do all that."
While that skill set may sound ideal for a modern big man, Shaq wants to see a bit more.
"But I'm only seeing highlights of him dunk the ball and shoot jumpers," O'Neal continued. "I haven't really seen a lot of post moves. We haven't seen a lot of that stuff. So again, now you could be a star in France. When you come over here, you definitely got to start all over. A lot of guys have a lot of hype and came over here, some played out, and some didn't. So I'm going to be more on the skeptical side like Charles [Barkley]."
It is worth noting, however, that the TNT talking head has also predicted "big things" for Wembanyama and suggested that he can acclimated rather quickly to the Association.
How tall is Victor Wembanyama?
For a basketball player, especially a big man, height is a rather important metric. When it comes to Victor Wembanyama, though, there wasn't a clear consensus on his stature for quite some time.
Just consider two of the more reliable sources, Basketball Reference and ESPN. The former listed the teenager's height as 7-foot-2. ESPN, however, said that the Frenchman was 7-foot-3 in a June 30, 2022, story and 7-foot-4 in a Jan. 7, 2023 piece. 
Since then, the number changed again. In February 2023, Brian Windhorst and Jonathan Givony wrote that Wemby is listed at 7-foot-4 and stands closer to 7-foot-5 in shoes. The pair also noted that his wingspan is eight feet wide.
And, in case those numbers are a bit too abstract for you, the teenager posted a selfie of himself barely fitting inside of an elevator. That should provide a bit of extra context.

So what was behind that discrepancy? Since Wembanyama hadn't arrived in the NBA, there was probably somewhat of a game of telephone going on, with each piece citing a different figure that's floating around somewhere online. (He might also still be growing?)
Thankfully for basketball fans, an answer finally arrived. While the fact that Wemby didn't attend the combine delayed an official measurement, an AP report (h/t ESPN) said that the Spurs had confirmed his height as 7-foot-3.5 without shoes.
Victor Wembanyama net worth and career earnings
At this point, it's tough to nail down Victor Wembanyama's financials. English-language sources about his French salary are iffy at best, and consequently, his net worth is something of a mystery.
We do know two things, though. The center will change the San Antonio Spurs' financial fortunes, and he, on a personal level, become incredibly wealthy in the near future.
As laid out by RealGM, the first overall pick of the 2023 NBA Draft will earn just under $10 million as a rookie, with the salary increasing from there. Even if Wembanyama slipped down to the second spot, he'd still command $8.9 million during his first North American campaign.
Add in endorsement deals — his camp was turning them down ahead of the draft, but as a generational talent and someone with international appeal, the star center is bound to receive plenty of commercial offers — and other off-court opportunities, and Victor Wembanyama is going to take a giant financial leap forward rather quickly.
Victor Wembanyama nicknames
Since he's yet to properly arrive on the NBA scene, Wembanyama isn't on a nickname-only basis with most North American fans. However, a few early options have emerged.
Wemby: This one is the most obvious and self-explanatory. Wembanyama can be a mouthful, especially when you're saying it multiple times over the course of the evening, so Wemby is a relatively organic alternative. It also gets bonus points for fitting into the classic "add 'y' to the end of your name" template.
The Alien: If you spend any time around sports, you'll hear players compared to all sorts of creatures. According to LeBron James, however, Wembanyama's talents push beyond terrestrial comparisons.
"I think probably the same as everybody else thinks. Everybody's been a unicorn over the last few years, but he's more like an alien. No one has ever seen anyone as tall as he is but as fluid and graceful as he is on the floor," King James said in October 2022. "He's for sure a generational talent. Hopefully, he continues to stay healthy. That's the important thing for him." 
Blank Check: Although this nickname doesn't exactly roll off the tongue, Jalen Rose has put it out there into the universe. The logic is rather simple: Wembanyama is such an incredible talent that he can command virtually anything he'd desire from a future employer.
"Until somebody come up with a nickname for him, I'mma just call him 'Blank Check,'" Rose explained on ESPN. "Because that's what he represents to me. He already sitting front row, deservedly so, wearing his buffaloes. We're talking about him. Adam Silver's talking about him. LeBron called him an alien. [Kevin Durant's] talking about how he's going to change the league. Teams are tanking for him right now."
Victor Wembanyama media presence
Similar to his salary and net worth, Victor Wembanyama's media presence has been limited by the fact that he's a French teenager playing in his home country. Once he hits North American shores, that will likely change in the blink of an eye.
However, the big man does put himself out there through social media. His Instagram has 1.2 million followers as of February 2023, and he also has a Twitter account, although it's significantly less active.
Victor Wembanyama FAQ
How tall is Victor Wembanyama?
After being drafted by the Spurs, Wembanyama's height was confirm as 7-foot-3.5 (h/t ESPN). That measurement, in line with the NBA's guidelines, was taken without shoes.
Where was Victor Wembanyama born?
Victor Wembanyama was born in Le Chesnay, France, a western suburb of the French capital.
How old is Victor Wembanyama?
Currently 19 years old, Victor Wembanyama was born on January 4, 2004.
Did Victor Wembanyama go to college?
Victor Wembanyama didn't attend college. He did earn his baccalauréat, though, signifying that he completed his secondary education in France.
What team does Victor Wembanyama play for?
Victor Wembanyama played for Metropolitans 92 in France. He previously suited up for Nanterre 92 and ASVE, and he's also represented France internationally at both a youth and senior level. He was selected by the San Antonio Spurs in the 2023 NBA draft.
When was Victor Wembanyama drafted?
As everyone expected, the San Antonio Spurs selected Wembanyama with the first overall pick of the 2023 NBA draft.
What position does Victor Wembanyama play?
Like most modern big men, Victor Wembanyama has the tools to play as both a forward and a center. In practice, his height will probably slot him into the center spot once he's on an NBA roster.
What number is Victor Wembanyama?
With Metropolitans 92, Victor Wembanyama has been wearing No. 1 on his jersey. That's been true throughout his domestic career, but he has also worn No. 32 for the French national team.