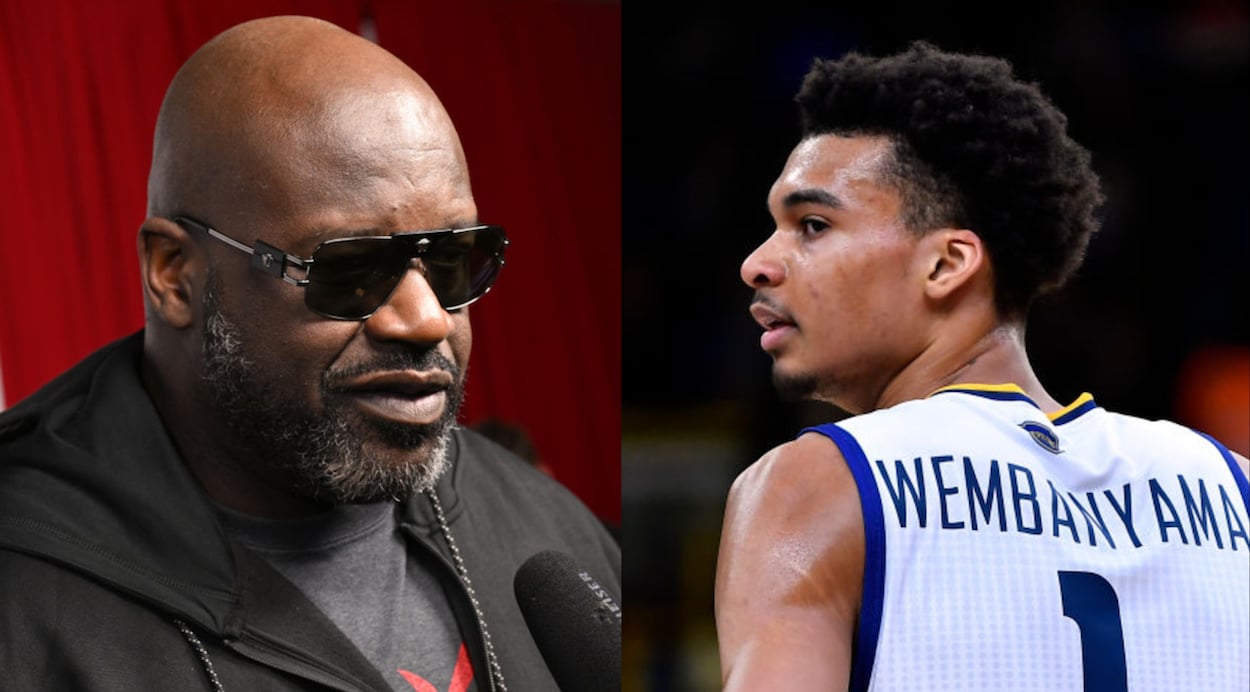 Shaquille O'Neal Admits That He's 'More on the Skeptical Side' About Victor Wembanyama's NBA Future
Think Victor Wembanyama is a surefire NBA star? Shaquille O'Neal gave Sportscasting a take you might want to consider.
While he's yet to arrive on North American shores, just about everyone remotely interested in basketball has an opinion about Victor Wembanyama. The vast majority of those are positive, praising the teenager's potential and dreaming of how he'll shake up the NBA scene, but there are some dissenters. Charles Barkley, for example, has been unwilling to say that Wemby will be great in the Association. And while he and Chuck don't always see eye-to-eye, Shaquille O'Neal agrees.
As one of the great big men, Shaq knows a thing or two about what it takes to make it in the pros. Based on that perspective, he's a bit skeptical about Wembanyama's path to stardom once he crosses the Atlantic.
Think that sounds reasonable? Or is O'Neal uncorking a hot take? Let's break it down.
Shaquille O'Neal wants to see more from Victor Wembanyama before declaring him an NBA star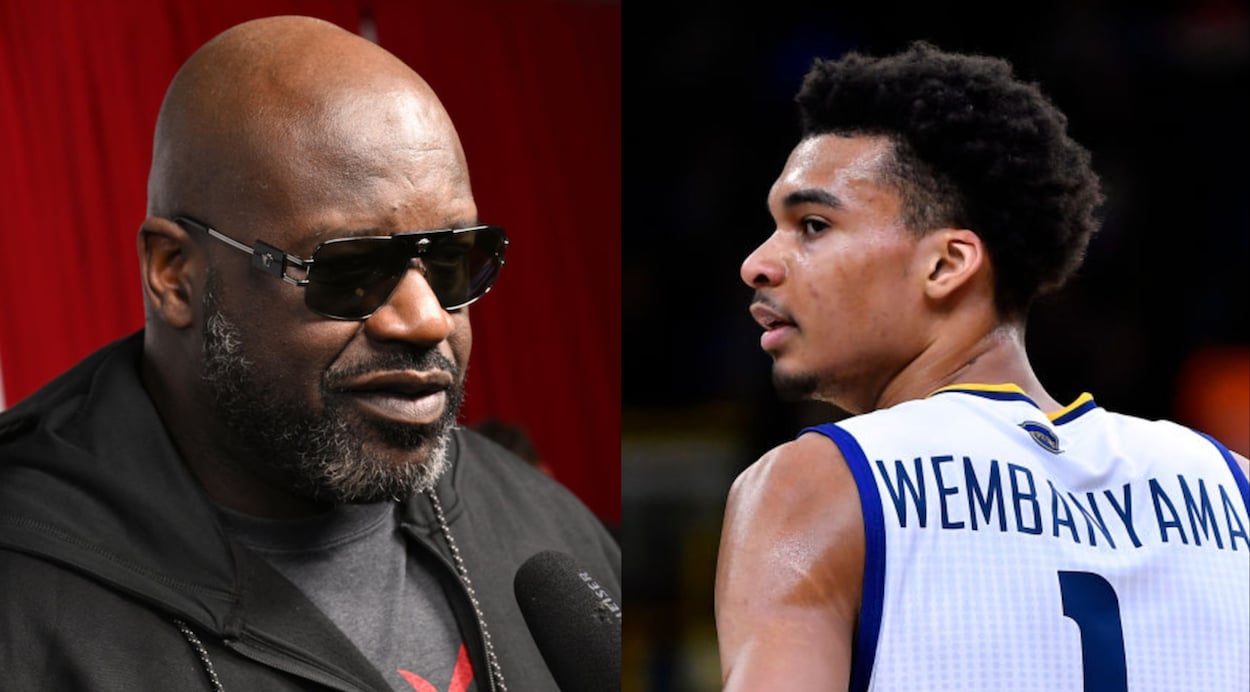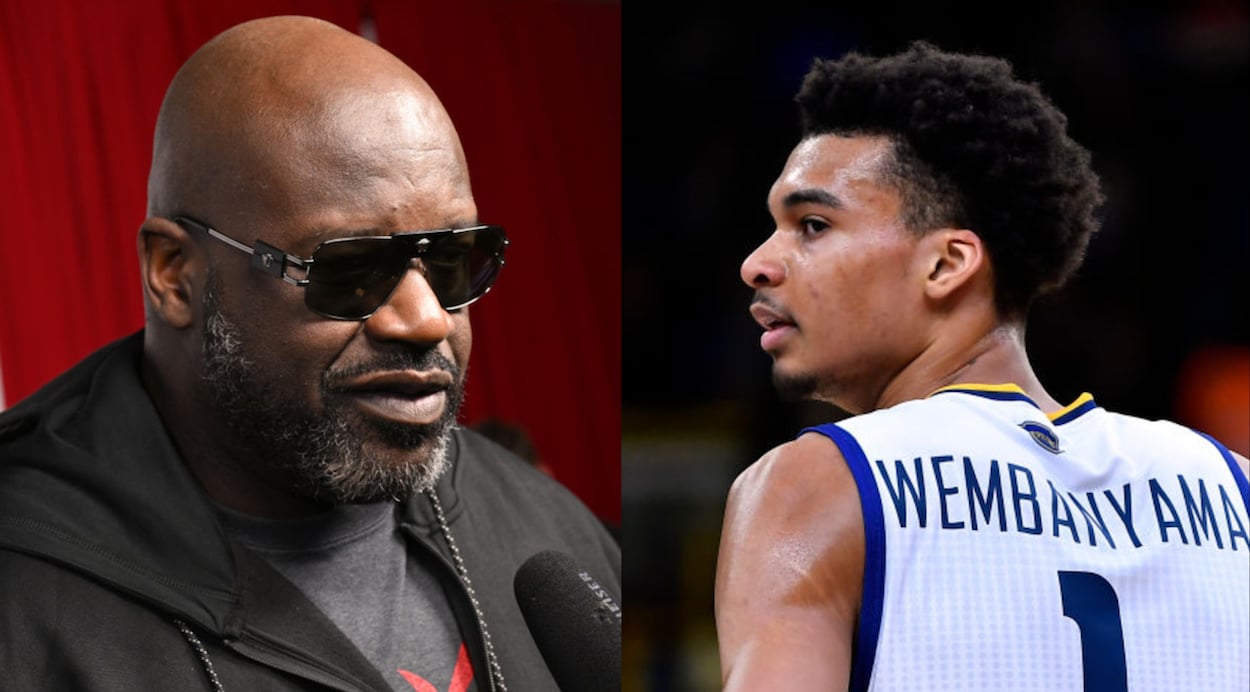 While SportsCenter laid the foundation, social media has taken highlight culture to the next level. Even if you never watch a full game, you'll see all of the big moments and exciting plays plastered across your feed. And while that's a great thing for a busy fan — it's simply impossible to watch every game every night — it can lead to some false images. Just ask Shaq about that.
During a conversation with the big man, Sportscasting asked O'Neal for his take on Victor Wembanyama's NBA future. The legendary big man isn't ready to call him a surefire star just yet.
"No, and I'm a bit skeptical because the good and bad thing about highlights," the Diesel explained. "When you put your highlights on, you always show the good parts. I want to see this kid play a full game. He's not very big — he's tall, but he's building up a lot of muscles, not that strong. He can shoot, he can dribble, he can do all that."
And that all sounds great, right? Part of Wemby's appeal is that he isn't a conventional big man; instead, he can dribble, shoot, and defend on the perimeter.
Shaq, however, wants to see more.
"But I'm only seeing highlights of him dunk the ball and shoot jumpers," O'Neal continued. "I haven't really seen a lot of post moves. We haven't seen a lot of that stuff. So again, now you could be a star in France. When you come over here, you definitely got to start all over. A lot of guys have a lot of hype and came over here, some played out, and some didn't. So I'm going to be more on the skeptical side like Charles."
Shaq also offered Wembanyama some advice about his NBA future
When you read a quote, especially from a living NBA legend, that's anything less than 100% optimistic, it's easy to label the speaker a hater. That isn't the case for Shaquille O'Neal, though.
Earlier this year, LeBron James offered Wembanyama some advice about enjoying the journey that lies ahead. In a similar vein, the Big Aristotle told Sportscasting what he'd share with the French teenager.
"Just keep playing," Shaq said. "Just keep having fun. Learn, learn all the tricks, and focus on your game. These kids have a lot going on these days. Comments, views. I think sometimes they're focusing on the wrong thing."
So where should athletes be focusing? According to O'Neal, it's less about taking things personally — sorry, Michael Jordan — and more about seeing where there's room to improve.
"They're not adapting quickly to constructive criticism. Like when I was playing, I would love when someone would say something about me. Because, you know, when you're a real person, you're getting criticized, first thing you do before you get emotional is see if there's any truth in that criticism. And if you turn it around like that, rather than just getting sensitive."
At this point, there's no way to know how Victor Wembanyama will fare in the NBA. While his potential is plain to see, making sports predictions is a recipe for disappointment. The big man could be a star, he could be bitten by the injury bug, or he might struggle when facing other world-class players.
One thing, however, is a safe bet: Shaquille O'Neal will be watching Wemby, and we'll undoubtedly hear exactly what he thinks on TNT.