Victor Wembanyama Has Already Received Some Invaluable NBA Advice From LeBron James
While he's yet to officially arrive on North American shores, Victor Wembanyama's NBA future looks pretty bright. Thanks to his unique combination of size — while there are some differing numbers out there, the teenager is clearly tall — and skill, Wemby looks set to make a major impact. Now, he could have another ace up his metaphorical sleeve: advice from LeBron James.
After King James broke the NBA's all-time scoring record, ESPN released a sit-down interview he had done with Mike Wilbon. That conversation touched on a variety of topics, including Wembanyama, with LeBron offering the teenager two pieces of professional advice.
Let's break down what the Lakers star said.
LeBron James told Victor Wembanyama to respect the game while still having fun
Although he has his share of haters, LeBron James has still put together an all-time NBA career. With that in mind, any young player would be wise to listen to him and follow in his footsteps as closely as possible. Luckily for Victor Wembanyama, the Ohio native publicly offered him two pieces of advice.
"One, the most important thing, is to stay true to the game and the main point of anything, give to the game," James told Mike Wilbon during an ESPN interview. "Work your butt off. Try to be better than you were yesterday every single day. Commit to the game. I believe, we always talk about the game gods. And if you disrespect the game gods, then karma is a mug. And that's one thing for me. I always tell myself. I'm gonna commit to the game. I'm gonna train. I'm gonna prepare myself physically, mentally, spiritually to get to the game if you wanna be great."
While that may sound serious, LeBron's second piece of advice took on a different tone. While Wembanyama will be facing all sorts of challenges, the teenager should remember that, at the end of the day, he's playing a game.
"Second thing is, don't forget to have fun," James continued. "Because you're gonna, it becomes a business. It becomes a business right, right away. And he's going through it right now, you know? It's gonna get even, I don't want to say worse, but it gets even more demanding on you on the business side. But, at the end of the day, just have fun, man. This is a very, very small number of people who get the opportunity to do what we do and inspire people all over the world."
Beyond that, LeBron already had some high praise for Wembanyama's attitude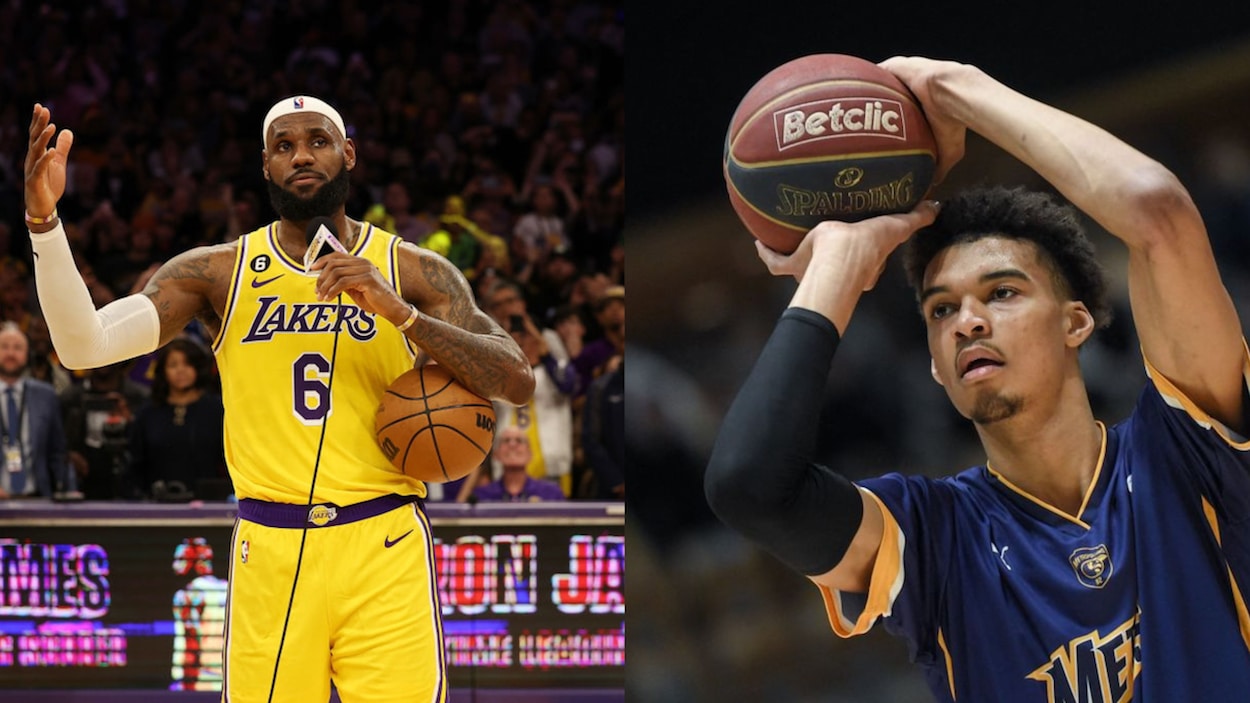 If you expected that to be the end of the Victor Wembanyama discussion — this interview was theoretically about LeBron breaking the scoring record, after all — James wasn't done yet. After giving the teenager advice, he also sang Wemby's praises.
"For him, his talent, he seems very humble from the interviews I've seen him do," King James noted. "He seems very caring, very loving, and things of that nature. It's no matter if you have a bad day, no matter if you have a great day, just always just stay even-keeled. Stay even-keeled and just continue to work, and I think it's gonna work out for him."
While it's tough to 100% know Wembanyama's personality since he's only a teenager and still playing abroad, it seems rather telling that LeBron focused on that less-tangible part of the scouting report. Based on everything we've seen so far, the Frenchman has the on-court abilities required to thrive in the Association. He possesses incredible height and an eye-popping wingspan, which pays dividends on both ends of the floor but isn't a stationary skyscraper standing on the low block. The center can step outside, knock down a jumper, and defend a smaller opponent at the point of attack.
Are there some areas where he can improve? Of course. He'll need to bulk up, do a better job on the glass, and, most importantly, stay healthy. When you consider that he's averaging nearly 22 points per game in France, though, those are relatively minor concerns.
Barring some sort of major mishap, Victor Wembanyama is going to be the first overall pick of the 2023 NBA draft. His size and skills already make him look like a generational talent. If he's able to incorporate LeBron James' advice and approach the NBA with the right mindset, the sky's the limit.