Victor Wembanyama's Big-Time Basketball Career Started With 'a Beautiful Coincidence' and Some Mistaken Identity
At the risk of being reductionist, most NBA players to are tall. While there were plenty of exceptions to that rule — the likes of Muggsy Bogues, Spud Webb, and Nate Robinson shouldn't be forgotten — possessing a certain level of height helps make things a bit easier. Victor Wembanyama certainly clears that threshold.
The center's stature isn't a recent development, though. In fact, it played a humorous role in the earliest days of his basketball career. Let's take a trip back in time and see how Wembanyama started on his road to stardom.
Victor Wembanyama started his youth career after being mistaken for an adult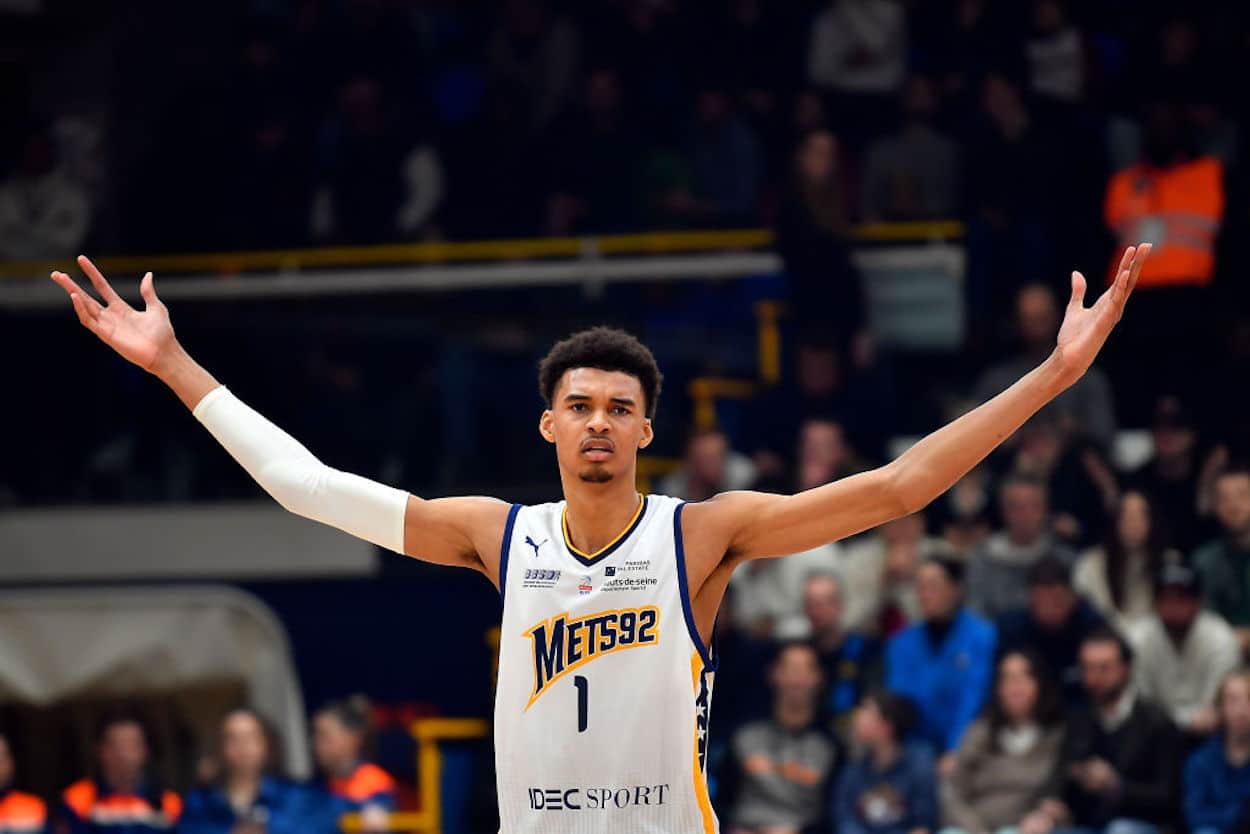 When we flashback to most NBA stars' respective childhoods, their talent was pretty apparent. While the same can be said for Victor Wembanyama, he was noticed in a slightly different way.
The Wembanyama family was full of athletes, and while Victor tried his hand at other sports, he eventually landed on the hardwood. He joined Entente Le Chesnay Versailles at age seven and started playing youth basketball. There, everything changed.
In what he called "a beautiful coincidence," Nanterre coach Michaël Allard happened to be watching one of Le Chesnay Versailles' games. Something on the sidelines rather than the court caught his attention, though. There was an unrecognized adult sitting on the bench.
That person, it turns out, was only 10 years old. It was none other than Wembanyama. Eventually, something more than pure height shone through, though.
"Allard thought the 10-year-old Wembanyama was an assistant coach because of his height," Tiana Ganguili recounted in the New York Times, "though he soon took notice of more than that."
So, what did Allard notice?
"He's competitive, he's joyful, and he wants to play all the time," the coach explained in French.
That coincidence set Wembanyama on a path to stardom
After seeing Wembanyama on the court, Allard did what any good coach would do. He brought the youngster into his program. That, in turn, would change the course of basketball history.
The center followed Allard to Nanterre 92, joining the club's youth system. There, he rose through the ranks and eventually made his senior debut in 2019. That, in turn, set the stage for a move to ASVEL and, in July 2022, another change of scenery. Wembanyama signed on the dotted line with Metropolitans 92; he probably won't play out both years of his contract, though.
With Metropolitans, the big man has truly exploded. As if impressive preseason performances against the NBA G-League Ignite weren't enough, Wembanyama has averaged more than 21 points, nine rebounds, and three blocks per outing in the French league. As long as he can stay healthy, the center looks like a lock as the first overall pick of the 2023 NBA Draft. Once that takes place, the teenager will become incredibly rich in the metaphorical blink of an eye.
And to think, it all started with a case of mistaken identity.