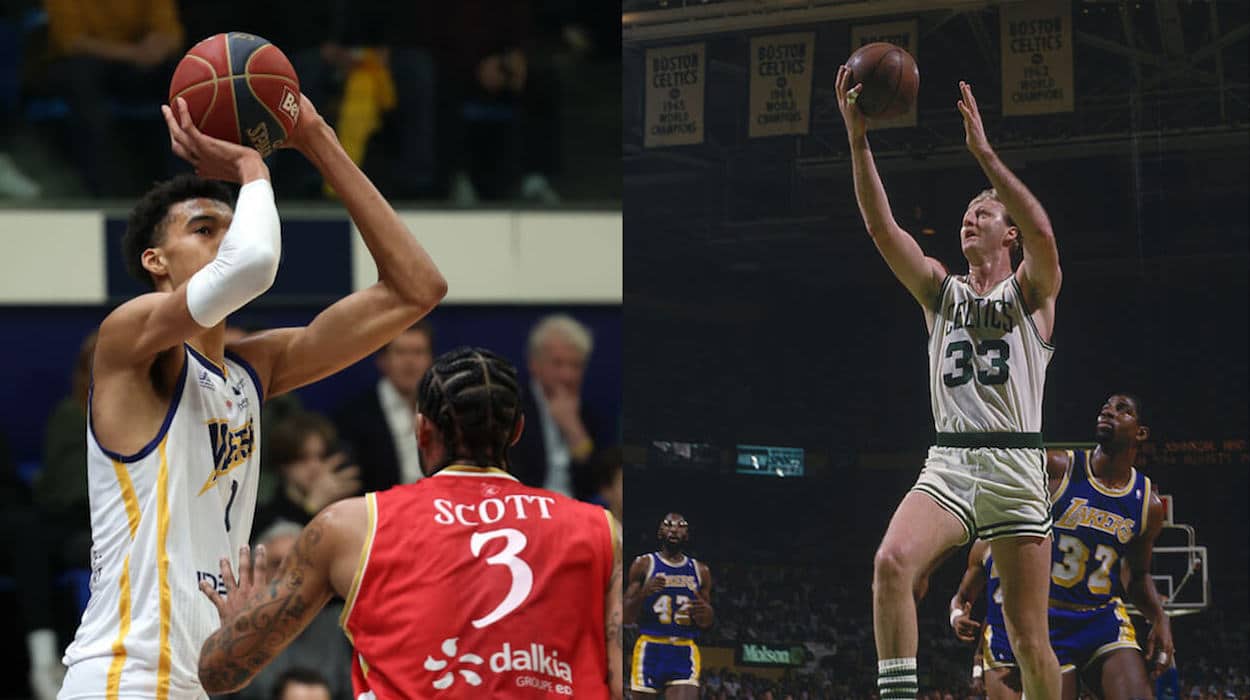 Victor Wembanyama's Skill Set Apparently Includes a Page Out of Larry Bird's Book
While it would be naive to say that Victor Wembanyama has reached Larry Bird's level, the French teenager is certainly causing a stir.
While it seems safe to assume that Victor Wembanyama will shake up the NBA landscape, it's still unclear exactly what he'll bring to the table. His talent may be apparent, but playing in the Association is a new challenge. Will he be able to handle the physicality? Can he avoid falling victim to the injury bug, which ruined the career of other big men?
For better or worse, we don't know the answers to those questions, and if nothing else, we're still learning more about Wemby as we go. Did you know, for example, that he seems more than capable of imitating one of Larry Bird's most famous feats?
Let's check it out.
Larry Bird once played a game left-handed, and Victor Wembanyama is apparently rather ambidextrous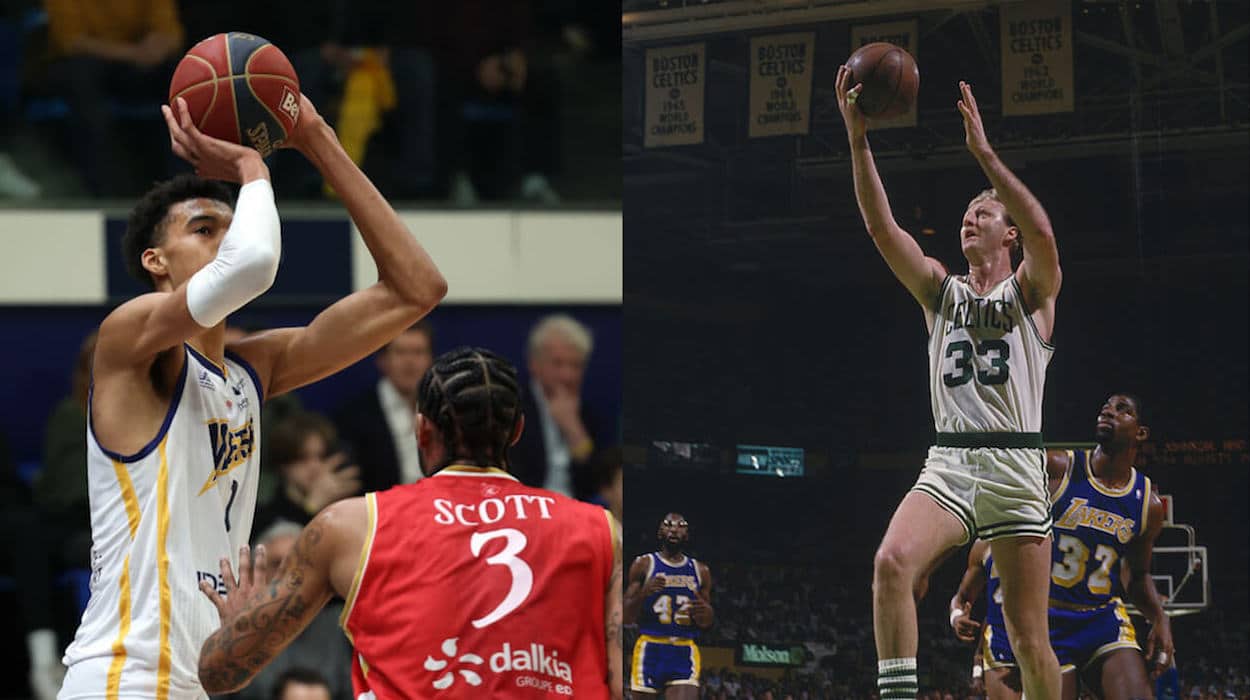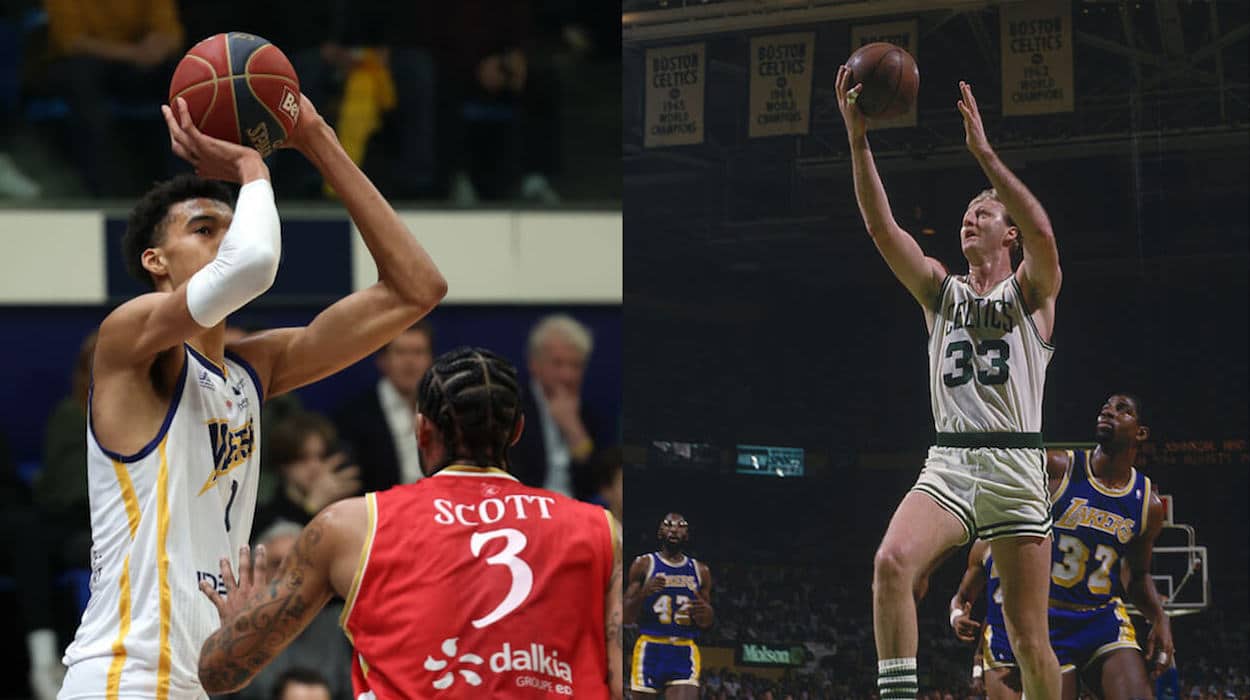 During his time in the Association, Larry Bird had no problem proving his supreme confidence. While that frequently manifested through trash talk — he was known to tell the opposition how he planned to score and then do just that — he took things a bit further on one occasion.
As the legend goes, the Celtics star played an entire game with his left hand, quipping that he was saving his right for the Los Angeles Lakers. While things have been exaggerated over time — in reality, Bird took about half of his shots with each hand — it still speaks volumes about the star's talent.
And while it would certainly be presumptuous to compare Victor Wembanyama to Larry Legend at this point in time, it does seem like the French teenager is capable of matching Bird's two-handed performance.
"I've seen him make five threes with the right hand in a row, switch to the left and make five threes," Maxime Raynaud, who played with Wemby in France before taking his talents to Stanford, told Sports Illustrated's Jeremy Woo. "That's the craziest s*** I had ever seen in my life."
While that doesn't make Wembanyama a surefire NBA star, it does underscore just how talented and versatile the teenager is
When taken in isolation, it's easy to view Victor Wembanyama shooting threes with both hands as little more than a party trick. For all we know, he and Raynaud were fooling around after practice, and Wemby happened to sink some lucky jumpers. In a larger context, though, things seem a bit more significant.
Basketball has evolved beyond one-dimensional players, which means that big men no longer camp out on the block, looking to do more than use their size and strength. Today's stars need to be able to handle the ball, stretch the floor, and do virtually everything with a base level of competence. Think of someone like Giannis Antetokounmpo as an example; while his shooting touch may leave something to be desired, he can function a point guard, a power forward, or virtually anything in between.
And, based on what we've seen of Wembanyama, he's capable of checking those boxes. While his height and wingspan, both of which seem to be getting larger and larger, obviously allow him to thrive in the paint, that isn't the limit of his skillset. The teenager is comfortable drifting out to the perimeter, where he can pull up for a jumper on offense or use his combination of foot speed and length to defend at the point of attack.
If you add the ability to shoot comfortably with both hands into the equation, it just makes the big man seem that much more deadly. While every pro is (theoretically) able to make a play on their non-dominant side, Reynaud's account makes it seem like Wembanyama is pretty comfortable using his left. If that's the case, it will just make him that much tougher to guard. How do you defend, after all, someone who's seven-foot-five and can shoot with either hand from anywhere on the floor?
In time opposing NBA teams will find some answers to that question. Until then, though, it's something for whichever team drafts Wemby to be excited about.