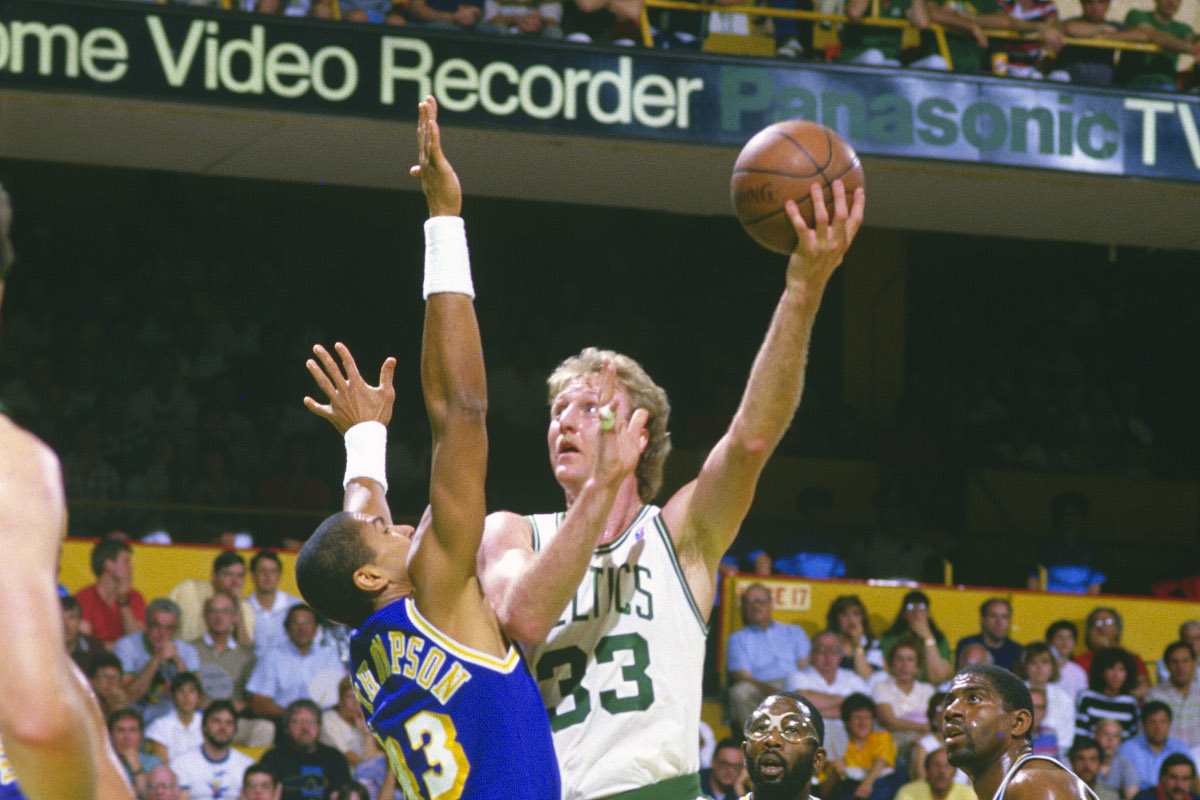 The Secret of Larry Bird's Famous Left-Handed Game Doesn't Diminish the Legend
Larry Bird doesn't have the nickname "Larry Legend" for no reason. But one of those legendary performances wasn't quite what it has been billed as over the years. Did Larry Bird score 47 points while shooting only with his left hand? No. But he made enough left-handed shots to make it a special game regardless.
During his Hall of Fame career, Larry Bird was beyond a mere star. He was one of the game's iconic figures and remains so today, nearly 30 years since he last laced up his kicks on an NBA court. He's not one of the game's statistical leaders, and other players have won more titles. Some earned more All-Star berths and MVP awards.
But what Bird brought to the game was a swagger that was second to none. There was no one exempt from his legendary trash talk. Sometimes, that talk was aimed not just at a player but rather an entire team. Such was the case in February 1986 when Bird said he would only shoot with his left hand in a Valentine's Day game against the Portland Trail Blazers.
There's a not-very-well-kept secret stemming from that performance. But nothing about that secret should diminish anything Bird accomplished. That's because the feat was remarkable in and of itself.
Larry Bird's legacy is already impressive
Mention Larry Bird to fans of a certain age, and inevitably Magic Johnson will enter the conversation. Many credited the two with saving the NBA when they arrived in 1979. The pair ushered in an era during which the Los Angeles Lakers-Boston Celtics rivalry became relevant again and dominated the NBA scene for several years.
Bird refuses to take the lion's share of the credit for the rise of the NBA, though. But he was a crucial part of public perception turning from the NBA being a league full of cocaine addicts who didn't care about the regular season at all to the NBA providing some of the best entertainment sports had to offer.
Bird helped lead the Celtics to three NBA Finals during his 13-year career. He was a three-time MVP, 12-time All-Star, and was named to an All-NBA team 10 times. The Hall of Fame induction didn't wait long, either, as he entered the first year he was eligible.
Throw in a Rookie of the Year award, an All-Star MVP, two NBA Finals MVPs, and three All-Defensive berths, and you might start to think Larry Bird was pretty good at this basketball thing. But what he did for one night in Portland in February 1986? It was the stuff of legend, even if the legend has grown over time.
Bird's infamous left-handed game not quite what it's cracked up to be
Why would Larry Bird even entertain the notion of shooting with his off-hand for an entire game? He had an explanation, per the Boston Globe (via The Athletic).
"I'm saving my right hand for the Lakers."

Larry Bird in February 1986
The Lakers and Celtics met in the NBA Finals each of the previous two seasons. It was the hottest rivalry in the NBA at the time. The quote was Bird's way of both sending a message to LA while also telling Portland it didn't matter.
In other words, classic Bird trash talk.
Bird was undeniably phenomenal for Boston in their 120–119 overtime win over the Trail Blazers. He finished with a triple-double, logging 47 points to go with 14 rebounds and 11 assists. As far as the shooting? Well, he was 21-of-34 overall and made all three of his 3-point tries.
But he did not take all 34 of those shots with his left hand. No, instead, he made 10 of his 21 buckets with the left hand. He made the other 11 with his dominant right hand.
Seriously? It doesn't matter if he took them all left-handed or not. Larry Bird knocked down 10 shots in a one-point NBA overtime game with the wrong hand. Legendary status accomplished.
They don't call him Larry Legend for no reason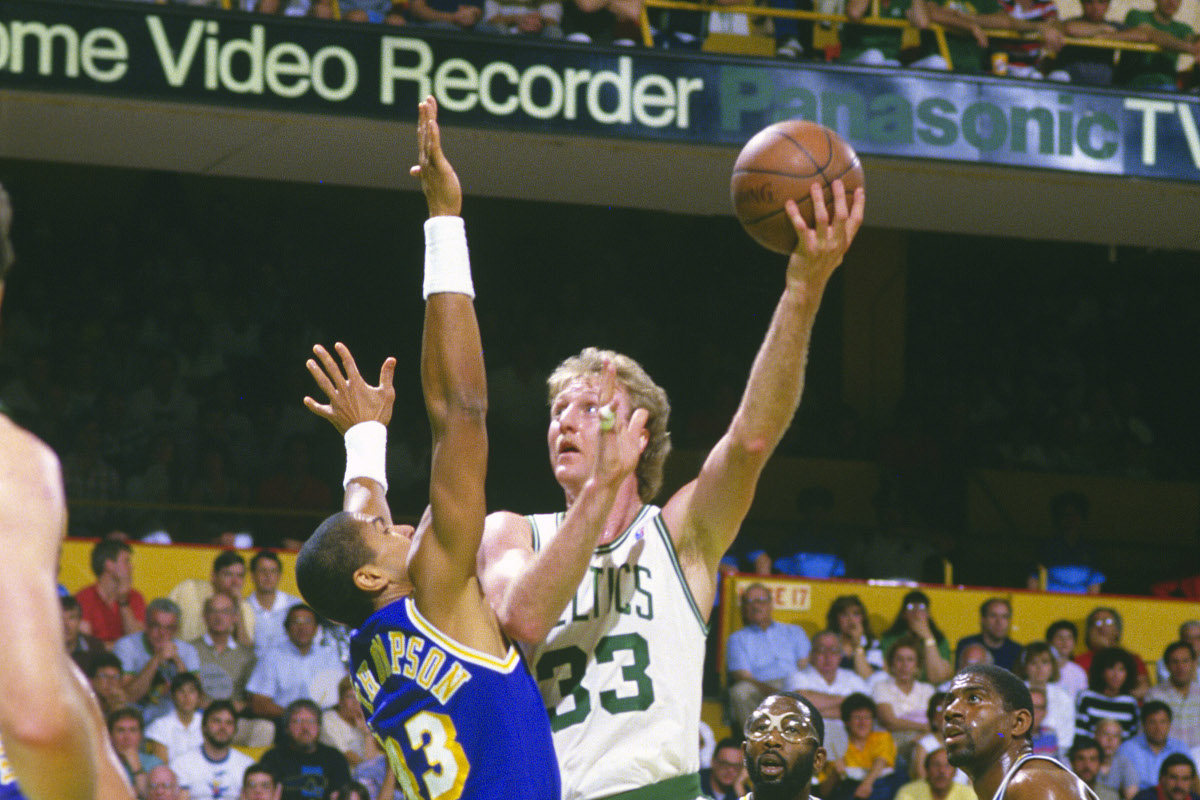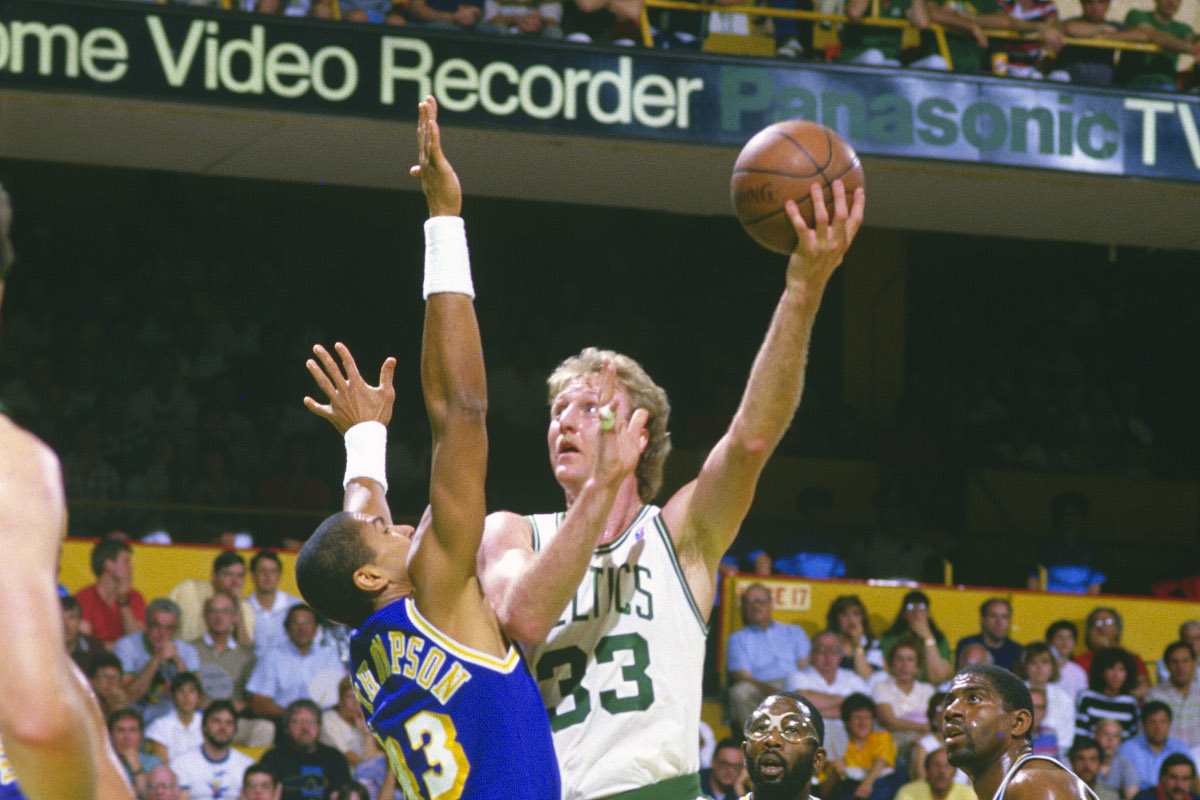 Larry Bird had a Hall of Fame career as a player. He is the only coach to take the Indiana Pacers to the NBA Finals. He completed a career trifecta by earning Executive of the Year honors with the Pacers in 2012. That made Bird the only person in NBA history with MVP, Coach of the Year, and top executive honors.
After he retired from the NBA, he had one more playing obligation. He was part of the legendary Dream Team that took the 1992 Barcelona Olympics by storm. On a broader level, much of today's style of play in the NBA owes itself to the influence of Bird, as well. If he wasn't the original stretch big man, he was one of the first. A 6-foot-9 player who canned nearly 38% of his 3s in the era in which Bird played wasn't just rare. It just didn't happen.
So maybe Larry Bird didn't take all of his shots in the infamous lefty game with the left. The fact he wasn't afraid to give it a try is legend enough.
Statistics courtesy of Basketball Reference.