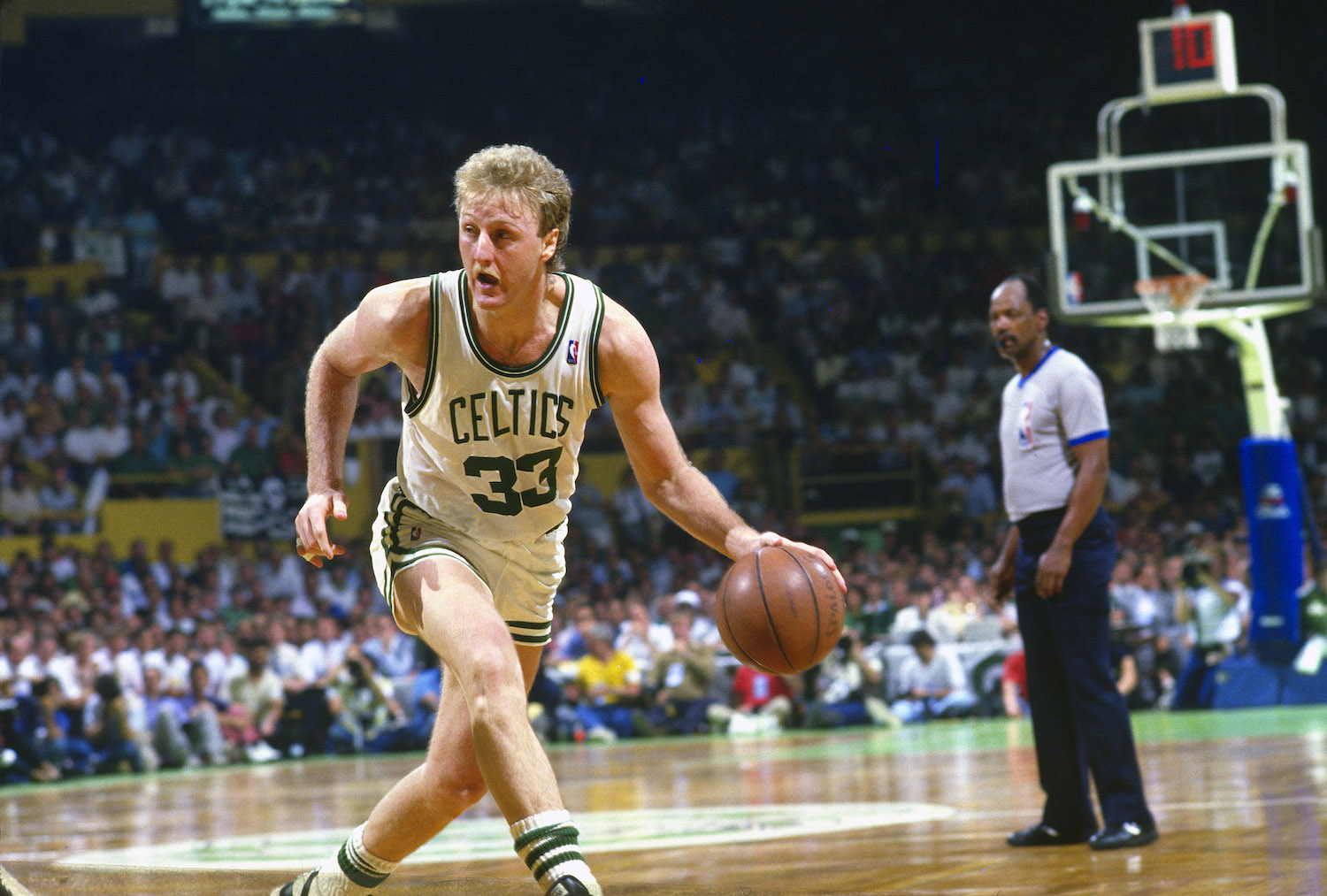 Larry Bird Made $24 Million in the NBA, but He Still Seized the Opportunity to Pocket an Extra $20 Against the Knicks: 'He Cared More About That 20-Buck Bet Than He Did the Game'
Larry Bird earned $24 million in salary during his NBA career...in addition to $20 he won from the New York Knicks' trainer.
During Larry Bird's time in the NBA, player salaries were nowhere near what they are today. Despite that reality, the Boston Celtics' star forward still earned quite a bit of cash. Over the course of his career, he took home $24 million in gross earnings plus, on at least one occasion, an extra $20.
But how did Larry Legend pocket that extra cash? During a date with the New York Knicks, Bird agreed to a bet with the opposing team's trainer. Thanks to his shooting skills and a fortuitous break, the forward left town with both a win and a bit of extra pocket money.
Larry Bird went from picking up garbage to making $23 million in NBA salary
Once he hit the NBA hardwood, Bird had no problem establishing himself as a star player and earning the big bucks. At one point, though, the forward almost settled for a much more humble job.
After graduating from high school, the forward was slated to begin his college career at Indiana University. He didn't feel comfortable on the Bloomington campus, though, and returned home to French Lick before playing a single game. There, he began his life after basketball and found work as a garbage man.
Then fate intervened in the form of Bill Hodges, who convinced Bird to head to Indiana State and give basketball another chance. The forward agreed and, within a few years, had powered the Sycamores to the 1979 NCAA title game. While they fell short of the championship, Larry Legend emerged as a legitimate talent.
Prior to that collegiate campaign, the Boston Celtics had secured Bird's rights as the sixth overall pick of the 1978 NBA draft. Once he joined the professional ranks for the 1979-80 season, the forward quickly lifted the club back to relevance and, thanks to that on-court success, had no problem commanding the big bucks. During his time in Beantown, Larry Legend earned just over $24 million in raw salary.
The forward once pocketed $20 from the New York Knicks trainer by winning an on-court bet
Even if $24 million is a relatively small sum by modern NBA standards, it's still a nice chunk of change for anyone to earn. Larry Legend, however, wasn't prepared to pass up the chance to pocket a little bit of extra cash.
Ahead of a game against the Knicks, Bird and Danny Ainge were shooting some three-pointers. At one point, New York's trainer approached Larry Legend with a proposition: He bet the forward $20 that couldn't convert a long-range bank shot during the game.
While Bird had the talent to win that bet easily, he still encountered a problem. Even the best shooter can't sink a shot when he's sitting on the bench.
"We get ahead by about 20 points in the fourth quarter," Ainge explained on The Dan Patrick Show. "Our bench comes in the game. … The trainer from the Knicks looks down at me and, you know, says like, 'Hey, get Larry, [get] his attention.' And he gives him the sign like, 'You owe me 20 bucks; you never banked in a three-pointer.' And Larry goes, 'Crap, I can't believe I forgot that.'"
Thankfully for Bird, the Knicks closed the gap, and the Celtics starters had to re-enter the game. Sure enough, Bird seized the opportunity and managed to bank a three-pointer, securing his $20.
"At that stage of the game, with a close game," Ainge continued. "I could see it with a 20-point lead. … He cared more about that 20-buck bet than he did the game."
That wasn't the only time Larry Bird won a bet with his shooting skills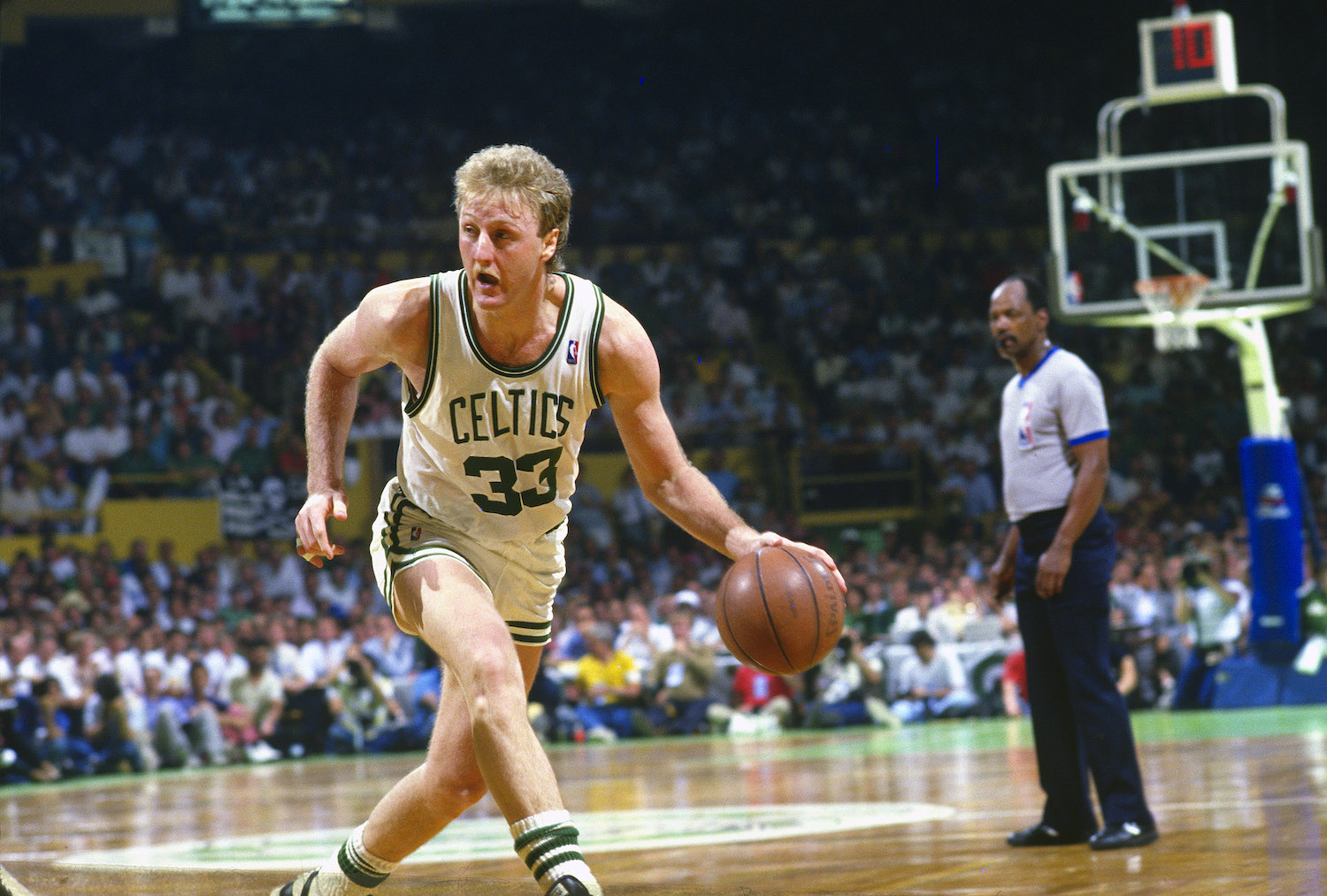 That episode wasn't the only time Bird used his shooting skills to pocket a few extra dollars, though. On another occasion, he took a beat reporter for $160.
As explained in the transcript of a Boston Globe podcast, Dan Shaughnessy challenged the Celtics star to a free-throw shooting contest. While Bird was nursing a hand injury and had his hand taped up "like a boxing glove almost," his shooting stroke — and his ability to earn money — wasn't affected.
"He made 6 out of 10, first round. I made 6 out of 10, so we're even. And then, the second round, I was rebounding for him, and he said, 'Oh, I've got this figured out.' And he did," Shaughnessy recalled. "He made an adjustment, and he knew. And he made like 8 or 9 out of 10. And, of course, I step up, and I'm starting to see $5 bills fly through the air every time I let go, and I was choking, and he beat me by $160. I think it was 88-62 or whatever it was, but I owed him $160."
The following afternoon, the scribe paid up. Bird tucked the cash into his sneaker and hit the court without missing a beat.
Thanks to Spotrac's contract data, we know that Larry Legend took home roughly $24 million in salary from the Boston Celtics. If nothing else, though, we can add $180 to that total via two shooting bets.