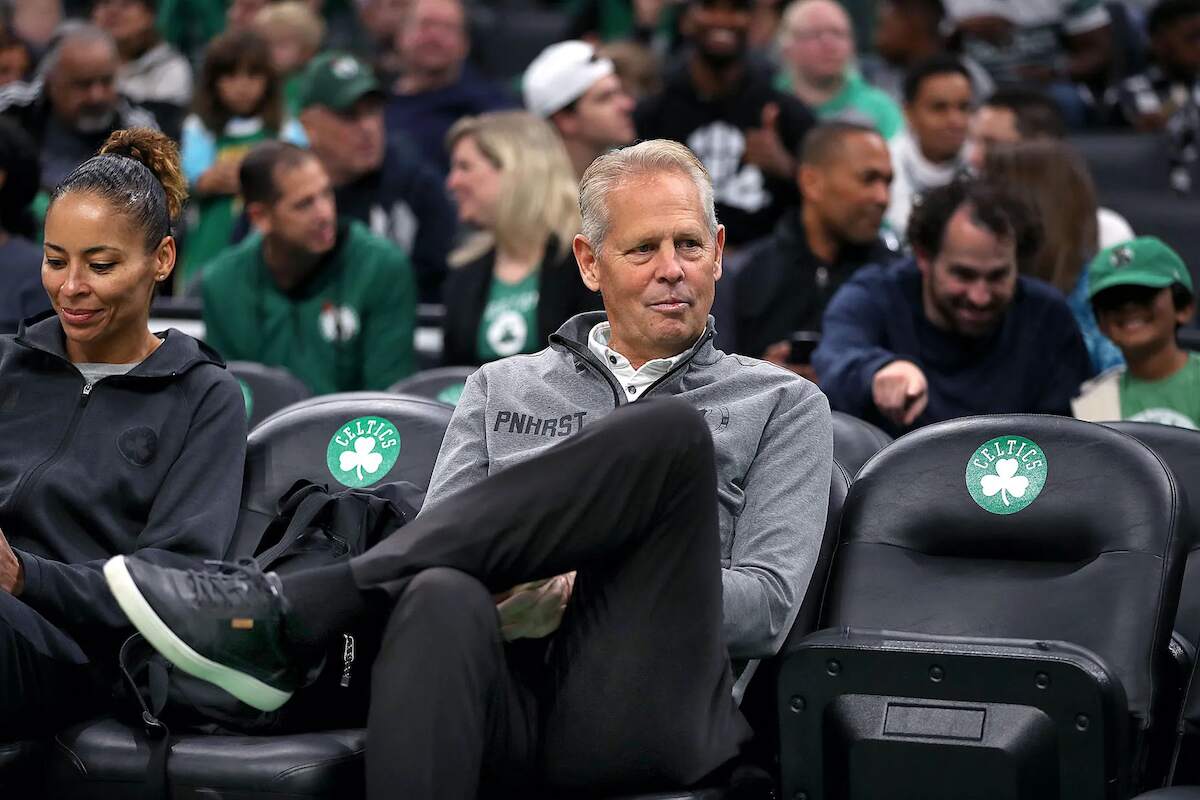 Danny Ainge Was Once Cursed Out by Fired-Up Greek Basketball Fans While Scouting Giannis Antetokounmpo
When Danny Ainge went to Greece to scout Giannis Antetokounmpo, he found himself being cursed out by angry fans.
If you're a long-time NBA fan, then you're probably familiar with Danny Ainge. During his time on the hardwood, the guard won two championships with the Boston Celtics. He's since rejoined the organization and earned another ring as a front office executive. That resume, however, didn't mean anything to Greek basketball fans ahead of the 2013 NBA Draft.
At the time, Giannis Antetokounmpo was a rising NBA prospect, and Danny Ainge headed to Greece to see him play in person. After the game ended, though, the Boston Celtics executive found himself facing a verbal assault by some pretty intense fans.
Danny Ainge has had quite the career with the Boston Celtics
Over the years, the city of Boston has seen some incredible athletes suit up for their sports teams. While he might not have the resume of a Larry Bird or a Tom Brady, Danny Ainge still found plenty of success in Beantown.
Ainge played his college ball at BYU and proved to be a star with the Cougars. In addition to his NCAA Tournament heroics, the guard also stuffed the stat sheet with incredible ease. He spent four years in Provo, averaging 20.9 points, 4.6 rebounds, and 4.6 assists per outing, and earned the John Wooden Award as the NCAA's most outstanding player as a senior.
On the back of that success, Ainge joined the Boston Celtics as a second-round draft pick. He spent seven and a half seasons in Massachusetts, winning two NBA titles, before seeing out his career with the Suns, Blazers, and Kings.
After a brief head coaching stint, Ainge rejoined the Celtics in 2003 as the team's President of Basketball Operations. While times haven't always been easy in Boston, he did earn another NBA championship, claimed the 2008 Executive of the Year crown, and has never been afraid to pull the trigger on a trade.
Getting cursed out by Greek basketball fans after scouting Giannis Antetokounmpo
As a front-office executive, Danny Ainge has to keep tabs on each year's batch of rising stars. Ahead of the 2013 NBA draft, that meant heading to Greece to watch a young Giannis Antetokounmpo.
After the game ended, though, the fans weren't happy with the result. While Ainge wasn't affiliated with the Filathlitikos squad, those in the arena didn't know that.
"Mr. Ainge, he didn't understand what was happening," Giorgos Panou, the senior director of Octagon Europe, explained in a "Finding Giannis" outtake shared on Twitter. "He was relaxed, walking toward the gate. But everybody had seen that he was sitting next to the bench, so they thought that he was part of the team."
Panou then intervened, explaining that Ainge was a member of the Boston Celtics organization, not Filathlitikos. Rather than inspiring the crowd to back off, it just gave them a chance to break out some more tailored insults.
"Oh, OK," Panou continued, explaining the crowd's response. "Lakers! Lakers! F— you! Get out!' Stuff like this."
As an NBA veteran, though, Ainge wasn't too bothered by the trash talk.
"Thank God he was laughing," Panou concluded.
Danny Ainge didn't draft Giannis Antetokounmpo after all
Danny Ainge, however, never drafted Giannis Antetokounmpo. The Celtics ended up selecting Kelly Olynyk with the 13th overall pick. The Greek Freak ended up joining the Milwaukee Bucks two spots later.
While that decision may seem pretty laughable in hindsight, Ainge has since gone on the record to explain his thought process. He, like many others, thought Giannis had potential but would take a long time to develop.
"We all liked him," Ainge explained, according to NESN. "All of us had seen him. I think I saw him in maybe January, but by the time that he was drafted that same year, he was, I think, two or three inches taller and maybe 10 or 15 pounds heavier. And he was even bigger the year after Milwaukee drafted him. But he was just a really skinny kid that had no outside game, and he looked like a kid that just needed a long time to develop."
When Danny Ainge went to Greece, he didn't return determined to draft Giannis Antetokounmpo. The Boston Celtics executive, however, did come back with quite the story.
Stats courtesy of Sports-Reference and Basketball-Reference