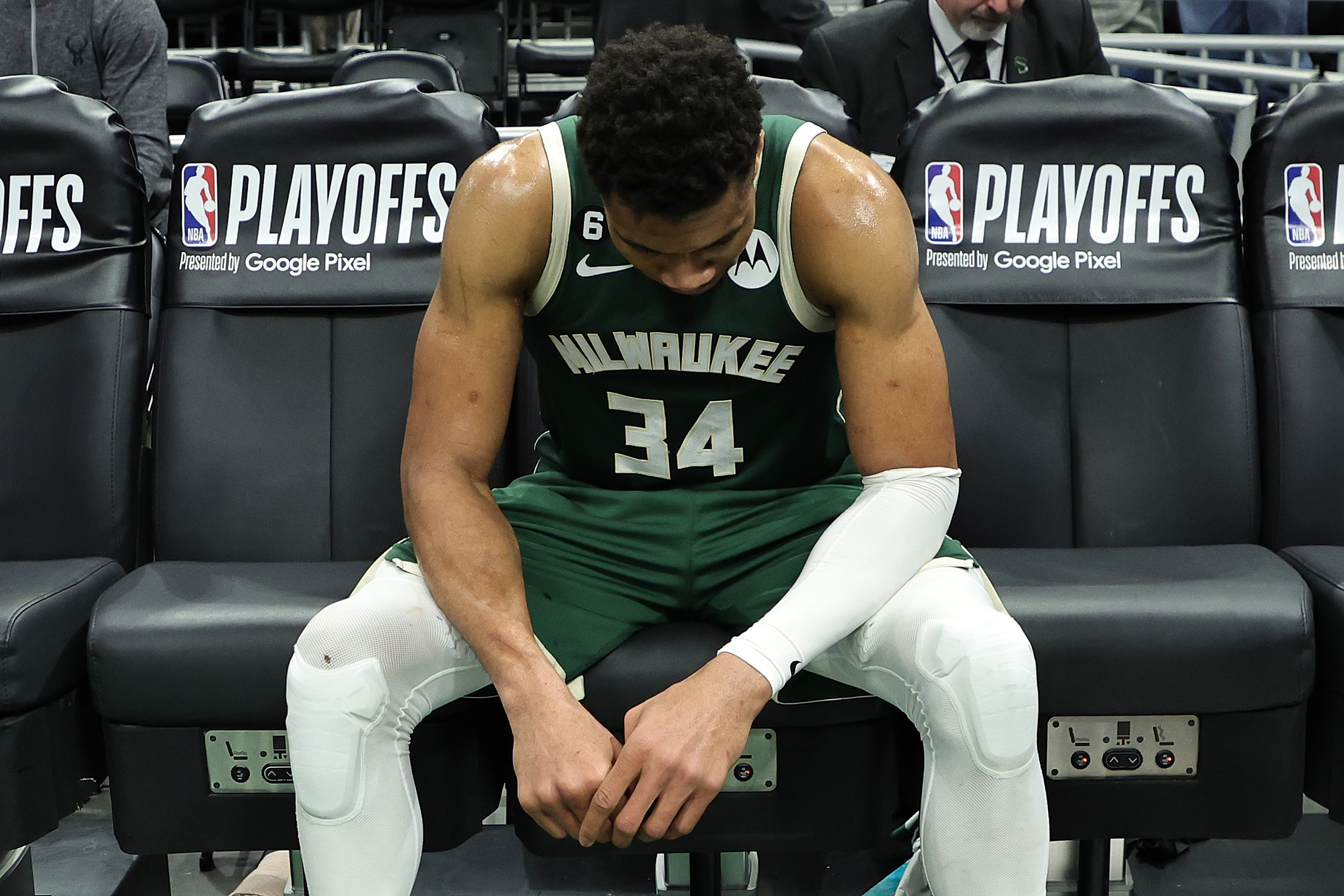 WATCH: Frustrated Giannis Antetokounmpo Snaps at Reporter Over 'Failure' Question
Giannis Antetokounmpo and the Milwaukee Bucks had an embarrassing first-round playoff exit Wednesday night.
Jimmy Butler and the Miami Heat abruptly ended the Milwaukee Bucks season Wednesday night. For the second straight game, the Bucks blew significant leads late in the game and came up short. Led by superstar Giannis Antetokounmpo, the Bucks finished with the best record in the NBA with 58 regular-season wins.
The No. 1 seed meant nothing. Butler and the Heat went into Milwaukee on Wednesday looking to close out the series as 12-point underdogs. They did so in impressive fashion with a late surge that resulted in a 128-126 overtime victory and left Giannis and the Bucks visibly frustrated.
Giannis Antetokounmpo clearly frustrated when asked if the season was a 'failure'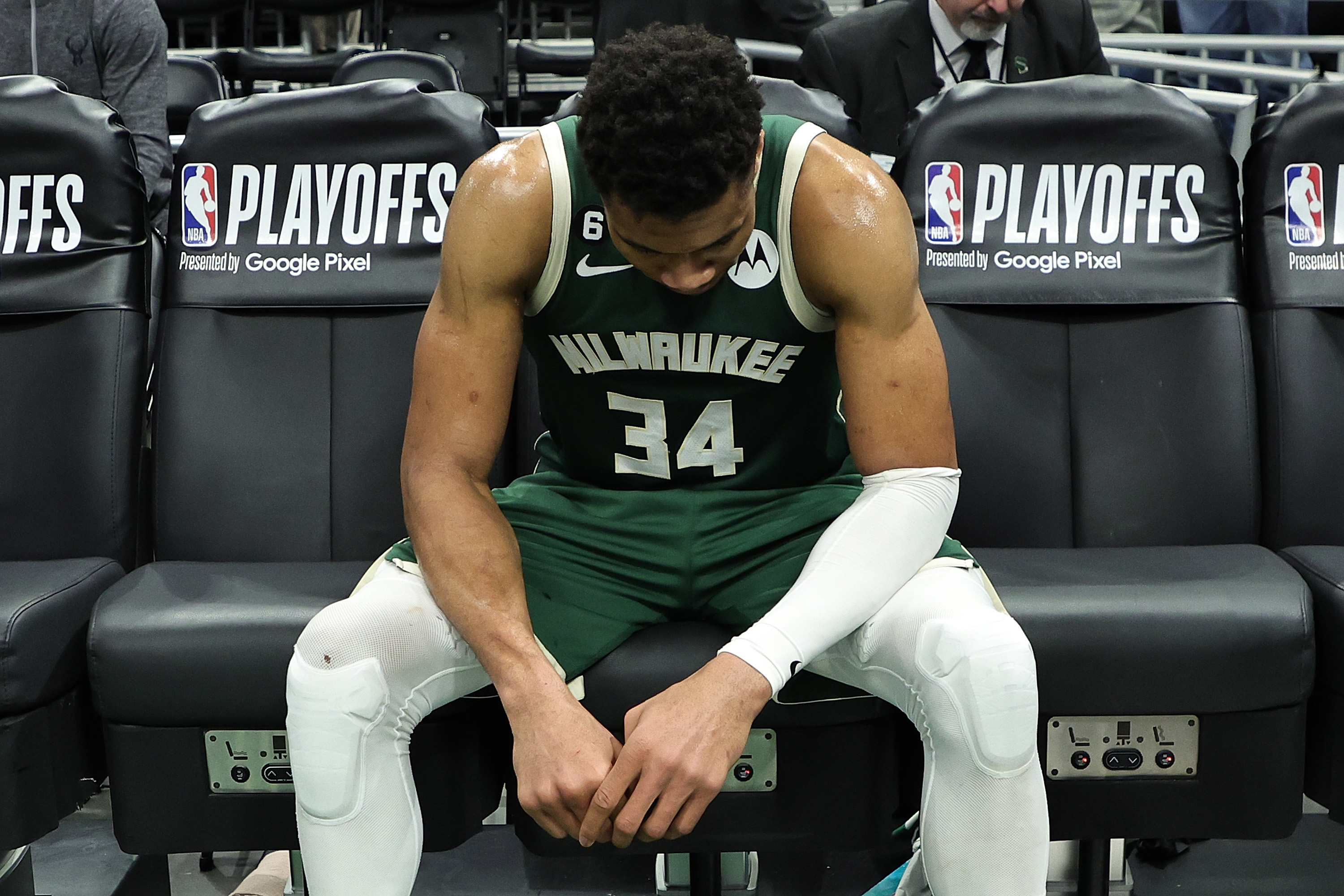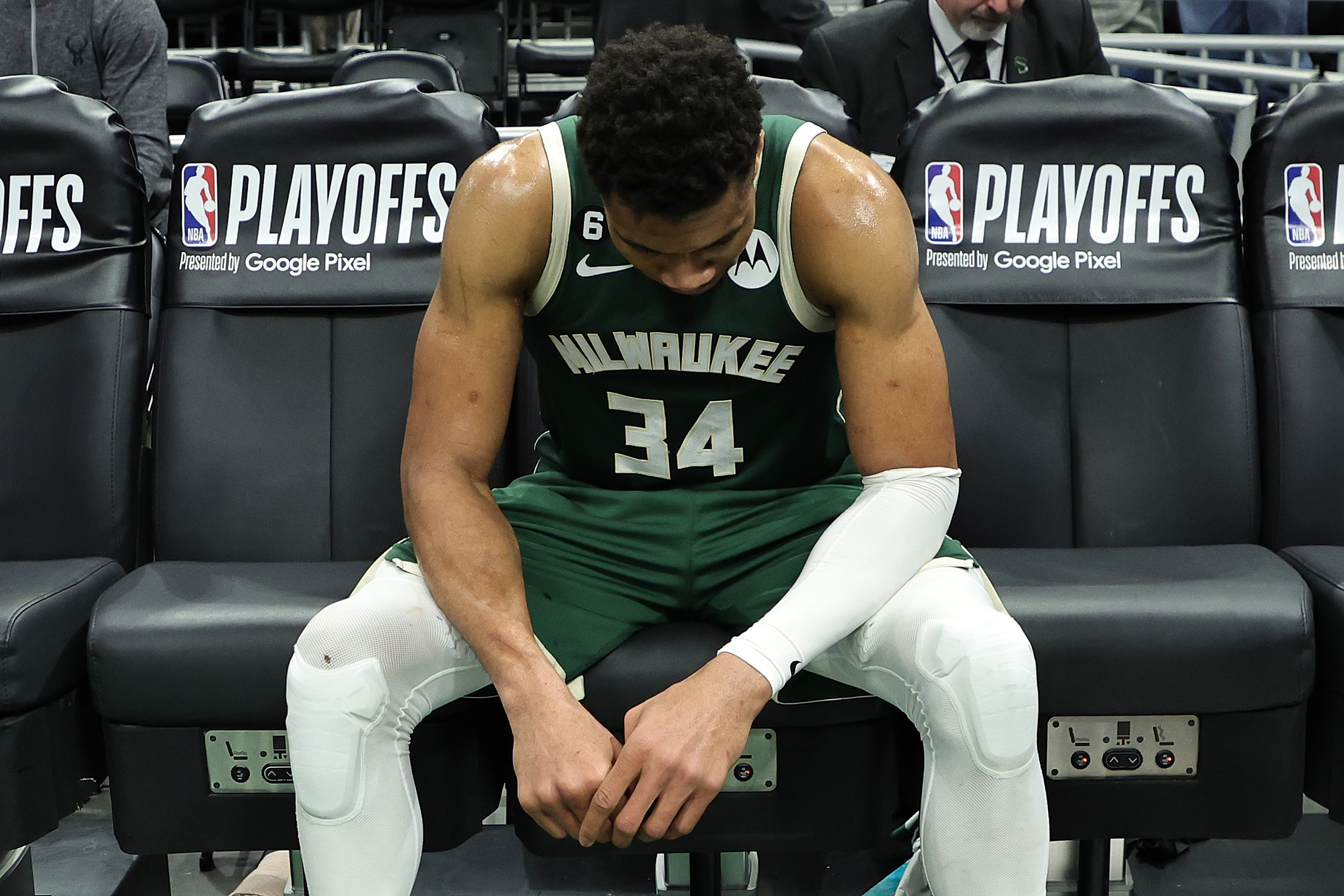 The Milwaukee Bucks were significant favorites to win the first-round series against the Heat, who struggled in the play-in tourney just to claim the final postseason spot. The Heat didn't get the memo.
Antetokounmpo missed Games 2 and 3 of the series after suffering a back injury in the series opener. The Heat capitalized by winning both games to take a 2-1 series lead. With the Greek Freak back for Game 4, the Heat took a 3-1 series lead at home with a 119-114 victory.
The Bucks entered Game 5 as a 12-point favorite, and with potentially two of the next three games at home, they were still poised to win the series. Instead, the Bucks saw a 16-point lead in the fourth quarter quickly disappear. Butler's layup with one second remaining in regulation sent the game into overtime.
The Heat outscored the Bucks 10-8 in the extra session, shocking the sold-out crowd at Fiserv Forum and ending Milwaukee's once-hopeful season.
After the game, a visibly frustrated Antetokounmpo got testy with a reporter, who asked the Bucks star if he considered this season a failure.
"Oh my God," Antetokounmpo said. "You asked me the same question last year, Eric. Do you get a promotion every year on your job? No, right? So every year you work is a failure? Yes or no? No.
"Every year you work, you work toward something, toward a goal — to get a promotion, to take care of your family, I don't know, provide a house for them, take care of your parents. You work toward a goal. It's not failure. It's steps to success."
Antetokounmpo then fired back at the reporter, asking if Michael Jordan's nine non-championship seasons were failures.
You can view the whole exchange in the Twitter clip above.